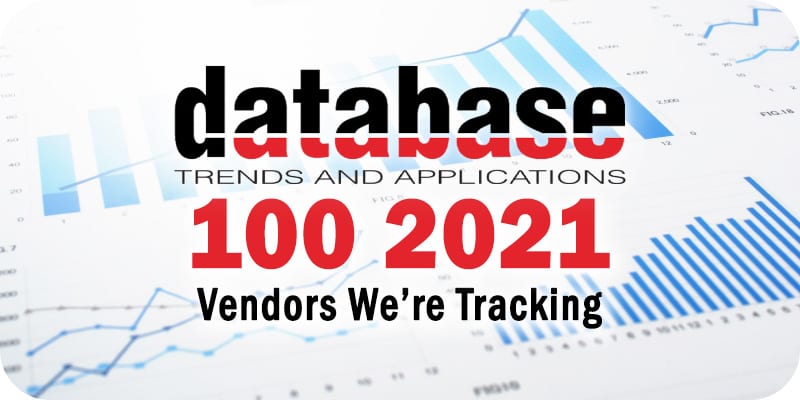 Our coverage of the DBTA 100 2021 features data analytics vendors our editors are tracking. For a larger list, see our Business Intelligence Solutions Directory.
Database Trends and Applications recently released its DBTA 100 2021, an annual listing of data, information management, big data, and data science companies that are preparing for the future. The list spans the spectrum of both "well-established and cutting edge" solution providers offering data platforms, tools and technologies to organizations around the globe. Some of the vendor entries are published alongside View From the Top articles which are penned by executives from the companies themselves.
The editors at Solutions Review have reviewed the DBTA 100 2021 with a fine-tooth comb to identify the data analytics vendors that matter most. Look at it as a sneak peak into which solution providers we track against in our daily coverage of the marketplace. You'll even find some of these company names below in our freshly pressed Buyer's Guide for Analytics and Business Intelligence Platforms.
Ahana
Ahana offers big data analytics with capabilities that enable users to run ad hoc analysis on open-source PrestoDB. Its main offering is Ahana Cloud, a fully-integrated managed service for AWS. The product features self-service SQL analytics for data analysts, data engineers, data scientists, and product managers, It also includes in-VP managed services, flexible data source and catalog integration, and Presto-as-a-data-warehouse functionality. Ahana Cloud can be purchased via pay-as-you-go model so you only pay for what you use.
Alteryx
Alteryx is a self-service data analytics software company that specializes in data preparation and data blending. Alteryx Analytics allows users to organize, clean, and analyze data in a repeatable workflow. Business analysts find this tool particularly useful for connecting to and cleansing data from data warehouses, cloud applications, spreadsheets and other sources. The platform features tools to run a variety of analytic jobs (predictive, statistical, spatial) inside a single interface.
Dataiku
Dataiku offers an advanced analytics solution that allows organizations to create their own data tools. The company's flagship product features a team-based user interface for both data analysts and data scientists. Dataiku's unified framework for development and deployment provides immediate access to all the features needed to design data tools from scratch. Users can then apply machine learning and data science techniques to build and deploy predictive data flows.
Databricks
Databricks offers a unified analytics platform that allows users to prepare and clean data at scale and continuously train and deploy machine learning models for AI applications. The product handles all analytic deployments, ranging from ETL to model training and deployment. It is also available as a fully managed service on Microsoft Azure and Amazon Web Services.
GoodData
The GoodData platform provides creation, delivery, and automated management of analytics at scale that allows organizations to deliver insights to customers, partners, and other users. GoodData is designed to support any analytical product roadmap and enables customers to offer their partners any data source, visualization, interaction pattern, or integration they need. The tool offers analytics and expertise to operationalize intelligent decisions within business applications and business processes.
IBM
IBM offers an expansive range of BI and analytic capabilities under two distinct product lines. The Cognos Analytics platform is an integrated self-service solution that allows users to access data to create dashboards and reports. IBM Watson Analytics offers a machine learning-enabled user experience that includes automated pattern detection, support for natural language query and generation, and embedded advanced analytics capabilities. IBM's BI software can be deployed both on-prem or as a hosted solution via the IBM Cloud.
Microsoft
Microsoft is a major players in enterprise BI and analytics. The company's flagship platform, Power BI, is cloud-based and delivered on the Azure Cloud. On-prem capabilities also exist for individual users or when power users are authoring complex data mashups using in-house data sources. Power BI is unique because it enables users to do data preparation, data discovery, and dashboards with the same design tool. The platform integrates with Excel and Office 365, and has a very active user community that extends the tool's capabilities.
MicroStrategy
MicroStrategy merges self-service data preparation and visual data discovery in an enterprise BI and analytics platform. MicroStrategy provides out-of-the-box gateways and native drivers that connect to any enterprise resource, including databases, mobile device management (MDM) systems, enterprise directories, cloud applications and physical access control systems. Its embedded analytics tool allows MicroStrategy to be embedded in other web pages and applications such as portals, CRM tools, chatbots and even voice assistants like Alexa.
Oracle
Oracle offers a broad range of BI and analytics tools that can be deployed on-prem or in the Oracle Cloud. The company provides traditional BI capabilities inside its Business Intelligence 12c solution. Oracle Data Visualization provides more advanced features, and allows users to automatically visualize data as drag-and-drop attributes, charts, and graphs. The tool also enables users to save snapshots of an analytical moment-in-time via story points.
Qlik
Qlik offers a broad spectrum of BI and analytics tools, which is headlined by the company's flagship offering, Qlik Sense. The solution enables organizations to combine all their data sources into a single view. The Qlik Analytics Platform allows users to develop, extend and embed visual analytics in existing applications and portals. Embedded functionality is done within a common governance and security framework. Users can build and embed Qlik as simple mashups or integrate within applications, information services or IoT platforms.
SAP
SAP offers a broad range of BI and analytics tools in both enterprise and business-user driven editions. The company's flagship BI portfolio is delivered via on-prem (BusinessObjects Enterprise), and cloud (BusinessObjects Cloud) deployments atop the SAP HANA Cloud. SAP also offers a suite of traditional BI capabilities for dashboards and reporting. The vendor's data discovery tools are housed in the BusinessObjects solution, while additional functionality, including self-service visualization, are available through the SAP Lumira tool set.
SAS
SAS Visual Analytics is available on-prem or in the cloud. Visual Analytics allows users to visually explore data to automatically highlight key relationships, outliers, and clusters. Users can also take advantage of advanced visualizations and guided analysis through autocharting. SAS has made its name as a result of advanced analytics, as the tool can ingest data from diverse data sources and handle complex models. In addition to BI, SAS offers data management, IoT, personal data protection, and Hadoop tools.
Sisense
Sisense makes it easy for organizations to reveal business insight from complex data in any size or format. The product allows users to combine data and uncover insights in a single interface without scripting, coding or assistance from IT. Sisense is sold as a single-stack solution with a back end for preparing and modeling data. It also features expansive analytical capabilities, and a front-end for dashboarding and visualization. Sisense is most appropriate for organizations that want to analyze large amounts of data from multiple sources.
TIBCO Software
TIBCO's product capabilities are expansive, and range from data integration and API management to visual analytics, reporting, and data science. The company's BI and analytics portfolio comes in two main iterations: TIBCO Spotfire and TIBCO Jaspersoft. TIBCO Spotfire is the company's more modern platform. It features interactive visualization, data preparation, enterprise-class governance, and advanced analytic capabilities. TIBCO Jaspersoft supports traditional reporting and embedded BI functionality.