Dundas BI 5 Touts New Visualizations, Integrations and UI Tweaks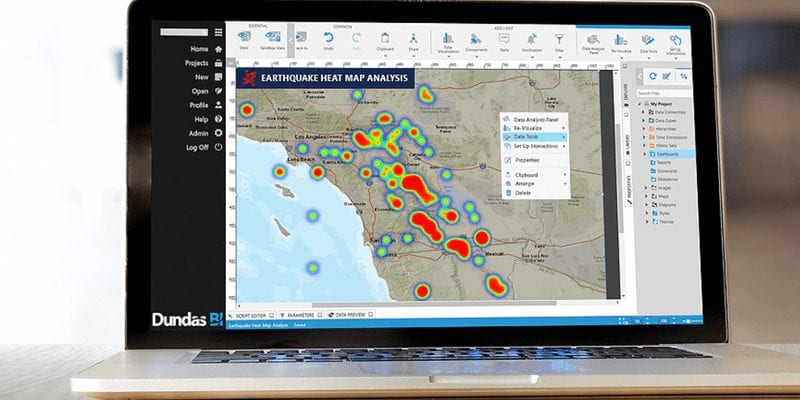 Dundas Data Visualization announced recently the release of Dundas BI 5, a major update to the company's flagship BI and data analytics platform. The product includes more than 150 individual feature enhancements, with Dundas highlighting intensive data control, advanced visualizations, new built-in integrations, and a re-tooled user experience. New advanced interactions and visualizations in Dundas BI 5 are aimed at hastening data preparation, while systems integrations do well in ensuring even deployment.
New forecasting and clustering options can capture evolving trends or seasonality of data for data classification techniques. In addition, hierarchical data breakdowns and inter-relationships between categorical items can be visualized with tree and chord diagrams. On-the-fly dimensions grouping, new data point selection actions, and heat maps for geographical focus are also key tenets of the release.
Dundas BI 5 allows organizations to run proprietary Python scripts and have Python's best machine learning libraries analyze the data while Dundas visualizes it. Incremental data storage reduces processing loads on data sources and only queries for newly-added data. Version 5 includes a new map selector so users can choose a preferred map provider such as OpenStreetMap, Bing Maps, ArcGIS, and Mapbox.
Version 5's new homepage allows users to quickly get to dashboards and reports with search that navigates around existing data and content. There's also a new admin central view for key enterprise administration information including job status, current application/server usage, and critical logs. User access to past exports provide access to previously created exports for historical comparisons and great efficiency, and users can set specific user privileges at the application and the dashboard to tailor the UX.
In a press statement, the vendor's President, CEO and Co-founder Troy Marchand added: "Dundas BI 5 delivers unprecedented analytics capabilities and better data insights than ever before. Dundas BI 5 brings performance upgrades to all our customers across all organizations, in a completely new way."
In October, Dundas was named to the Business Application Research Center's (BARC) BI Survey for 2017, and ranked number-one in product satisfaction for the dashboarding-focused products peer group.
[hr style="single"]