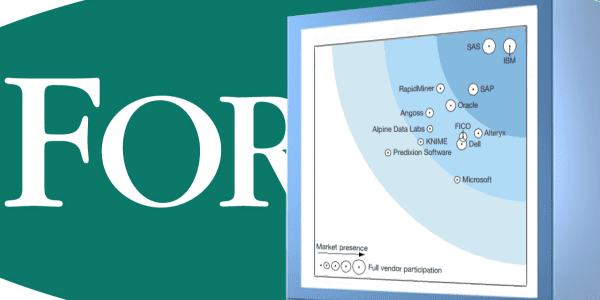 Forrester's newest Wave study has been released and spotted in the wild. The big data and predictive analytics solution survey for 2015 Q2 highlights all of the trends and important developments in the world of big data and analytics. It also provides a thorough outline of the "big players" in the field who supply software solutions to the enterprise and other organizations. Forrester noted three key takeaways:
Enterprises have many choices when it comes to big data and predictive analytics solutions
Modern tools enable different classes of users to leverage the power of predictive analytics
Predictive analytics allows organizations to embed business intelligence and insight
Predictive analytics is a business "game changer" according to Forrester. The power to use analytics across an entire organization has never been easier to do or more relevant than it is right now. Big data, massive computing power, and modern software tools make contemporary prediction models more accurate and efficient, as well as accessible to those in the enterprise. In that, the study brings to light three areas in which organizations must gain predictive powers:
Provide direct insights about customers and business processes: While dashboards and reporting are the most common predictive analytics tools within organizations today, they often lack the power to link to business decisions, process optimization, customer experience, or other action-based predictive insights.
Intelligent, adaptable customer interactions and business processes: If organizations don't use predictive analytics to change the future, then they're making their data scientists useless. Modern analytics tools can deploy their models into the applications where there is a need for insights. Today, organizations are using analytics to enhances business processes, using automation to adjust digital content based on user context.
Reimagine customer engagement and inspire new digital products: The overwhelming potential of predictive analytics goes far beyond the mainstream ways in which companies use it today. However, model building and deployment continue to accelerate, enabling application developers to use analytics quickly.
Forrester also makes the observation that predictive analytics is no longer limited to PhD-level data scientists; application development and businesspeople are also using today's BI tools, and of course, the more people that can do predictive analytics, the better off an organization will be. Further, the study aims to make something else clear: predictive analytics is not a one-time operation, this is something organizations must do on a near relentless basis in order to obtain notable results. As new data becomes available, previously constructed models must be tested to ensure that the process is still relevant for the new information.
The providers that Forrester highlighted in the Wave provide general big data predictive analytics that can be applied to a variety of industries and business domains. Forrester evaluated and weighed the strengths and weaknesses of each vendor based on 45 criteria that they grouped into three high-level buckets. Those three main groupings include each solution's current offerings, their strategy within the industry, and their market presence.
In using that criteria, Forrester identified 13 relevant providers. Forrester's research revealed three leaders, eight strong performers, and two contenders. Forrester also found that enterprises have many great choices for solutions in the space. Here's the Forrester grouping:
Leaders: IBM, SAS, SAP
Strong Performers: Alpine Data Labs, Alteryx, Angoss, Dell, FICO, KNIME, Oracle, RapidMiner
Contenders: Microsoft, Predixion Software
Based on this report, it appears as though the big data and predictive analytics industry is flourishing. With big data doing nothing but growing, there should be continued innovation in the space, and with a nice mix of entrenched solutions and up-and-coming offerings, enterprises and organizations alike will have a lot to think about when selecting the vendor that best fits their needs.

Latest posts by Timothy King
(see all)