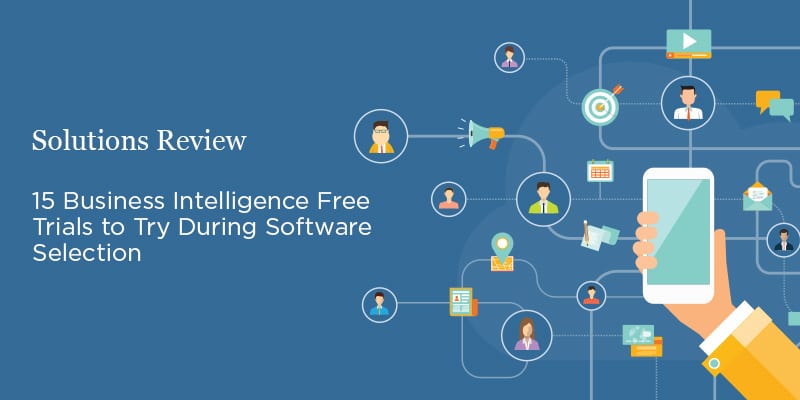 Business intelligence software has evolved over the years to include functionality that can allow even the most inexperienced user to improve their decision making. There are a wide variety of options out there for organizations small and large, many offering advanced capabilities. However, identifying the business intelligence software that's best for your organization can be a painstaking process, often involving lots of research and long hours speaking to vendor representatives. To make the vendor selection process an easier one, Solutions Review has compiled this list of 15 business intelligence free trials to explore during the vendor selection process.
Though testing out different solutions could add more time to the process of seeking out and selecting the software that's right for you, we believe it to be worthwhile. It will also provide you more exposure to the tools available in the space, and perhaps even make you aware of features you weren't before. Without further ado, these are the top providers in the BI market offering free trials and a brief synopsis of each. Clicking on the

buttons will send you directly to each company's free trial details where you can learn more or sign up and get started.
Alteryx
Alteryx allows users to organize, clean, and analyze data in a repeatable workflow. Business analysts find this tool particularly useful for connecting to and cleansing data from data warehouses, cloud applications, spreadsheets and other sources. The platform features tools to run a variety of analytic jobs (predictive, statistical, spatial) inside a single interface.

Arcadia Data
Arcadia Data offers a visual analytics and business intelligence product that runs natively within modern data platforms such as Apache Hadoop and the cloud. The tool is purpose-built to analyze large volumes of data without moving it in order to fill the gap between self-service BI and advanced analytics for emerging use cases. Arcadia Smart Acceleration also allows organizations to support hundreds of thousands of concurrent users.

Note: Arcadia Instant is not a trial, but a freely downloadable desktop tool.
Birst
Birst offers a cloud-based analytics solution that connects an organization using a network of interwoven virtualized BI instances. The tool features an adaptive user experience, multi-tenant cloud architecture, user data tier, and a completely virtualized data ecosystem. These capabilities enable use of BI across multiple regions, product lines, departments, and customers.

Domo
Domo is a cloud-based executive management platform that enables organizations to see key data in real-time from across the enterprise in one place and on any device. The company offers prepackaged dashboard content and functionality for filtering and sorting data visually in Domo Analyzer. The company's platform is highly customizable, and the Analyzer feature can be tailored to filter out unnecessary data.

GoodData
GoodData provides creation, delivery, and automated management of analytics at scale that allows organizations to deliver insights to customers, partners and other users. The tool is designed to support any analytical product roadmap, and enables customers to offer their partners any data source, visualization, interaction pattern or integration they need.

Logi Analytics
The Logi Platform allows application teams to embed dashboards, reports and self-service in their application. Unlimited customization and white-labeling gives users the ability to match any analytics to their application. It utilizes an organization's existing security infrastructure and can be deployed on-prem, in the cloud or via hybrid configuration.

Looker
Looker offers a BI and data analytics platform that is built on LookML, the company's proprietary modeling language. The company's embedded analytics functionality in Powered by Looker utilizes modern database technologies and an agile modeling layer that allow users to define data and control who can access it. Analytics can be deployed as an embedded iFrame or using Javascript.

MicroStrategy
MicroStrategy provides out-of-the-box gateways and native drivers that connect to any enterprise resource, including databases, mobile device management (MDM) systems, enterprise directories, cloud applications and physical access control systems. Its embedded analytics tool allows MicroStrategy to be embedded in other web pages and applications such as portals, CRM tools, chatbots and even voice assistants like Alexa.

Periscope Data
Periscope Data offers a flexible data analytics platform that allows organizations to ingest, store, analyze, visualize and report on data. The product is available in two versions, with Periscope Pro providing the most expansive and advanced functionality. The tool enables users to analyze in SQL, Python or R, then visualize, collaborate and share with others.

Pyramid Analytics
Pyramid Analytics offers data and analytics tool through its flagship platform, Pyramid 2018. The solution touts a server-based, multi-user analytics OS environment that provides self-service capabilities. Pyramid 2018 features a platform-agnostic architecture that allows users to manage data across any environment, regardless of technology. The tool enables those users to prepare, model, visualize, analyze, publish, and present data from web browsers and mobile devices.

Qlik
Qlik offers a broad spectrum of BI and analytics tools, which is headlined by the company's flagship offering, Qlik Sense. The solution enables organizations to combine all their data sources into a single view. The Qlik Analytics Platform allows users to develop, extend and embed visual analytics in existing applications and portals. Embedded functionality is done within a common governance and security framework.

Sisense
Sisense offers a single platform that runs on in-chip technology for visual data discovery on web-based dashboards. Due to unique technology and an emphasis on end-user experience, Sisense is most appropriate for organizations that want to analyze large amounts of data from multiple sources. The company's OEM partner network is strong, and users report high praise for customer experience.

TARGIT
TARGIT's flagship BI platform is Decision Suite, an integrated platform that offers visual data discovery, self-service analytics, reporting, and dashboards. The solution features a range of deployment options, and users can access the tool through Windows, web, or mobile clients. Organizations can also embed TARGIT into the applications they use most. TARGIT touts an in-memory database and back-end tool set, which means the platform can be run as a complete end-to-end solution.

Yellowfin
Yellowfin is an Australia-based BI and analytics company that specializes in dashboards and data visualization. Their platform features a machine learning algorithm called Assisted Insights that provides automatic answers in the form of easy-to-understand best practice visualizations and narratives. Yellowfin comes pre-built with a variety of dashboards, and users can embed interactive reports into third-party platforms, such as a web page, wiki, or company intranet.

Zoomdata
Zoomdata offers a range of BI and analytic tools highlighted by big data exploration and data visualization. The platform features a patented micro-query architecture that allows organizations to bridge old and new data in a unified view. Zoomdata enables connection, interaction, and visualization with data on browsers and mobile devices. The company's DataDVR capabilities allow users to fast-forward, rewind, and compare real-time streaming and historical data as well.