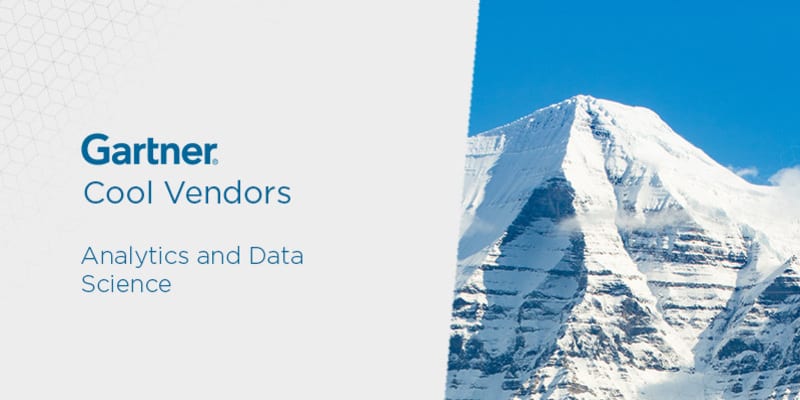 Gartner's newest research highlights four 2020 Cool Vendors in Analytics and Data Science that offer innovative alternatives in the marketplace.
Analyst house Gartner, Inc. has released its newest research highlighting four emerging solution providers that data and analytics leaders should consider as compliments to their existing architectures. The 2020 Cool Vendors in Analytics and Data Science report features information on startups that offer some disruptive capability or opportunity not common to the marketplace. Gartner analysts Julian Sun, Afraz Jaffri, Jim Hare, James Richardson and Rita Sallam compiled the materials for this report.
Solutions Review's editors have read the complete report, which is available here, and want to take the opportunity to provide a brief, independent introduction to each of the cool vendors listed. Though Gartner's process for selecting Cool Vendors is somewhat mysterious, we believe our unique view of the space can help you to better understand how these analytics solutions will fit into the marketplace as time goes on.
Algo
Algo is a natural language-powered bot designed to help organizations accomplish strategic and tactical goals. It features an interactive workflow engine for placing supply chain orders, correcting shipments, tagging items and orchestrating operation teams. It also provides intuitive and interactive analytics in real-time. Users can align performance with defined goals, set policies with ease, and automatically course-correct based on the answers Algo offers to business questions. The bot simulates granular scenarios to help users understand the possible outcomes as well.
Siren
Siren offers an investigative intelligence platform that uses a data model to drive the discovery of associated data. The product fuses previously-disconnected paradigms like business intelligence dashboards, link analysis, content search, and operational monitoring. Siren lets you connect to Elasticsearch, RDBMs, graph databases, and web services and touts more than 200 connectors. The user interface blends full-text search with support for misspellings, phonetics, relevance ranking, and highlighting. It also features Geo and Temporal analysis to allow multi-layer, interactive maps and time analysis.
Theia
Theia offers a product called Enterprise Analytics Hub that centrally manages content from any dashboard, visualization or reporting solution, in a single view. Designed for business users and IT departments, Theia connects to any BI platform in real-time. Each user persona can create a customized 'Gameboard' made up of the data assets they need and regularly use as well. Key features of the product include an analytics catalog for organizing, rating, tagging, and bookmarking analytic content, global search across all information assets, personalized environment, and an external portal for creating branded customer experiences.
Unsupervised
Unsupervised offers an augmented data science and machine learning tool that automatically finds patterns in data and presents them for review. The application analyzes the full complexity of enterprise data and identifies significant patterns that highlight the differences across subgroups of data. Unsupervised uses a number of machine learning techniques to identify patterns. Once it has discovered patterns in data, Unsupervised analyzes each subgroup to see how it performs against organizational KPIs.

Latest posts by Timothy King
(see all)