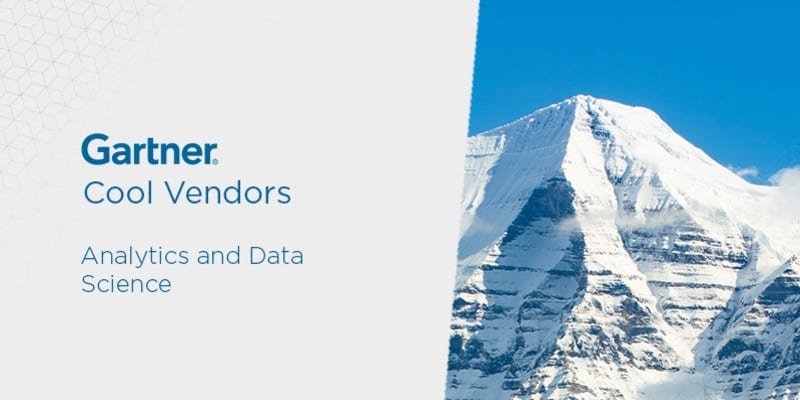 Gartner's newest research highlights four 2021 Cool Vendors in Analytics and Data Science that offer innovative alternatives in the marketplace.
Analyst house Gartner, Inc. has released its newest research highlighting four emerging solution providers that data and analytics leaders should consider as compliments to their existing architectures. The 2021 Cool Vendors in Analytics and Data Science report features information on startups that offer some disruptive capability or opportunity not common to the marketplace. Gartner analysts Julian Sun, David Pidsley, Shubhangi Vashisth, and James Richardson compiled the materials for this report.
Solutions Review's editors have read the complete report, which is available here, and want to take the opportunity to provide a brief, independent introduction to each of the cool vendors listed. Though Gartner's process for selecting Cool Vendors is somewhat mysterious, we believe our unique view of the space can help you to better understand how these analytics solutions will fit into the marketplace as time goes on.
ConverSight.ai
ConverSight.ai offers a conversational AI platform that understands user behavior, context and intent by combining machine learning, advanced analytics, and a self-service UI. The platform's AI engine, called Athena, creates, aggregates and compliments knowledge graphs to enable automated and actionable insights. ConverSight touts cloud support as well. Other key features include data-to-story generation, vertical-specific conversation templates, data monitoring and proactive insights, and enterprise-class security with role-based access.
Incorta
Incorta is a data platform that speeds up data ingestion and provides hastened join performance. The vendor has dubbed its product as 'The Industry's First No-ETL Data Warehouse.' Incorta features a Direct Data Mapping engine which provides real-time aggregation of complex business data without needing a data warehouse. Users can drill from top line, aggregated KPIs to supporting transaction records with one click. Incorta also enables you to drill anywhere with user-defined drill paths and hierarchies.
Sisu
Sisu Data offers a diagnostic analytics platform for structured data. The product automates manual data exploration so users can find hidden facts in complex data. Sisu automatically prioritizes facts based on their impact and provides detailed, interpretable context to refine and support conclusions. The tool features fact boards, annotations, and the ability to share facts and analysis across teams as well. As new information arrives in your cloud data warehouse, Sisu will continually re-evaluate metrics and surface new facts.
Tangent Works
Tangent Works offers an automatic predictive model building engine called TIM (Tangent Information Modeller) that automates forecasting and anomaly detection. TIM can be deployed in the cloud, on-prem or in the edge on IoT devices. The product can be used through multiple interfaces, including TIM's API, TIM Studio, and TIM Clients or TIM on platforms. Key features include automated feature engineering, explainability, easy integration with existing applications, and InstantML for time series data.