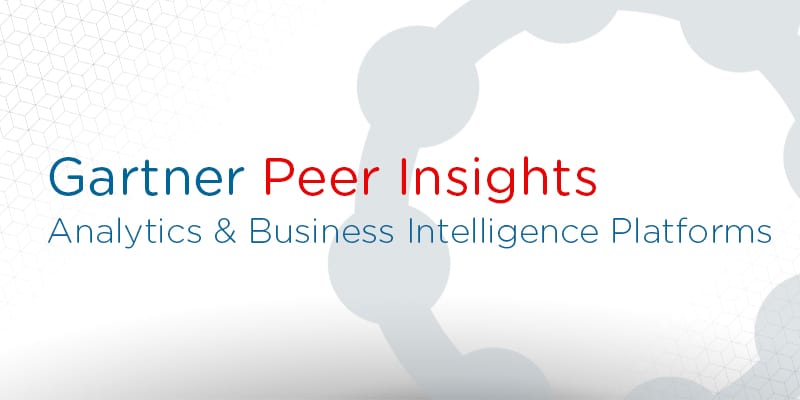 Analyst house Gartner, Inc. has officially announced the winners of its 2018 Peer Insights Customer Choice Awards for Analytics and Business Intelligence Platforms. According to Gartner, the Customer Choice Awards are a ranking of vendors by "verified end-user professionals" on the company's Peer Insights website, a peer review site in the mold of G2Crowd, Capterra, and TrustRadius. Recognition is given to a maximum of seven vendors in the marketplace. The awards take into account both the number of end-user reviews, and the overall user ratings.
Awards are given based on several criteria. The vendor must have at least 50 published reviews in the market guide during the submission period and must pass Gartner's validation, conflict of interest and moderation process. Additionally, any solution provider must have a at least one tool designated by Gartner's analysts as relevant in the space. In markets where more than seven vendors meet the thresholds, those with the highest number of approved ratings are named winners.
Peer Insights Customer Choice Awards are designed to "help IT professionals make better purchase decisions by leveraging the knowledge and feedback by fellow verified end users" according to Gartner's executive VP of Products and Services Ken Davis. He adds: "We work hard to ensure that all of the reviews are submitted by an IT professional or business user who has had experience purchasing, implementing and/or using the enterprise solution they are reviewing — free from conflicts of interest."
Sisense has the highest rating of any BI and analytics solution
Though Sisense didn't have the most user reviews (387 to be exact), its core functionality led the pack with an average rating of 4.5 stars. Three providers garnered more feedback, but Sisense did finish with 200 more reviews than fifth-place finisher TIBCO Software. Sisense specializes in SQL reporting, big data analytics and Hadoop, and supports the North American and EMEA markets. Key features include data preparation, interactive analytics and a data engine that speeds up data connection.
Domo and Google are pacing the rest of the space
With the exception of Sisense, Domo and Google (via its Google Data Studio) offer the two most highly regarded products in the industry. Users ranked Domo tops for analytics dashboards, publishing analytic content, and cloud BI use cases. Its 148 user reviews rank it sixth amongst active solution providers. 60 users ranked analytics dashboards as Google Data Studio's most prominent functionality, with an impressive rating of 4.6 stars.
Tableau owns the industry's largest user community
With a whopping 1818 user reviews, Tableau Software paced the next closest product by nearly 100 percent, and with an average user rating of 4.3 stars to boot. Tableau is known for its market-best data visualization capabilities, and it showed, with 4.6 star ratings for both interactive visual exploration and analytics dashboards. Users also tout strong ease of use for content consumers.
We encourage you to read Gartner's complete listing of Peer Insights vendor and product reviews.