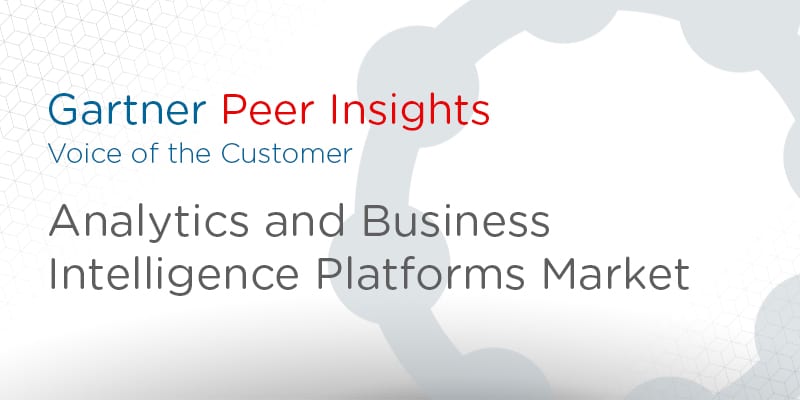 Analyst house Gartner, Inc. recently announced the winners of its new 2018 Peer Insights 'Voice of the Customer': Analytics and Business Intelligence Platforms Market. The report marks the latest addition to the researcher's expansive list of buyer-centric resources, which already includes its popular Magic Quadrant and Critical Capabilities. Gartner Peer Insights provides first-hand reviews of software and services contributed by enterprise users. The new report is an extension of Gartner's Customer Choice Awards first released last year.
Peer Insights 'Voice of the Customer' does not include an expansive vendor listing or proprietary graphic to help organizations select the best tools. Rather, it provides reviews that go through a strict validation process to ensure they are authentic. Gartner Peer Insights are meant to be a complement to its expert-led research reports. Vendors with greater than 25 reviews in the past year as of March 31, 2018 were included in the report. At Solutions Review, we read the report, available here, and pulled out the key takeaways.
Magic Quadrant niche players score extremely well
Three of the four highest-scoring providers in this report were considered niche players by Gartner in its February Magic Quadrant. Looker (34 reviews, 4.65 rating), Domo (99, 4.53), and BOARD International (31, 4.39) scored considerably higher than some of the mainstays in the marketplace. Though it may seem a bit curious that Gartner's placement doesn't quite match up with user sentiment in terms of scoring, buyers should be aware of the fact that niche players typically have a more narrow range of expertise.
Tableau is the most widely used tool and it's not even close
With an aggregate score of 4.29 out of 5, Tableau's Voice of the Customer score doesn't inspire awe. But we note that Gartner collected nearly 900 (890 to be exact) user reviews for Tableau's analytics and data visualization product during the survey period, a figure that is more than double the next closest competitor (Microsoft Power BI). In fact, there were just four providers that reached the 100-review threshold (Tableau, Microsoft, Qlik, Sisense). Of these providers, Gartner considers three to be market leaders, with Sisense positioned as a visionary.
Don't be swayed by low review totals
Verified user reviews can be a great tool during the selection and purchasing phase of a new business intelligence solution. However, they should not be taken for gospel. It's best to compare each solution's capabilities against your unique technology environment. Given that the vendors with some of the most "niche" applications scored so well, it's paramount to assess each product based on your needs and not necessarily the crowd's. Dundas Data Visualization is a perfect example, scoring the fifth-highest of any provider in the space but with only 26 verified reviews.
Read Gartner Peer Insights Voice of the Customer.