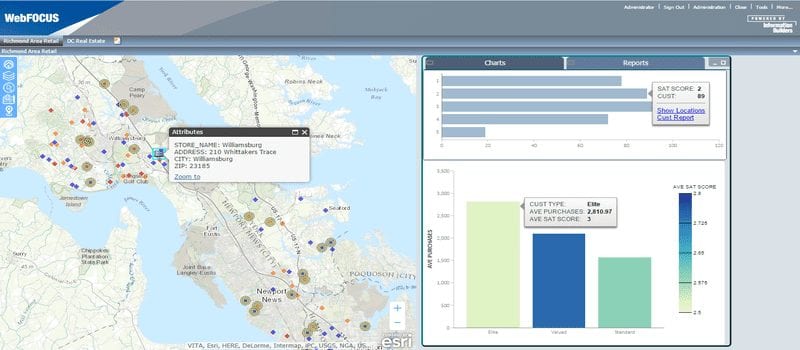 Information Builders announced this week that its flagship BI and analytics platform WebFOUS is now available in three editions in order to deliver reporting and analytics capabilities to a wide range of users and environments. Each edition of the product offers governed self-service tools and apps that empower stakeholders with the best possible analytics for business-vital decision-making. The three editions are as follows:
Business User Edition
This edition is designed for up to 100 business users and analysts who can autonomously access, consume, create, produce, and share analytical content. This package includes the WebFOCUS InfoAssist+ tool that supports self-service analytics, dashboard assembly, content automation and data discovery functionality. InfoAssist+ allows business and non-technical users the ability to generate undiscovered value from existing data without the need  to involve BI developers.
Application Edition
This package is designed for the authoring and deployment of highly customized self-service analytical applications, InfoApps, to a wide variety of non-technical users. Application Edition features the full-function WebFOCUS server with all of its infrastructure, security, and administration capabilities. In addition, the package includes App Studio, a complex authoring environment for building secure, rich InfoApps that can be deployed on-premise, in the cloud, on any mobile device, or as an SaaS application.
Enterprise Edition
The Enterprise Edition is designed for larger companies that want to deploy embedded, complex, and or strategic analytical applications to thousands or even millions of different users, often including customer-facing users that operate outside of the corporate firewall. WebFOCUS is uniquely suited to scale the deployment of InfoApps to dynamic user populations, such as patients, students, and customers who may not even realize they are benefiting from the BI platform. The license model for Enterprise Edition changes from seat pricing to server pricing, which provides superior economics for significant user populations.
Gerald Cohen, CEO at Information Builders, adds: "Self-service BI and analytics tools for business users must be adaptable and specialized to suit the needs of a particular type of user and their business need. From the experienced data analyst to the non-technical business user, our three editions of WebFOCUS are designed to provide powerful business intelligence through apps and tools catered to deliver information according to every user's preferences. No other vendor can offer such a superb user experience backed by a flexible, scalable and secure enterprise platform.