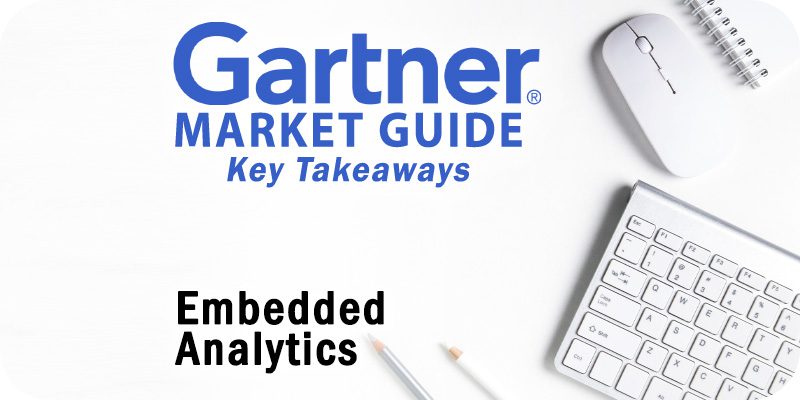 Gartner recently released its 2021 Market Guide for Embedded Analytics, meant to cover emerging markets currently in limbo.
Analyst house Gartner, Inc. recently released its new Market Guide for Embedded Analytics. The researcher's Market Guide series is meant to cover new and emerging markets where software products and organizational requirements are in limbo. Gartner's Market Guides can be a great resource for understanding how a fledgling space may line up with current and future technology needs.
According to Gartner, embedded analytics and business intelligence "enables analytic outputs to either be included in host business applications or expose analytics in extranet applications to customers, suppliers or partners. Further, independent software vendors (ISVs) license embedded ABI capabilities to offer analytics within their software offerings rather than developing equivalent functionality themselves." The researcher adds: "In many cases, people may be unaware that the report element, data visualization, or analytic insight is delivered by embedded, white-labeled ABI platform functionality."
The marketplace for embedded analytics software tools and software is undergoing an evolution due to the availability of low and no-code interfaces that draw on the services originally exposed via APIs to support embedding. These capabilities are doing a great deal to ensure citizen developers can extend the reach and connectedness of how business intelligence is used in their organization. Software developers and product managers are key buyer personas in this marketplace, and the Gartner Market Guide aims to help them make the best purchase.
Gartner highlights the following providers in embedded analytics: Syncfusion, Synergies Intelligent Systems, Tableau Software, ThoughtSpot, TIBCO Software, Toucan Toco, Yellowfin, and Zoho. At Solutions Review, we read the report, available here, and pulled out the key takeaways.
While embedded analytics products offer the core capabilities of business intelligence and data analytics tools with added support so developers and citizen users can pilot them. Embedded BI can assist organizations in making data analytics available inside end-user tools, such as customer relationship management (CRM), enterprise resource planning (ERP), marketing, financial systems, and other software applications. Embedding analytics into existing workflows helps business users gain access to the capabilities they need without having to go outside of the environments they use daily to do so.
Users are often rewarded with faster, more informed, and more efficient decision-making, which can lead to more actionable insights. Embedding an analytics solution can also lead to better business value from the data that a business has already invested in capturing, storing, and analyzing.

Latest posts by Timothy King
(see all)