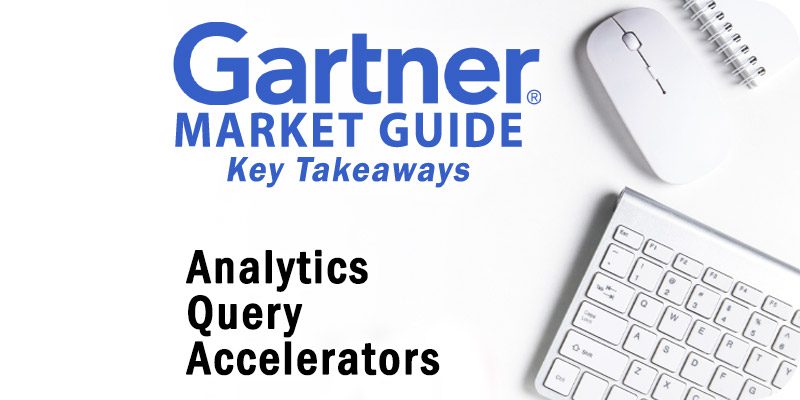 Gartner recently released its 2022 Market Guide for Analytics Query Accelerators, meant to cover emerging markets currently in limbo.
Analyst house Gartner, Inc. recently released its new Market Guide for Analytics Query Accelerators. The researcher's Market Guide series is meant to cover new and emerging markets where software products and organizational requirements are in limbo. Gartner's Market Guides can be a great resource for understanding how a fledgling space may line up with current and future technology needs.
According to Gartner, "Analytics query accelerators provide SQL or SQL-like query support on a broad range of data sources. They are most frequently used as a means of providing interactive and production-optimized delivery on semantically flexible data stores that do not inherently have the capabilities to provide sufficient performance or ease of use on their own. Commonly used in conjunction with data lakes, they aim to support BI dashboards, interactive query capabilities, data modeling, and other analytics use cases."
Analytics query accelerators help data and analytics leaders optimize their data lake initiatives. The researcher recommends that stakeholders assess whether their performance line of "good enough" can be reached by running their most challenging workloads with a high number of users during a proof of concept. Running this test will help organizations decide whether they need acceleration. Companies are also encouraged to test integration with surrounding cloud data management services and platforms, and evaluate security and governance capabilities before vendor evaluation.
Gartner highlights the following providers in the analytics query accelerators market: Ahana, Alluxio, AtScale, ChaosSearch, Databticks, Data Virtuality, Denodo, Dremio, GridGain Systems, Incorta, Jethro, Kyligence, Kyvos Insights, Starburst, and Varada. Solutions Review editors read the report, available here, and pulled out the key takeaways.
Interest in analytics query accelerators is increasing at a fast pace due to lackluster RIO from data lake adoption. Gartner adds: "Depending on the complexity of a workload, data and analytics leaders may find that the products are sufficient to accommodate the service-level agreements (SLAs) for a significant percentage of production delivery workloads that originated in the data lake as well as to test and model them." This, according to the researcher, makes this software space a logical extension of SQL interfaces to Hadoop and SQL interfaces to object stores.
Most of the vendors listed above (Gartner reference providers) are taking an active role in performance optimization, scalability, and security access and governance. In addition, there is a multitude of solution offerings available from both standalone tool providers and database management system/BI vendors. Early adopters of these products should tread carefully to avoid disappointment. However, Gartner believes analytics query accelerators will be a key piece of the big data puzzle over the next several years as enterprises attempt to unify all their stored data.