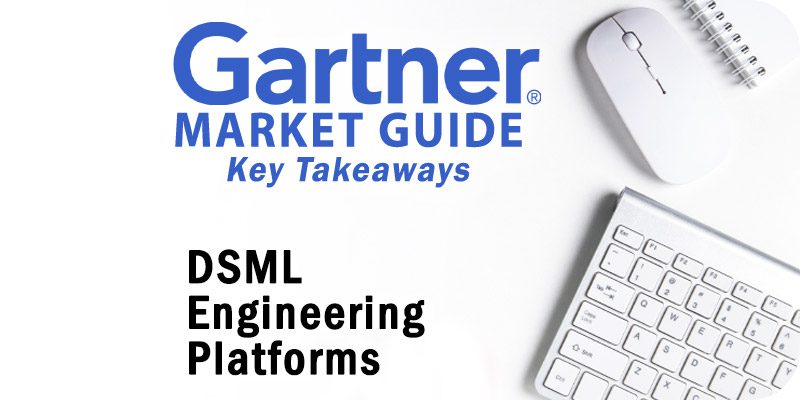 Gartner recently released its 2022 Market Guide for DSML Engineering Platforms, meant to cover emerging markets currently in limbo.
Analyst house Gartner, Inc. recently released its new Market Guide for DSML Engineering Platforms. The researcher's Market Guide series is meant to cover new and emerging markets where software products and organizational requirements are in limbo. Gartner's Market Guides can be a great resource for understanding how a fledgling space may line up with current and future technology needs.
According to Gartner, "DSML engineering platforms consist of a core product and supporting portfolio of integrated products, components, libraries and frameworks (including proprietary, partner-sourced and open-source) for the development and operations of machine learning solutions integrated with typically complex, innovative and highly scalable applications. These solutions are engineered by personas who have deep technical expertise in data science and machine learning or have other skills in digital technology, such as data, software or system engineers."
DSML engineering platforms focus primarily on the development of machine learning models that can rive business varying systems. As a result, tools in this market have evolved from supporting a core data science audience with code-driven model development to now also supporting data engineering, application development, and infrastructure user personas. Gartner recommends selecting a provider by identifying gaps in current model development practices and paying attention to model deployment, management, and governance capabilities.
Gartner highlights the following providers in the DSML engineering market: 4Paradigm, Activeeon, Alibaba Cloud, Altair, Amazon Web Services (AWS), C3 AI, Cloudera, cnvrg.io, Comet, Databricks, Dataiku, DataRobot, DataVision, Deepnote, Domino Data Lab, Exponential AI, FICO, ForePaaS, Google, HPE, IBM, Iguazio, KNIME, MathWorks, Microsoft, Neo4j, Oracle, Palantir Technologies, RapidMiner, Red Hat, RStudio PBC, Run:AI, SAS, Scale AI, Teradata, TIBCO Software, TigerGraph, TrueEra, Valohai, and Verta. Solutions Review editors read the report, available here, and pulled out the key takeaways.
The market for DSML engineering solutions is fragmented into four main niches: multipersona DSML, DSML engineering, MLOps, and Specialists. Gartner adds: "As the market evolves, the continuation of mergers and acquisitions between vendors that offer a full-stack engineering platform and those that are MLOps or specialists will continue. Specialists are also likely to work together to enable interoperability and build their own ecosystem of tightly integrated tools."
There is also a major open-source presence here, as open-source libraries are a standard utility used in this domain. In this way, DSML engineering platforms typically de-emphasize the provision of proprietary libraries, algorithms, and techniques in favor of supporting a set of frameworks. A small number of DSML engineering solutions also support libraries for multiple development languages.

Latest posts by Timothy King
(see all)