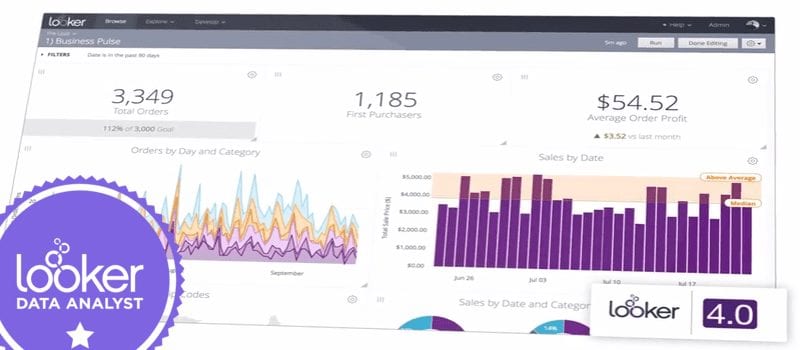 Looker recently announced the newest version of their flagship Business Intelligence tool, Looker 4 at Join 2016, the company's first multi-day user conference. Looker 4 is a complete data platform that allows organizations to integrate, transform, govern, explore, visualize and deliver data to any location, in virtually any application. In addition, the provider also announced Looker Blocks Directory, containing more than 50 pre-built re-usable analytic templates and 12 data applications to accelerate time-to-value during deployment.
CEO Frank Bien explains: "Since day one Looker has focused on building a platform for data analysts so they can bring a completely different data experience to their business. Looker 4 is the result of years of work and ushers in a new generation of BI/Analytics, addressing the fragmentation of self-service dashboards and data preparation tools to fully unleash the power of data in organizations."
Version 4 enables users to do the following:
Deliver data everywhere: Application developers can extend the data platform with a RESTful API to create custom experiences as well as push data virtually anywhere a user wants it
Control the data supply chain: Build reliable data metrics with a refreshed LookML, and a new, in-browser Integrated Development Environment that delivers more powerful tools than have ever been available to data analysts and data developers
Simplify content discovery: Allows users to move from information scarcity to insight abundance, delivering improved methods to discover content and make it meaningful
In a statement, Blue Hill Research Principal Analyst for Big Data & Analytics Toph Whitmore adds: "Modern enterprise data-management models have traditionally relied on a centralized IT operations model. Looker's Data Platform, Looker 4, democratizes the data prep, giving data-munging capabilities to analysts throughout an organization, and removing process bottlenecks. But it also has the potential to democratize the analysis itself: I look forward to seeing how LookML-certified data developers extend Looker capabilities into new applications."
Learn more about version 4 and see it in action.
Read the official press release.