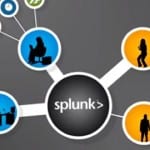 The folks at Splunk will tell you they are "passionate about disrupting the conventional ways people look at and use data". And along those lines, they have released the latest version of the company's platform for machine data – Splunk Enterprise 6. According to the company, this new version delivers powerful and fast analytics, "up to 1,000 times faster than previous versions". Nice round number there.
Unlike many of the the data analytics solutions we are tracking at Solutions Review, Splunk focuses in on "machine data" coming from IT systems and technology infrastructure — websites, applications, servers, networks, sensors, mobile devices, etc. By monitoring and analyzing everything from customer clickstreams and transactions to network activity and call records, Splunk Enterprise turns machine data into valuable insights.
In the announcement, Splunk Chairman and CEO Godfrey Sullivan stated, "We believe that everyone in the organization, from the system administrator to the C-level executive, should be empowered to find that 'aha' moment. Splunk Enterprise 6 bridges the data divide and unifies IT and business users around the tremendous value and ROI to be found in machine data."
Splunk highlighted three improvements to Enterprise 6 that make analytics faster and easier for existing users:
Pivot opens up the power of analytics to non-technical business users and analysts with a simple drag-and-drop interface to explore, manipulate and visualize data. This includes the ability to click and drag pre-built visualizations and quickly build complex queries and reports without learning a query language.
Data Models provide for a more meaningful representation of underlying machine data and a deeper understanding of relationships in the data, making this data more useful to a broader base of users.
High Performance Analytics Store is a patent-pending transparent acceleration technology that delivers analytics performance up to 1,000 times faster than any previous version of Splunk Enterprise.
To learn more, you can click through to the full release here.
Check out these additional resources:

Latest posts by Doug Atkinson
(see all)