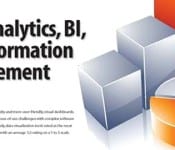 Microsoft, Oracle, SAP, SAS, and IBM Cognos, are listed as the top five analytics and BI vendors for current and planned use.  This listing appears in the 2014 InformationWeek Analytics, Business Intelligence, and Information Management Survey.  Compared to the results of last year's Analytics survey, Tableau Software was the biggest winner in terms of current or planned BI use.  13% of respondents said they are using and 6% said they expect to use Tableau Software as an analytics and BI vendor.  These responses represented an overall 5-point increase from the 2013 survey.  Actuate, IBM Cognos, and MicroStrategy had an overall decline in current and planned usage compared to last year's survey.
The 2014 online survey interviewed 248 executives from North American companies.  The survey investigates how companies have tried to make big data analyses as efficient as possible while still yielding high-quality results for their enterprise.
The survey reveals that customers are interested in BI products that are easy to use and easy to interpret, and that can ultimately be shared with a variety of business users.  The most successful vendors in recent years have been the companies that have prioritized ease of use, self-service, and data visualization, according to Doug Henschen, executive editor of InformationWeek.  The leading companies in this area have been: QlikTech, Microsoft, Tableau, and Tibco Spotfire. "The desire to simplify data analytics and business intelligence has been gaining steam for years," Henschen writes on the InformationWeek website regarding the survey results. 
Other highlights of the 2014 InformationWeek Analytics, Business Intelligence Survey
* 59% of respondents indicated that data quality problems are the leading impediment to successful analytics or BI initiatives.
* 58% recognize "accessing relevant, timely or reliable data" as the greatest barrier to success regarding information management for their enterprise.
* 47% list "expertise being scarce and expensive" as their leading concern regarding using big data software.
* 44% say "predicting customer behavior" is the primary reason for their interest in big data analysis.
Click on the following link to download the complete 2014 Analytics, BI Survey:
https://reports.informationweek.com/abstract/81/11715/Business-Intelligence-and-Information-Management/Research:-2014-Analytics,-BI,-and-Information-Management-Survey.html?download=true&fwp=true
Check out these additional resources:

Latest posts by Doug Atkinson
(see all)