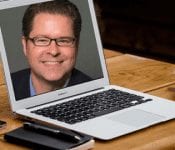 Today we have an insightful piece of contributed content on the hot topic of Big Data from Allen Bonde, VP of product marketing & innovation at reporting and embedded analytics leader Actuate (www.actuate.com). Allen Bonde says the real Big Data revolution will only happen if we stop the tech chatter – and start building useful applications
Along with civilian moon flights and the Paleo Diet, is Big Data one of those ideas that seems destined for the hype cycle rather than reality?
Like it or not, Big Data will remain an untapped resource for many of us until we actually start converting all the data we've accumulated, at scale and from multiple sources, into simple – yet truly smart – data driven apps that deliver value for specific tasks, and are embedded into the broader applications customers already use for online banking, travel, shopping or even getting their news.
That's a Big Challenge. And until we figure it out, we won't begin to see the kind of compelling, data driven apps that analysts like IDC see as "the next big thing" (https://www.idc.com/getdoc.jsp?containerId=prSG24476813).
So, what are we missing? For starters, Big Data is still (mostly) about data scientists rather than data consumers. Second, today's app developers think "mobile first" and need super-efficient ways to access, manage, and deliver large scale data-driven apps that are highly visual, easy to learn, and fit the needs of today's smart, demanding consumers.
+ Check Out a Free 2015 Business Intelligence Tools Buyers Guide
Data driven is the new mantra
So how do we transform Big Data into smaller, bite-sized, actionable insights and killer apps? Our best bet is to start by thinking "Small" from the outset. More precisely, we need to create new information hubs for filtering multisource Big Data into much more usable "Small Data" (https://www.smalldatagroup.com) and highly actionable information that informs, connects and ultimately motivates the end user to buy the ticket, apply for the loan, or tell their friends how great their favorite brand is.
Clearly, the challenge is to up our game when it comes to information design, using principles from the Small Data movement, as well as modern software practices like public APIs, rich visualization, and native Big Data support that makes it easy to "wire up" apps to access the latest sources when they come online. These new data driven apps will need to incorporate a mix of historical, real time and trend based data, real time, for targeting sales and services for consumers and industrial functions alike; to power competitive intelligence and online merchandizing apps, to name just a couple.
A great example is the Kayak (https://www.kayak.com) when-to-book tool. It takes literally billions of data points at the back end, including pricing and purchase trend information from hundreds of airlines, and transforms all that massive, Big Data into the Small Data that tells you and I whether to buy the airfare now, or wait for the fare to fall per the apps' predictions. And it's all delivered in a simple dashboard on your mobile device or desktop.
Best practices and tools
There are many compelling data driven apps we can envision by looking at ways to access all our Big Data and transform it into just the right Small Data, then serve it up as super useful, actionable visualizations and recommendations. But to get to the full potential of the data driven app experience, we're going to a need a mobile-first web tier that scales from simple embedded charts to rich analytical frameworks to help us in the collection and processing phase of all that data, as well packaging it for consumption and decision making.
The good news is that a set of tools and best practices are emerging to help data driven app designers. Supporting these emerging principles will be better business analytics infrastructure with open APIs and an ability to support potentially any device or display requirements (even wearables!). At my company, Actuate, working with our 200+ large enterprise OEMs and millions of BIRT and BIRT iHub developers, we've found some clear ways forward:
Start with the customer – it's their journey that you are going to streamline, so the apps you build have to useful at each step
Think about the 'last mile' of Big Data – don't concentrate all your effort on the macro picture. Think about what your customers are going to need today, how the right information can be delivered, and work upstream from there
Don't forget scale – you still need to have the horsepower to roll out your new data driven apps to (potentially) millions of people, on potentially dozens of different types of desktops and mobile devices
Personal is the new interactive – your data driven apps need to be customizable by each single user, even if you are rolling them out to many people at once.
Clearly, best practices already exist to make the power of Big Data practical for everyday tasks via new, consumer-style, data driven apps. Let's start using them – and let's not let Big Data turn into something like Expert Systems or daily deal web sites: great ideas that eventually died under the weight of their own hype.
The author is vice president of product marketing & innovation at business reporting and analytics software specialist Actuate Corporation – the people behind BIRT, the new BIRT iHub F-Type™ freemium server, the Actuate CCM Suite with BIRT PowerDocs, and BIRT Analytics™, a self-service predictive analytics solution for business analysts and marketers.
Follow Allen on Twitter at @abonde or email him at abonde@actuate.com
Follow Actuate on Twitter at @Actuate or visit www.actuate.com/bigdata.
Learn more about BIRT F-Type at https://www.actuate.com/products/birt-ihub-ftype/
Check out these additional resources:

Latest posts by Doug Atkinson
(see all)