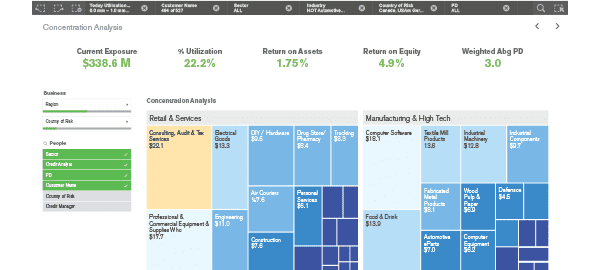 Qlik announced its Qlik Cloud solutions offering yesterday at Qonnections 2015 Global Partner Summit in Dallas, Texas. The package is comprised of multiple services including Qlik DataMarket, a Data as a Service (DaaS) offering via Qlik Cloud, Qlik Sense for free sharing, and Qlik Sense Charts for sharing visualizations on public sites.
Qlik DataMarket offers external data sources in the cloud
Modern digital business is driving organizations towards a more data-driven culture. Since so many are doing it, competitive advantages are driven by on-demand availability of data sources that users can pull quickly for added insights. Additionally, DataMarket users can browse a library of external data directly within Qlik Sense to augment and reference their internal data to gain context. According to Qlik: "No other vendor in the business intelligence market delivers this type of data library that encompasses both free and paid data sources available via cloud-based data services."
Qlik DataMarket also allows organizations to combine their own data with outside data sources with ease. Further, they can search public and syndicated data and compare information from different sources to verify, benchmark, and visualize data to gain insights. Qlik touts over 200 data providers, more than 100,000 data sets, and upwards of 5-million fact values making it a one-stop outlet of data to enable users to answer tough business questions. DataMarket  comes out of the box configured with the most consulted and ready to use data sources via a subscription service. The sources offered come at various levels of granularity, some even down the zip code.
Business demographics
Currencies
Population
Economic indicators
Development indicators
Weather
Qlik sense Cloud offers application creation and sharing
Qlik Sense Cloud allows users to share Qlik Sense applications with up to five users for free without them having to download the solution themselves. Added features are coming to this offering in the near term including application creation abilities and storyboards using both personal and DataMarket data. Users will gain the ability to experience Qlik Sense from creation to collaboration in the cloud from any device.
Qlik Sense Charts enable non-technical users to embed interactive Qlik Sense virtualizations on any public website or blog and share via social media, free of charge. Readers can then display an optimized chart regardless of device size due to Qlik's responsible design. Users can then filter data for even deeper insights.
Qlik's CTO and SVP of Products Anthony Deighton explains further: "Our cloud strategy encompasses more than just an infrastructure or Software-as-a-Service play. At Qlik we see an exciting opportunity for Cloud-based value-added services, like Qlik DataMarket Data as a Service offering, to optimize the visual analytics experience, even at the point of decision. Likewise, because people do not make decisions alone, sharing in the cloud will always be an important part of our collaboration strategy as well."
Qlik Cloud is a part of Qlik's larger portfolio of visual analytics that includes Qlik Analytics Platform, Qlik Sense Desktop, Qlik Sense Enterprise, and Qlik Cloud. Sharing via Qlik Sense Cloud is available immediately. DataMarket in Qlik Sense in June 2015 and in Qlik View during Q3 or Q4 of this year. Charts will be available in the 2nd half of 2015.
Click here for Qlik's official press release.