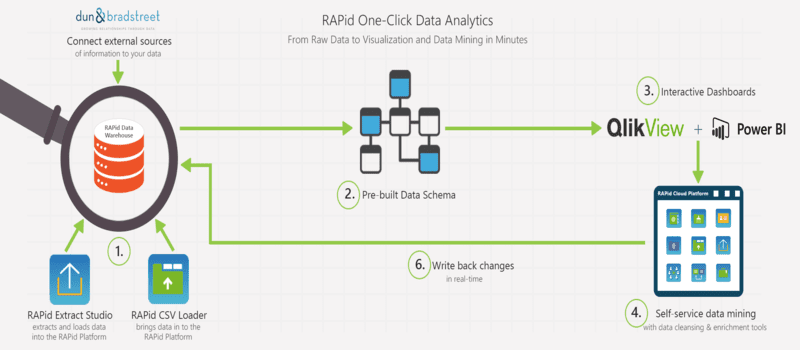 Rosslyn Data Technologies announced yesterday the immediate availability of RAPid One-Click Data Analytics, a new suite of self-service automated analytic SaaS solutions that reduce time to insight from weeks to hours. Formerly known as Rosslyn Analytics and founded in 2007, the company assists organizations in creating new business value from previously inaccessible data. Rosslyn is referring to their newest release as a "technological breakthrough", fast-tracking the decision-making by automating the steps required to extract, transform, load and improve data quality for timely analysis.
The first of many RAPid One-Click Data Analytic solutions to be launched over the next year is RAPid One-Click Spend Analytics, which is designed to help procurement teams obtain detailed spend visibility to better manage costs, compliance and risk. According to the company, the tool is "Designed for speed and ease-of-use, the automated RAPid One-Click Spend Analytics solution delivers detailed visibility into your suppliers within minutes of loading data into the RAPid Cloud Platform using two self-service tools to automatically extract data from SAP or load data from a CSV file."
In this way, once the data is in RAPid, users have immediate access to a pre-built, multi-tab dashboard for data visualization. Users can use self-service to continuously improve data quality in real-time such as normalizing supplier names, editing incorrect vendor addresses, and classifying spend to a defined taxonomy.
RAPid One-Click Spend Analytics is available from Rosslyn and its partners.  The price of this new solution starts from $5,000 per data load, per year.
CEO Roger Bullen concludes: "Rosslyn Data Technologies leads the market in developing the self-service tools all business decision-makers need to be smarter and more productive. Our talented development team has solved a technical feat by automating the entire data journey, from the extraction and loading of data into dashboards, so people spend more time on valuable analysis and less on data wrangling."

Latest posts by Timothy King
(see all)