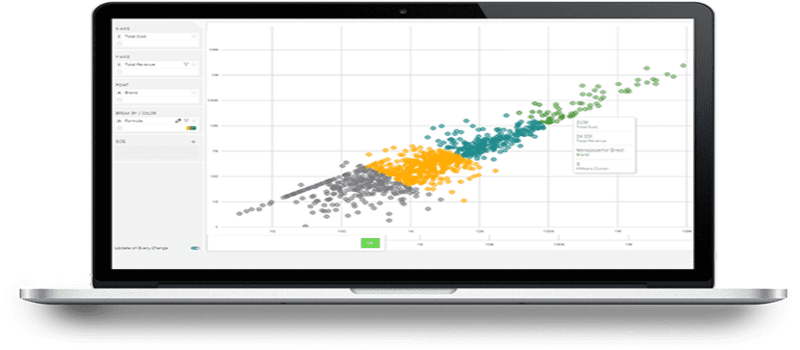 Yesterday, Sisense announced the release of version 6.2 of the their flagship analytics solution, with the accompanying tagline "more data, more analysis." The new release follows in the footsteps of Sisense 6, which introduced R integration and open database connectivity. Sisense 6.2 is built on the premise of empowering users with more data and more possibilities for analysis.
In addition to the expanded analytical capabilities, version 6.2 is meant to improve both the value and user experience for large-scale deployments. According to the company: "This includes stronger management capabilities when dealing with large amounts of dashboards and Elasticubes: now you can import data between Elasticubes and copy widgets from one dashboard to the other. Another simple but highly useful feature is the ability to search for dashboards and categorize them using subfolders."
Here are the top new features included in Sisense 6.2:
Increased Availability
Version 6.2 unveils the ability to use Elasticube Sets, giving users the ability to duplicate your Elasticube to create multiple nodes, one of which is used for querying while the other updates. This enables even faster refresh rates while data is being imported, and allows users to continue crunching data non-stop, even during builds.
Native Connector to Google BigQuery
This function allows users to instantly connect to BigQuery and import exactly the data needed to simply and easily create mashups with additional on-premise or cloud data sources, then see the results right inside the Sisense dashboard. This simplifies the process of extracting data from Google BigQuery and opening it to business users, while also reducing costs by only having to pull the data once and running queries in Sisense instead.
Additional Dashboard and Widget Management Options
Sisense makes it easier to manage a large number of dashboards with the introduction of features such as search for dashboard and the ability to copy widget dashboards via the drag-and-drop tools. Even if a user is working with dozens of dashboards, it takes only moments to find the exact data needed.
Statistical and Mathematical Functions
Sisense has enhanced its Advanced Analytics capabilities and built upon an existing statistical and mathematical library with the introduction of rank, slope, intercept and a multitude of additional math functions, giving business analysts more tools to dive deeper into the data and explore it from new angles.
Scheduled Email PDF Reports
A feature customers have been asking for, according to Sisense, is scheduled PDF reports. Users can have the relevant data appear directly in the stakeholder's inbox in an attractive report to be viewed either on or offline.
Click here to read the full release.

Latest posts by Timothy King
(see all)