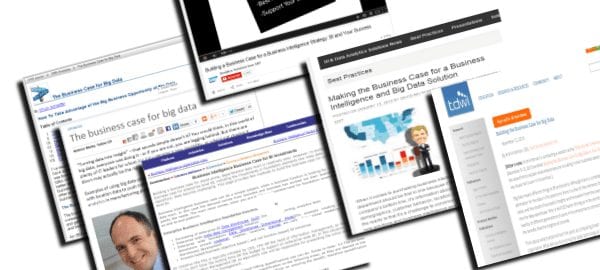 Investing in more software, tools, equipment, space, and human capital to effectively execute on business intelligence and big data initiatives is not a cheap endeavor and is a major cost against the bottom line. Therefore, in order to convince your company in to investing in BI solutions, you must make a strong argument. This is called a business case and there are a variety of approaches that you can take when making one. Keep in mind that there is no one size fits all method of selling business intelligence and big data tools and that you should always consider the point-of-view of your audience before choosing any approach. To help you in this process, I've selected links to 6 resources that illustrate different approaches to building business cases for business intelligence and big data that I believe you will find invaluable.
+ Check Out a Free 2015 Business Intelligence Tools Buyers Guide
1) Business Intelligence Business Case for BI Investments
Building a business-case for stand-alone, departmental data-mart is relatively easy. However, to build a business case for enterprise level BI, including the investments in foundation elements like meta-data repository, does become challenging. This page provides few methods to build the business-case for enterprise level BI.
https://www.executionmih.com/business-intelligence/business-case.php
2) How to Take Advantage of the Big Business Opportunity of Big Data
Big data is a big opportunity, but also comes with big risk. Here is a business case for big data written by Chuck Schaeffer that goes over a comprehensive 7 step plan to success. It goes over, 1) The Business Problem 2) The Solution 3) How to Implement Big Data 4)  Big Data Use Cases 5) Big Data Risks & Challenges 6) Big Data ROI & Payback 7) Final Thoughts and Next Steps.
https://www.crmsearch.com/big-data.php
3) Building a Business Case for a Business Intelligence Strategy (Video)
BI and Your Success – Learn how your company can develop a robust business case for pursuing compelling business intelligence initiatives. The video features expert Imran Siddiqi, Senior Principal of Big Data and Predictive Analytics at SAP, participates in a Q&A on the topic.
https://www.youtube.com/watch?v=mchZeAK3Bu8
4) The business case for big data
Examples of using big data stretch across many industries, whether combining buying behavior with purchasing location data to push targeted offers in retail, or using predictive analytics in manufacturing plants to optimize the scheduling of maintenance. In each case, and no matter what structured and unstructured data is being joined or blended together, the aim is to make or save money for the enterprise.
https://www.computerweekly.com/opinion/The-business-case-for-big-data
5) Building the Business Case for Big Data
Krish Krishnan, CEO, Sixth Sense Advisors, Inc. explains what enterprises are including in their business cases and to discuss what key issues. He introduces what business components should be in a business case such as user need, business benefit, value, outcomes, and ROI.
https://tdwi.org/articles/2013/11/12/bi-business-case.aspx
6) Convince Your Team to Invest in Big Data & Business Intelligence "Like a Boss"
In this article, I go over an ROI-centric approach to making a business case for business intelligence and big data solutions. I present a theoretical example that includes the calculations required to make a business case around ROI and other KPIs. I also discuss other ideas and gear the business case toward a specific audience, the C-level decision maker.
https://solutionsreview.com/business-intelligence/making-the-business-case-for-a-business-intelligence-and-big-data-solution/
I hope that you find this article helpful and if you are interested in looking at specific business intelligence and big data tools, here's a comprehensive 2015 Business Intelligence Software Buyer's Guide that profiles 32 best in class tools that you will certainly find valuable.
---

Latest posts by Doug Atkinson
(see all)