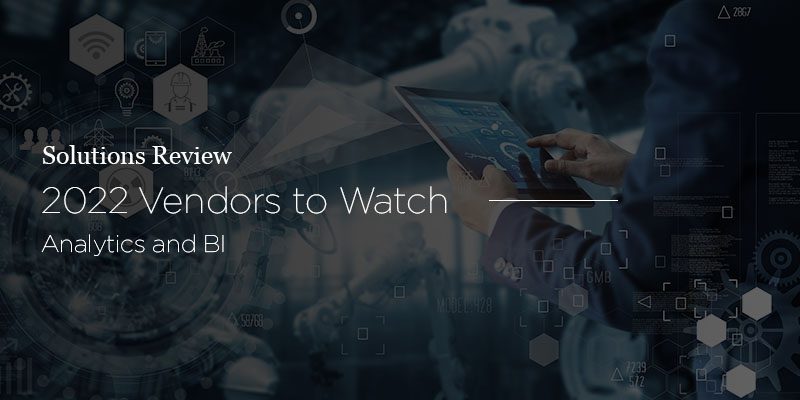 Solutions Review's Data Analytics and BI Vendors to Watch is an annual listing of solution providers we believe are worth monitoring. Companies are commonly included if they demonstrate a product roadmap aligning with our meta-analysis of the marketplace. Other criteria include recent and significant funding, talent acquisition, a disruptive or innovative new technology or product, or inclusion in a major analyst publication.
Data analytics and BI software is increasingly being influenced by emergent technologies. AI and machine learning functionality once reserved for the most complex advanced analytics solutions is now pervasive. Augmentation and automation are becoming mainstream alongside citizen scientist personas in enterprise settings. The BI and analytics marketplace is mature and crowded with excellent software tools for a variety of use cases, verticals, deployment methods, and budgets.
These data analytics and BI Vendors to Watch have met at least two of our five points of inclusion and represent to some degree the evolution of the marketplace. It's in that spirit we turn our attention to the immediate future. Providers are listed in alphabetical order. Provider names and logos are linked so you can learn more.
Ahana offers big data analytics with capabilities that enable users to run ad hoc analysis on open-source PrestoDB. Its main offering is Ahana Cloud, a fully-integrated managed service for AWS. The product features self-service SQL analytics for data analysts, data engineers, data scientists, and product managers, It also includes in-VP managed services, flexible data source and catalog integration, and Presto-as-a-data-warehouse functionality. Ahana Cloud can be purchased via pay-as-you-go model so you only pay for what you use.
Incorta is a data platform that speeds up data ingestion and provides hastened join performance. The vendor has dubbed its product as 'The Industry's First No-ETL Data Warehouse.' Incorta features a Direct Data Mapping engine which provides real-time aggregation of complex business data without needing a data warehouse. Users can drill from top line, aggregated KPIs to supporting transaction records with one click. Incorta also enables you to drill anywhere with user-defined drill paths and hierarchies.
Kyligence offers an AI-powered Semantic as a Service for valuable data. The product provides users with a consolidated view of their data across the organization via AI augmentation which intelligently identifies, manages and optimizes data. Kyligence is available on-prem or in the cloud. Its proprietary Smart Pushdown Query Routing Engine retrieves data and serves queries from different sources like RDBMS, data lakes, and the cloud. It also reads data and metadata from these sources for further optimization.
Preset Cloud gives organizations an easier way to access Apache Superset in a reliable, securely managed cloud environment. Originally created by Preset founder Maxime Beauchemin while at Airbnb, Superset has become a very popular open source visualization layer. Key features of the product include a no-code data explorer, advanced SQL editor for building semantic data models, rich gallery of over 40 visualizations, and integration with modern data technologies like Snowflake, BigQuery, Druid, Presto, and Dremio.
Starburst Data offers a data access and analytics tool that is based on Presto. it provides fast and interactive enterprise-ready distribution, consisting of additional tooling and configurations that enable data analysts to run queries against various data sources ranging in size from gigabytes to petabytes. The solution also includes a cost-based query optimizer which improves Presto query performance, by over an order of magnitude in many cases.
Toucan offers a data storytelling platform designed for the non-technical decision-maker. The product lets users communicate actionable insights via a built-in no-code framework. Toucan Toco adapts to usage habits by deploying apps to all devices quickly without additional work, installation, or post-deployment maintenance. Included collaboration capabilities can be utilized via native integrations with Teams and Slack. The tool also touts an adaptive design and the ability to embed charts to websites or other platforms.

Latest posts by Timothy King
(see all)