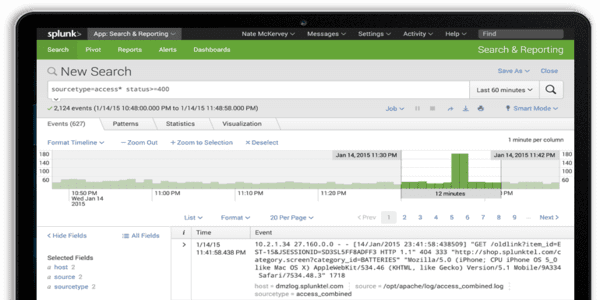 Splunk recently announced the general availability of Splunk Enterprise version 6.4 and a new Splunk Cloud release. The new offering gives Splunk Enterprise customers the ability to drive down the costs of Big Data Analytics by reducing storage costs of historical data by 40 to 80 percent, whether stored on-premise or in the cloud. Splunk Enterprise and Splunk Cloud now include new interactive visualizations and an open library on Splunkbase where users can develop and share custom visuals. Other new capabilities in Splunk's duo of new solutions include enhanced Big Data Analytics, improved query performance, and security and management improvements.
Additional enhancements for customers include:
Lower cost of long-term data storage: Allows users to selectively optimize he cost and performance of queries on an organization's historical data.
Interactive visualizations and enhanced analytics: Allows for easy creation of custom visualizations using the new developer framework. Also lets users more accurately forecast trends and predict missing values.
Platform security and management: New views provide deeper visibility into Splunk system event collection and health and increased management flexibility and security using delegated administration roles.
Operational Intelligence for cloud services: Allows customers to monitor and analyze the real-time performance, availability and security of the Akamai CDN service with the new Splunk app.
As data proliferation explodes, storage has increasingly become the most expensive aspect of Data Analytics. Splunk's Vice President of Product and Marketing and Management Shay Mowlem adds: "Splunk is passionate about making big data analytics more affordable for organizations of every size. Reducing the cost of historical data retention and analysis is a major part of delivering that value to our customers. Splunk Enterprise customers can now reduce storage costs for historical data by up to 80 percent for on-premises, cloud and hybrid deployments. We are also engineering long-term data archiving functionality into Splunk Cloud, which we expect to deliver later this year."
Click here to read Splunk's full press release.

Latest posts by Timothy King
(see all)