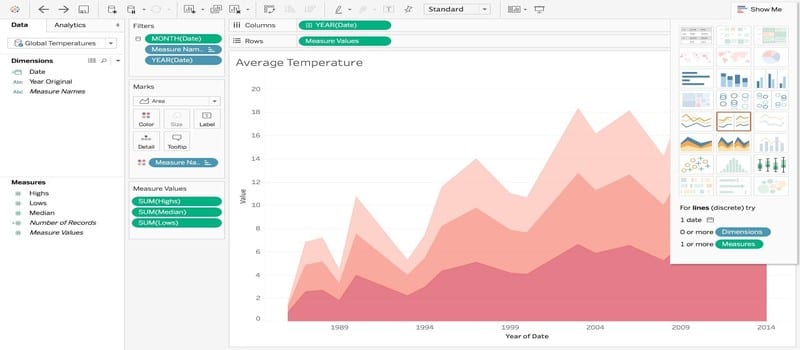 Tableau Software today announced the general availability of Tableau 10, featuring a completely refreshed design, new analytical and mobile enhancements, options for preparing data, and a host of new enterprise capabilities – making this one of the company's most significant releases in its history. According to the company's Chief Development Officer and co-founder Chris Stolte, Tableau 10: "makes data the hero. Data integration helps maximize time spent on analysis. Data analytics innovations like the drag and drop clusters, help people do more advanced analysis of their data without needing to program."
Tableau 10 was purpose-built with the help of more than 75,000 Tableau community members, which included over 14,000 beta testers. Over 30 features are the direct result of requests in Tableau's Community Ideas Forum.
Every element of the interface was reconsidered for version 10 in order to help users maximize cognition and better focus on their visual analysis. As a result, the interface was crafted to optimize legibility and elegance for the wide variety of  data visualizations that users can create in Tableau. New default settings help users corral visual design best practices for every business question, always providing the option to change format so that users retain creative flexibility.
Feature enhancements in Tableau Mobile 10.0 provide access to real-time data and support multi-device visualizations for users across the enterprise. The new Device Designer function allows the user to create dashboards that automatically render to a variety of different screen sizes for a range of devices, including those running Android. In addition, Offline Snapshots refresh in the background so the most up-to-date data is always fresh at hand. Tableau Mobile 10.0 is now easier to deploy cross-enterprise, with support for Mobile Device Management platforms as well.
Version 10 offers new features such as cross-database join to assist users in bringing together disparate data sources at the row level without the need to start up complicated Data Integration projects. New analytics capabilities that make complex analysis more accessible. Drag-and-drop clustering automatically identifies patterns and group data based on k-means. Custom territories allow users to do advanced geographic analysis on a grand scale, and the data highlighter makes it easy to call a particular insight while keeping the rest of the data visible for context.
Version 10 enables enterprise customers to create dashboards online. The tool also gives IT visibility into the usage of Tableau Desktop licenses and IT can also control the login experience for multi-tenant deployments with site-specific SAML IdP configuration. And for developers, new APIs have been added to Tableau to enable them to write custom applications that leverage data or to embed Business Intelligence virtually into any application or website.
Tableau 10's major feature enhancements entrench the vendor's standing as one of the leaders in enterprise analytics. Earlier this year, Gartner concurred, naming Tableau the top solution provider in the Business Intelligence sector.
Read the official press release.