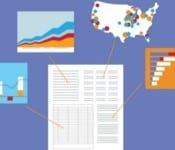 Tableau Software recently released its "Top 10 Trends in Business Intelligence for 2014" list.  Below are some of the key descriptions of each trend.
1. "The end of data scientists.  Familiarity with data analysis becomes part of the skill set of ordinary business users, not experts with "analyst: in their titles."
2. "Cloud business intelligence goes mainstream.  The maturation of cloud services helps IT departments get comfortable with business intelligence in the cloud."
3. "Big data finally goes to the sky.  Cloud data warehouses like Amazon Redshift and Google BigQuery transform the process of building out a data warehouse from a months-long process to a matter of days."
4. "Agile business intelligence extends its lead.  Self-service analytics becomes the norm at fast-moving companies."
5. "Predictive analytics, once the realm of advanced and specialized systems, will move into the mainstream as businesses seek forward-looking rather than backward-looking insight from data."
6. "Embedded BI begins to emerge.  Embedded BI will bring data to departments that have typically lagged: for example, on the shop floor and in retail environments."
7. "Storytelling becomes a priority, as people realize that a dashboard deluge without context is not helpful.  Stories become a way to communicate ideas and insights using data."
8. "Mobile business intelligence becomes the primary experience.  Business users are able to demand access to information within the natural flow of their day, not back at their desks.
9. "Organizations begin to analyze social data in earnest.  Companies begin to use social data to understand how relevant they are to their customers."
10. "NoSQL is the new Hadoop.  Organizations explore how to use unstructured data.  NoSQL technologies become more popular as companies seek ways to assimilate this kind of data."
Click on the following link to see the Top 10 BI Trends presentation from Tableau Software:
https://www.tableausoftware.com/about/blog/2013/12/top-10-trends-business-intelligence-2014-27275
Check out these additional resources:

Latest posts by Doug Atkinson
(see all)