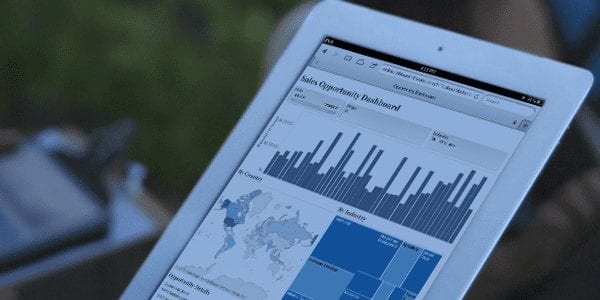 More news is beginning to trickle out about the highly-anticipated update to Tableau's business intelligence (BI) offerings, as the release of Tableau 9 is on the horizon, and could be available as soon as next week. Tableau 9 has been in beta testing since last year, and a March 2nd iTWire column hinted that a release could come in 60 days. Furthermore, Tableau published a PC World article from March 20th in their official "newsroom" on Friday. This should give us a good indication that the information is not only accurate, but that a release is imminent. The column, written by Katherine Noyes, is entitled "Six features coming to Tableau's new BI analytics suite." I thought it would be valuable to highlight some of the new features we are likely to see. Let's have a look.
In Gartner's 2015 Magic Quadrant for BI and analytics, Tableau was placed in a category of their own, surpassing some of the biggest names in the BI space. They are hoping their upcoming release, Tableau 9, will help them build upon their recent success. Tableau 9 aims to help users spend less time "data wrangling" and more time analyzing to gain business insights.
What makes this upcoming release unique is that Tableau plans to combine databases and computer graphics in such a way that allows the average, non-technical user to easily access data visualization. The new features are likely to include new tools for data preparation, query performance and more:
Support for Statistical Data Files: Tableau 9 will now support statistical files, such as SAS, SPSS, and R. The current version already supports more than 45 out of the box, including Hadoop, Salesforce and Excel.
New Data-Preparation Features: Cleaning up data can be just as important as analyzing it, in that users have to delete redundant information before putting it to use. In version 9, data-preparation features have been added to help make it easier for users to clean any data they are about to work with.
Ad-hoc Calculations: Similar to what one can do in Excel, Tableau 9 will now provide the user with the ability to perform calculations on an ad-hoc basis.
Query Performance Improvements: Improvements in Tableau 9 will make it even faster with features that are meant to make the most of a user's hardware. The new Parallel Queries feature will enable version 9 to take better advantage of capabilities and source databases to execute more queries at the same time for faster dashboard performance. Query Fusion, another new feature will look at all the queries in a user's dashboard to find ways to simplify them into fewer queries. This will mean less work for the database and faster response times for the user or organization.
Smart Maps: Version 9 also touts new selection controls, geocoding data and geographic search capabilities.
Administrator Views: Tableau will include new admin features to enable administrators a way to monitor and analyze data from their Tableau server. This will allow them to detect bugs, plan upgrades, allocate resources and track user activity.
Stay tuned to Solutions Review for more updates as they become available.
Check out these additional resources: