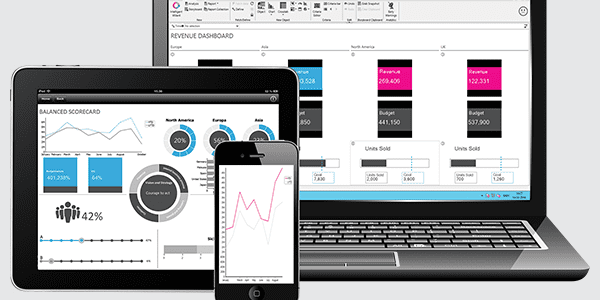 TARGIT has recently announced several updates coming to its mobile business intelligence (BI) client. Companies are becoming increasingly dependent on the ability to have access to all of their data at any time, and with that in mind, TARGIT has some product enhancements in store for its Android, iOS, and Windows Mobile users. The new features will grant organizations the access they need from any device no matter where they are.
TARGIT explains: "Recently, we've been seeing an increasing amount of Decision Suite users accessing business intelligence and analytics solely on mobile BI clients. Some don't even bother to crack open their PCs during a regular work day. They want a mobile BI client with the same power as a desktop business intelligence solution."
Given the current push for mobile BI in the marketplace, TARGIT has some new tricks up their sleeve. Here's what's coming:
New start analysis: Mobile users will now be presented with a given start analysis if enabled, similar to the Windows client version of the TARGIT Decision Suite. Users of TARGIT'S mobile BI can now choose a specific analysis to open automatically upon launch. No longer will users have to sift through folders to find the analysis they need to get started.
Add/remove files from Mobility and Favorites folders: Mobile users will gain access to the same features for organizing their documents as they would if they were using TARGIT BI on a computer. This makes it as easy as possible for users to access important files and organize them in a convenient way. Since many users now exclusively use TARGIT BI on a mobile basis, according to the company, users will find this worthwhile.
Expand/collapse hierarchies: Expandable and collapsible hierarchies on mobile gives users the ability to get more or less detail in their analysis, based on their needs at any given time.
Multi-select features: This will be familiar to those who have used TARGIT's popular Windows client in the past. Now, it will be possible for users to select multiple members within an object for a more detailed view in the company's mobile BI. This tool is a shortcut to the information needed for decision-making and insights.
New draw and write tool: Users will now be able to draw and write directly in the TARGIT analysis mobile BI client. Anyone can then send the doodled-up document via email or text. If something is interesting, a user can draw a circle around it in order to highlight it with the draw tool, and then write a note about the same item with the write feature.
Voice memos: Users can now record voice messages in conjunction with an analysis, which can then be sent as an attachment via email. Voice memos allow for things to be understood quicker.
TARGIT hopes this new set of mobile BI tools can assist users to swiftly discover new business insights. The mobile application is available on iOS, Android, and Windows Mobile.
To view the original post, click here.
For more information and a side-by-side comparison on the top BI vendors and their software solutions, consult our free BI Buyers Guide and Matrix Report.