Tellius Unveils Major Platform Update Headlined by Tellius Quick Start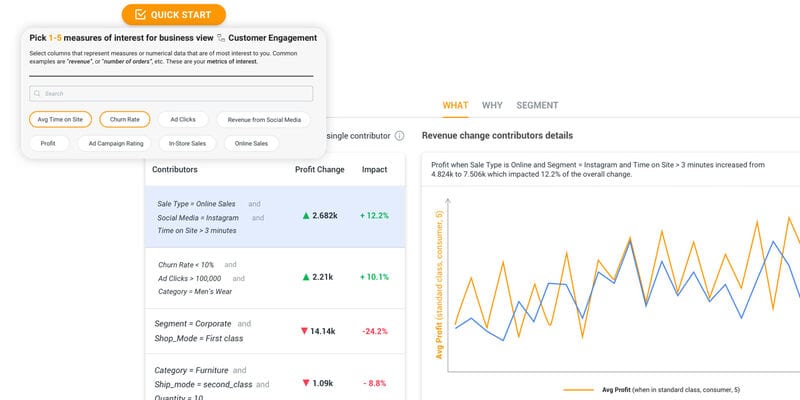 Tellius is updating its flagship business intelligence and data analytics offering with feature improvements designed to help customers hasten decision-making. The release is headlined by a new Quick Start capability, proactive intelligence functionality, and resource and data controls that let users start analysis quickly. Quick Start asks users about metrics of interest, and then automatically generates tailored analytics content including data visualizations, inquiries, and AI-powered insights.
[box style="3″]Our Buyer's Guide for Analytics and Business Intelligence Platforms helps you evaluate the best solution for your use case and features profiles of the leading providers, as well as a category overview of the marketplace.[/box]
Tellius offers a search and AI-powered data analytics platform. The product features a proprietary Genius AI Engine that is designed to allow business users ask questions about their data. Tellius has natural language processing that interacts with users in plain language and creates narratives alongside data visualizations as well. The tool can also provide personalized recommendations by anticipating needs and automatically offering related insights and suggestions. Tellius is built on the Apache Spark distributed architecture.
Proactive intelligence with Tellius Feed provides users with smart and relevant alerts about significant changes in user-specified and inferred key metrics, alongside root cause analysis. As a result, the product now delivers greater data and resource control. Users now also gain granular monitoring and control over resource usage, data sizes, and alerting. Smart data pipelining helps users keep an organized and up-to-date workflow regardless of upstream/downstream changes via a series of checks, warnings, and a new option to auto-refresh linked datasets as well.
In a media statement on the news, Tellius Founder and CEO Ajay Khanna said: "Personalized, proactive insights are the future of business intelligence and data science and this news is yet another step Tellius is taking to augment and tailor the enterprise analytics experience to go beyond dashboards. With maximum flexibility across clouds and on-premise solutions, Tellius is helping customers make the most of their data resources in a cost-effective manner—no matter where and how that data is stored."
Read Tellius Enhances AI-Driven Decision Intelligence Platform with Proactive and Personalized Insights to learn more.
[hr style="single"]