Teradata Makes a Run at Data-Warehousing and Analytics with QueryGrid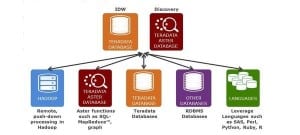 Teradata is making a few upgrades to their product line as they continue working towards being the leader in the Data-Warehousing and Data Analytics space. On Monday Teradata announced a new product which, available in the 3rd quarter, which allows users to run a single SQL-based query across multiple data stores, from Teradata's own system to Hadoop and rival databases.  The product, QueryGrid, will align with the release of their new Teradata Database 15 also available in the 3rd quarter.
"Instead of moving data, the queries are pushed into target systems and the processing occurs there, Teradata said. This gives users the ability to choose the best processing engine for a particular job while working within a single environment, according to Teradata," InfoWorld writes. These capabilities are similar to to SAP's Smart Data Services for its HANA in-memory database and Business Warehouse and are built of Teradata's previous Unified Data Architecture, "which integrates Hadoop with Teradata's data warehouse and Aster Discovery Platform."
The improvements in their new Teradata Database 15 seem to be targeted at Big Data and Business Intelligence issues that will come from the emergence of machine-to-machine (M2M) technology and the "Internet of things. This focus can be seen in the support for JSON (JavaScript Object Notation) data, a widely used language in MDM communication. "Teradata 15 also introduces support for more scripting languages, including Perl, Ruby, Python and the statistical modeling language R."
Click here to read the full article from InfoWorld and for more on the upcoming releases from Teradata.
Check out these additional resources: