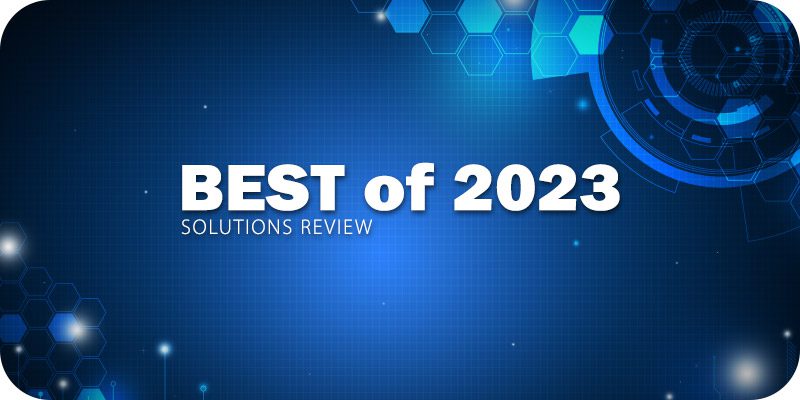 Solutions Review's listing of the best big data visualization tools is an annual mashup of products that best represent current market conditions, according to the crowd. Our editors selected the best big data visualization tools based on each solution's Authority Score; a meta-analysis of real user sentiment through the web's most trusted business software review sites and our own proprietary five-point inclusion criteria.
The editors at Solutions Review have developed this resource to assist buyers in search of the best big data visualization tools to fit the needs of their organization. Choosing the right vendor and solution can be a complicated process — one that requires in-depth research and often comes down to more than just the solution and its technical capabilities. To make your search a little easier, we've profiled the best data visualization tools providers all in one place. We've also included platform and product line names and introductory software tutorials straight from the source so you can see each solution in action.
Note: The best big data data visualization tools are listed in alphabetical order.
The Best Big Data Data Visualization Tools
Platform: GoodData
Description: The GoodData platform provides creation, delivery, and automated management of analytics at scale that allows organizations to deliver insights to customers, partners, and other users. GoodData is designed to support any analytical product roadmap and enables customers to offer their partners any data source, visualization, interaction pattern, or integration they need. The tool offers analytics and expertise to operationalize intelligent decisions within business applications and business processes.
Platform: Power BI
Related products: Power BI Desktop, Power BI Report Server
Description: Microsoft is a major players in enterprise BI and analytics. The company's flagship platform, Power BI, is cloud-based and delivered on the Azure Cloud. On-prem capabilities also exist for individual users or when power users are authoring complex data mashups using in-house data sources. Power BI is unique because it enables users to do data preparation, data discovery, and dashboards with the same design tool. The platform integrates with Excel and Office 365, and has a very active user community that extends the tool's capabilities.
Platform: Tableau Desktop
Related products: Tableau Prep, Tableau Server, Tableau Online, Tableau Data Management
Description: Tableau offers an expansive visual BI and analytics platform, and is widely regarded as the major player in the marketplace. The company's analytic software portfolio is available through three main channels: Tableau Desktop, Tableau Server, and Tableau Online. Tableau connects to hundreds of data sources and is available on-prem or in the cloud. The vendor also offers embedded analytics capabilities, and users can visualize and share data with Tableau Public.
Platform: Toucan Toco
Description: Toucan offers a data storytelling platform designed for the non-technical decision-maker. The product lets users communicate actionable insights via a built-in no-code framework. Toucan Toco adapts to usage habits by deploying apps to all devices quickly without additional work, installation, or post-deployment maintenance. Included collaboration capabilities can be utilized via native integrations with Teams and Slack. The tool also touts an adaptive design and the ability to embed charts to websites or other platforms.
Platform: Zoho Analytics
Description: Zoho Analytics is a self-service BI and data analytics tool that lets you incorporate data from a wide range of sources, blend it together, and create cross-functional reports and dashboards. The product features a drag-and-drop designer, as well as different visualization tools to drill down to specifics. A "smart" assistant called Zia can answer questions in the form of reports and KPI widgets via AI, machine learning and natural language processing. Users can share and publish reports and smart data alerts ping you when outliers or anomalies happen.