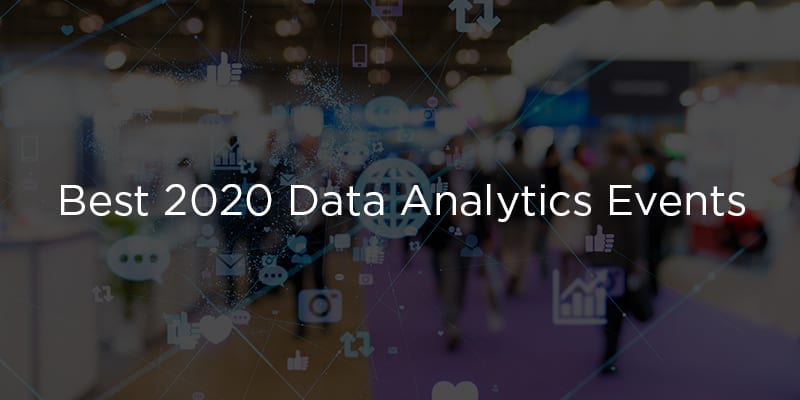 This is a directory of the best data analytics events and conferences. We do our best to provide readers with buyer and practitioner resources, including the Solutions Review Buyers Guide. Sometimes though, you need extra exposure, the kind you can only get in person.
The editors at Solutions Review have created this list of the year's most anticipated US-based data analytics events to attend. We've scoured the web, consulted with conference representatives, and identified where the industry's top brass will be spending their time. If you are looking for top-notch keynotes, interesting sessions, best practices demos, and legitimate networking opportunities, mark your calendar.
All of the conferences listed are organized by independent analysts, researchers, and media outlets. We have not listed solution provider or vendor-centric user demonstrations. Events are listed in chronological order and may include additional dates. Clicking More Information directs you to the event home page.
Applied Data Visualization Healthcare
Date: January 22-23
Location: Fort Lauderdale, FL
Description: Applied Data Visualization Healthcare is the only event in North America to help visualization and business intelligence teams maximize their impact. Packed with practical guidance, case studies and engaging discussion – this is your essential guide to drive meaningful outcomes from your data. It will take you through how to advance data literacy in your organization, breakdown silos and better organize your data, improve the design of your visualizations and optimize applications to solve common healthcare challenges.
Chief Data & Analytics Officers, APEX
Date: January 22-24, June 2-4
Location: Orlando, FL, Scottsdale, AZ
Description: The Chief Data & Analytics Officer Exchange is a flagship event bringing together the most innovative and insightful technology leaders across industries for in-depth discussions and exchanges of experience and ideas to address the emerging landscape of digital business in a digital economy. CDAO Exchange will offer data analytics leaders the opportunity to hear and discuss successful strategies in a true peer-to-peer networking forum.
Chief Data & Analytics Officer Exchange
Date: January 26-28, June 2-4
Location: Phoenix, AZ
Description: CDAO, APEX is set apart from traditional conferences or tradeshows because of its focus on bringing together the crème de la crème of the data & analytics world for valuable networking truly peer-to-peer level and intellectual content. Only a limited number of specially selected C-Suite, VP and Director level Fortune 1000 leaders are invited to attend, together with solution providers with the most cutting-edge capabilities.
Data Business Congress
Date: February 3-4
Location: San Jose, CA
Description: Over 90 percent of all the world's data has been created within the last two years. With the advent of the Fourth Industrial Revolution that process is only going to accelerate. For businesses across the globe, this presents big challenges – but also significant opportunities. By focusing on the data creation, management and value creation lifecycle, the inaugural Data Business Congress will deliver cutting edge intelligence and analysis of the key data issues confronting companies as 5G begins to roll-out and the Internet of Things continues to build.
Chief Data & Analytics Officers
Date: February 4-5 (Financial Services), March 25-27 (LatAm), May (Spring), May 27-28 (Government), June 16-17 (Insurance)
Location: New York, NY, Miami, FL, San Francisco, CA, Washington, DC, Hoboken, NJ
Description: The CAO conference is an executive-level event for analytics professionals to learn about the latest tools, techniques, and real-world case studies. Event tracks emphasize growing analytics as a profit-driven business unit by focusing on what matters to you the most. CAO events feature guest expert speakers and takeaways on how to practically apply analytics to gain a competitive advantage.
TDWI Conference
Date: February 9-14, May 10-May 15, August 16-21, November 8-13
Location: Las Vegas, NV, Chicago, IL, San Diego, CA, Orlando, FL
Description: No matter what you're currently facing, TDWI delivers the training you need to overcome your top data and analytics challenges, all taught by the industry's most respected thought leaders and practitioners. Join TDWI and walk away with the skills and best practices you need to advance your data and analytics initiatives today.
Gartner CIO Leadership Forum
Date: February 23-25, March 30-April 1
Location: Phoenix, AZ, Hollywood, FL
Description: Today's leading CIOs are more than technology experts. They're cross-functional change-makers, guiding business strategy at the highest level while building the culture and digital dexterity to support innovation. Gartner CIO Leadership Forum is an unrivaled experience for this new type of leader – your place to dissect the challenges and opportunities of digital business among select peers so you can drive competitive advantage for your organization.
Analytics and Data Summit
Date: February 25-27
Location: Santa Clara, CA
Description: The Analytics and Data Summit is organized and managed by Oracle BI, data warehouse, and analytics (BIWA) user community. Again this year, it includes the annual Oracle Spatial and Graph Summit. This event attracts the top Oracle BI, data warehouse, advanced analytics, big data, and spatial and graph experts. The event features keynotes by industry experts, educational sessions by practitioners and developers, hands-on labs, and networking sessions.
Data Points Data Science Summit
Date: March 5, April 2
Location: Chicago, IL, Los Angeles, CA
Description: Data Points is a half-day summit series around data science, AI, and machine learning in enterprise applications. Join other senior practitioners and executives for an immersive afternoon of talks on use cases, trends, and the technical infrastructure powering the most sophisticated data practices. Learn from leaders in data who have implemented data practices at scale in a series of interactive presentations, and network face-to-face with your peers at a closing reception.
BI+Analytics Conference
Date: March 9-11
Location: Atlanta, GA
Description: The BI+Analytics Conference is North America's premier networking event for SAP customers in business intelligence and analytics. Join us as we share real-world strategies and best practices to address business analytics trends. Experience real-life case studies, interactive discussion sessions, demos, and SAP expert presentations.
Strata Data & AI Conference
Date: March 15-18, September 14-17
Location: San Jose, CA, New York, NY
Description: The brightest minds in data and AI come together at the O'Reilly Strata Data & AI Conference to develop new skills, share best practices, and discover how tools and technologies are evolving to meet thorny challenges. If you want to leverage data for a competitive edge and put AI to work, register now.
Gartner Data & Analytics Summit
Date: March 23-26
Location: Grapevine, TX
Description: Gartner Data & Analytics Summit is the must-attend conference for data and analytics leaders. Join to gain the skills to rewire your culture for an AI-augmented future. Learn how to build an effective data and analytics strategy that will improve productivity, enable fact-based decision making and drive significant business value. Develop the leadership skills to bridge the gap between business and IT, drive innovation, build resilient teams, and make data and analytics pervasive in your organizational culture.
AI and Big Data in Cancer
Date: March 29-31
Location: Boston, MA
Description: The future of medicine is data-driven and AI-enabled. Artificial intelligence will impact diagnosis, treatment decisions and patient care. Learn from others along the value-chain to understand how to effectively translate technology, data and analytic innovations into clinical practices and patient benefits and find the right partners to move your innovations forward.
Marketing Analytics and Data Science
Date: March 31-April 2
Location: San Francisco, CA
Description: Over the course of three days, discover the infinite possibilities that emerge when insights, analytics, data scientists, and marketing executives break down silos and work together to drive bottom line impact across an organization. All sessions focus on three core principles: best practices for ensuring synergy between data science and analytics; hacks to ensure a data-driven mindset is embedded into your organizational culture, and proven strategies for enhancing the value of impact in the overall organization.
Analytics Summit (University of Cincinnati)
Date: April 6-8
Location: Cincinnati, OH
Description: Analytics Summit's focus is on analytics and data science content to support the growth and development of analytics efforts in business, government and non-profit organizations. Increase your knowledge of the latest analytics topics, tools and trends presented by the top experts in the industry. Learn from others how they apply analytics tools and manage data science teams in their industry. Connect with data scientists, analysts, presenters and practitioners.
Intelligence Analytics Summit
Date: April 7-9
Location: Washington, DC
Description: Intelligence Analytics Summit will provide you with a unique opportunity to network with the decision makers across the intelligence community who are changing analytics concepts and paving the way for future shared platforms based on agile and professional human factors, backed by the leading AI technologies.
Bio IT World Conference & Expo
Date: April 21-23
Location: Boston, MA
Description: Bio IT World Conference & Expo is the world's premier event showcasing technologies and analytic approaches that solve problems, accelerate science, and drive the future of precision medicine. Bio-IT World unites an ecosystem of over 3,000 leading life sciences, pharmaceutical, clinical, healthcare, informatics and technology experts in the field of biomedical research, drug discovery & development, and healthcare from around the world.
INFORMS Business Analytics Conference
Date: April 26-28
Location: Denver, CO
Description: Join over 1,000 leading analytics professionals and industry experts in discovering new mathematical solutions to problems, networking strategies for advancing your career, and recognizing individual and team efforts within your field with most prestigious awards in analytics and operations research. The INFORMS Business Analytics Conference delivers three days of intensive learning about the latest innovations in analytics.
Advancing Construction Analytics
Date: April 27-29
Location: Dallas, TX
Description: Advancing Construction Analytics is the only event focused on promoting construction data strategies and supporting firms to leverage analytics for smarter business decisions. Senior leaders and information, data, innovation, strategy and technology professionals attend to realize their firm's data potential, capture and application.
Real Business Intelligence (Dresner Advisory Services)
Date: August 11-12
Location: Cambridge, MA
Description: Dresner Advisory Services is proud to host the fourth annual Real Business Intelligence Conference, the only industry event for business and IT leaders focusing upon strategies for success with Business Intelligence, Analytics, Information Management and Performance Management – using real world best practices and proven methods.
SIAM International Conference on Data Mining
Date: May 7-9
Location: Cincinnati, OH
Description: This conference will provide a forum to present work that advances mathematical, statistical, and computational methods in the context of data and information sciences and aims to unite researchers who are building mathematical foundations for data science and making principled applications to science, engineering, technology, and society. This conference is co-located with SIAM Conference on Mathematics of Data Science.
Marketing Analytics Conference
Date: May 13-14
Location: Orlando, FL
Description: The Marketing Analytics Conference has evolved along with the times to provide you a program that addresses the most creative and effective ways to reach today's consumer and to measure the impact of your efforts. Top minds from the forefront of both marketing and data science will share their priorities and processes in order to foster improved cooperation between departments.
The Data Science Conference
Date: May 14-15, October 8-9
Location: Chicago, IL, Boston, MA
Description: The Data Science Conference provides a space where analytics professionals can network without being prospected by other attendees. This conference is by professionals for professionals. No presentation time will be allotted to sales pitches. No sponsor booths will be outside. We will not recruit you or sell your information. There will be no paid advertising. Agenda/speakers is open to the public, no email needed. Presentation slides will be provided at no extra cost (those presenters agree to share).
Data Summit (

Database Trends and Applications)
Date: May 19-20
Location: Boston, MA
Description: At Data Summit, you'll hear the innovative approaches the world's leading companies are taking to solve today's key challenges in data management. Whether your interests lie in the technical possibilities and challenges of new and emerging technologies or using big data for business intelligence, analytics, and other business strategies. This event is co-located with AI & Machine Learning Summit, DataOps Boot Camp, and Data Lake Boot Camp.
Machine Learning Week/Predictive Analytics World
Date: May 31-June 4
Location: Las Vegas, NV
Description: Machine Learning Week 2020 (formerly Predictive Analytics World) features seven tracks of sessions covering the commercial deployment of machine learning. Register to attend one or more of Machine Learning World's five co-located conferences: Predictive Analytics World Business, Financial, Industry 4.0, Healthcare, and Deep Learning World.
Women in Analytics Conference
Date: June 3-5
Location: Columbus, OH
Description: As one of the largest conferences of its kind, the WIA conference brings together a global community of industry leaders, technical experts, entrepreneurs, and academia while providing a platform for women to lead the conversations around the advancements of analytical research, development, and applications. While the speaker line-up is reserved exclusively for women, all other aspects of the conference are open to everyone.
The Innovation Enterprise DATAx Conference
Date: June 10-11
Location: San Francisco, CA
Description: DATAx brings together over 500 business leaders and data scientists from across the country to learn, network and develop together the future of AI an its application in business, with dedicated conferences tackling the role of AI in marketing tech, healthcare and gaming. Connect with the pioneers driving change and inspire yourself with the latest findings on machine learning models, data strategy and advanced analytics.
Data & Analytics Insight Summit
Date: June 24-26
Location: June, FL
Description: Join top data and analytics leaders at an exclusive event to discuss how best to maximize ROI through implementing transformative technologies to create a culture of innovation and ensuring compliance by championing data privacy and security.
Industrial Conference on Data Mining
Date: July 15-19
Location: New York, NY
Description: The Industrial Conference on Data Mining ICDM is held on yearly basis. Researchers from all over the world will present theoretical and application-oriented topics on data mining. Practitioners can present and discuss their ongoing projects in Industry sessions.
KDD Conference
Date: August 22-27
Location: San Diego, CA
Description: The annual KDD conference is the premier interdisciplinary conference bringing together researchers and practitioners from data science, data mining, knowledge discovery, large-scale data analytics, and big data.
Data Architecture Summit
Date: October 19-23
Location: Chicago, IL
Description: The Data Architecture Summit provides a comprehensive educational program that defines the essential elements of a modern data architecture, and explains how you can create it for your own organization. Whether you're looking to build or buy your new architecture, Data Architecture Summit will provide the essential knowledge and language to understand the options. If you know you need to re-tool or upgrade your current architecture, attend this event and you'll leave with a comprehensive understanding of your technology and design options.
The AI & Big Data Expo
Date: November 4-5
Location: Santa Clara, CA
Description: The AI & Big Data Expo will showcase the most cutting-edge technologies from more than 350 exhibitors and provide insight from over 500 speakers sharing their unparalleled industry knowledge and real-life experiences. The expo itself will bring together key industries from across the globe for two days of top-level content and discussion across 5-colocated events covering, AI, big data, IoT, cyber security, cloud, blockchain, and 5G.
Data Strategy & Insights (Forrester Research)
Date: December 1-2
Location: Austin, TX
Description: Join more than 20 Forrester analysts, industry speakers, and over 650 data and analytics practitioners for two days at Data Strategy & Insights. The event will provide the thought leadership, strategic direction, and networking opportunities needed to shape your data and analytics strategy for the coming decade. Topics will cover everything from AI to leadership strategies.

Latest posts by Timothy King
(see all)