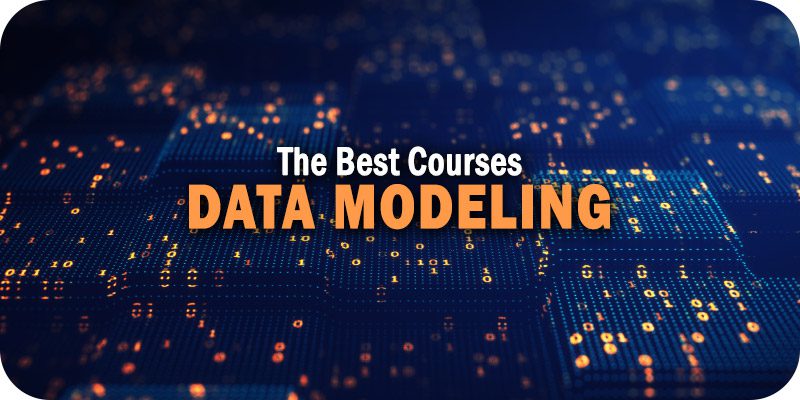 The editors at Solutions Review have compiled this list of the best data modeling courses and online training to consider.

Data modeling is the process of creating a visual representation of information systems in order to communicate connections between different data points and structures. Data models are built to uncover different business needs, with the end goal of bringing to light the types of data used and stored within a system, the relationships among data types, and the ways they can be grouped and organized. Data modeling employs standardized schemas and formal techniques that provide common definitions across an organization.

With this in mind, we've compiled this list of the best data modeling courses and online training to consider if you're looking to grow your data management or analytics skills for work or play. This is not an exhaustive list, but one that features the best data modeling courses and online training from trusted online platforms. We made sure to mention and link to related courses on each platform that may be worth exploring as well. Click Go to training to learn more and register.
The Best Data Modeling Courses and Online Training
Platform: Coursera
Description: In this course, you will experience various data genres and management tools appropriate for each. You will be able to describe the reasons behind the evolving plethora of new big data platforms from the perspective of big data management systems and analytical tools. Through guided hands-on tutorials, you will become familiar with techniques using real-time and semi-structured data examples. Systems and tools discussed include AsterixDB, HP Vertica, Impala, Neo4j, Redis, SparkSQL.
Related path/track: Data Modeling and Regression Analysis in Business
Platform: DataCamp
Description: In this course, you will learn to model with data. Models attempt to capture the relationship between an outcome variable of interest and a series of explanatory/predictor variables. Such models can be used for both explanatory purposes. You will leverage your tidyverse skills to construct and interpret such models. This course centers around the use of linear regression, one of the most commonly used and easy-to-understand approaches to modeling.
Related path/track: Analyzing Election and Polling Data in R
Platform: edX
Description: This course is one of five self-paced courses on the topic of Databases, originating as one of Stanford's three inaugural massive open online courses released in the fall of 2011. This course covers underlying principles and design considerations related to databases; it can be taken either before or after taking other courses in the Databases series.
Related paths/tracks: Introduction to Analytics Modeling, Data Analysis: Statistical Modeling and Computation in Applications, Data Science: Inference and Modeling, Data, Models and Decisions in Business Analytics
Platform: Experfy
Description: This course is designed to reduce and/or eliminate these issues. The instructor was introduced to SAS programming during his schooling and the founder of mydatacareer.com and has designed multiple courses (including best-selling courses) in the area of SAS and statistics.
Related path/track: Causal Modeling: Establishing Causal Inferences with Examples in SAS
Platform: Intellipaat
Description: Data Warehousing Training and Certification by Intellipaat will help you master business intelligence concepts such as data warehousing (DW) architecture, data integration, data modeling, Erwin, and the fundamentals of ETL: extract, transform, and load. This online course on data warehousing also covers real-life projects.
Platform: LinkedIn Learning
Description: Learn the basics of data modeling in Microsoft Excel from experienced Excel trainer Chris Dutton. In this course—the second installment in the Excel Business Intelligence series—Chris discusses the essentials of database design and normalization. He steps through the data model interface in Excel and provides tried-and-true tips and tricks. The topics covered in this course can help you bolster your understanding of table relationships, hierarchies, and more.
Related paths/tracks: NoSQL Data Modeling Essential Training, Data Science Foundations: Data Assessment for Predictive Modeling, Power BI Data Modeling with DAX, Cassandra Data Modeling Essential Training
Platform: Mindmajix
Description: This data modeling training will help you learn how to design a relational data model, dimensional model, incorporate entities from a decomposed JSON document, NoSQL data stores, and more. Also, you'll understand how data modeling determines and interprets data from experts through step-by-step methods and examples. By the end of this certification course, you will have a firm understanding of what a data model is, data model types, how to apply normalization, how to create both a dimensional and relational data model, and much more.
Related path/track: Dimensional Data Modeling Training
Platform: Pluralsight
Description: In this introductory course, Enterprise Data Modeling: Getting Started, you will learn about the relational data model and normalization techniques. First, you will explore the NoSQL data stores and the JSON data format. Next, you will learn about OLAP and the dimensional model. Finally, you will take what you have learned and put into practice with a few demonstrations including creating a physical data model from a logical model to generate a script to build a database.
Related paths/tracks: Modeling Data in Power BI, Data Modeling and Partitioning Patterns in Azure Cosmos DB, Play by Play: Denormalize Your Thinking About Salesforce Data Modeling
Platform: Udacity
Description: Learn to design data models, build data warehouses and data lakes, automate data pipelines, and work with massive datasets. At the end of the program, you'll combine your new skills by completing a capstone project. To be successful in this program, you should have intermediate Python and SQL skills.
Related path/track: Data Analysis and Visualization with Power BI
Platform: Udemy
Description: This course features more than 9 hours of lectures and provides a robust foundation to carry out practical, real-life statistical data analysis tasks in R. It will take you (even if you have no prior statistical modeling/analysis background) from a basic level to performing some of the most common advanced statistical data analysis tasks in R. The module will also equip you to use R for performing the different statistical data analysis and visualization tasks for data modeling.
Related paths/tracks: Mastering Data Modeling Fundamentals, Learning Data Modeling, Learn Statistics and Regression Modeling for Data Science
Solutions Review participates in affiliate programs. We may make a small commission from products purchased through this resource.

Latest posts by Timothy King
(see all)