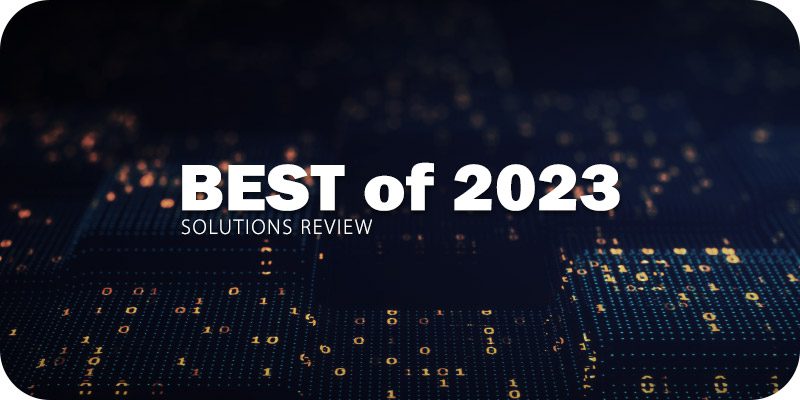 Solutions Review's listing of the best data science software and machine learning tools is an annual sneak peek of the top tools included in our Buyer's Guide for Data Science and Machine Learning Platforms. Information was gathered via online materials and reports, conversations with vendor representatives, and examinations of product demonstrations and free trials.
The editors at Solutions Review have developed this resource to assist buyers in search of the best data science software to fit the needs of their organization. Choosing the right vendor and solution can be a complicated process — one that requires in-depth research and often comes down to more than just the solution and its technical capabilities. To make your search a little easier, we've profiled the best data science software providers all in one place. We've also included platform and product line names and introductory software tutorials straight from the source so you can see each solution in action.
Note: The best data science software and machine learning tools are listed in alphabetical order.
The Best Data Science Software and Machine Learning Tools
Platform: Altair Data Analytics
Related products: Altair Knowledge Studio, Altair Altair SmartWorks, Altair Analytics Workbench, Altair Analytics Compiler
Description: Altair offers a suite of machine learning and AI solutions through its data analytics portfolio. Designed for people with different skill sets, the portfolio delivers transparency and automation with features such as AutoML and Explainable AI, and streamlines model building so more time can be spent analyzing and results can be trusted. The flexible no-code approach doesn't restrict how models are configured and tuned, giving users control over model building. With support for common SAS language, R, Python and engines, users can integrate new models built using Altair into existing analytics infrastructure.
Platform: Alteryx Analytics Process Automation
Related products: Alteryx Designer, Alteryx Intelligence Suite, Alteryx Server, Alteryx Connect, Alteryx Promote
Description: Alteryx offers data science and machine learning functionality via a suite of software products. Headlined by Alteryx Designer which automates data preparation, data blending, reporting, predictive analytics, and data science, the self-service platform touts more than 260 drag-and-drop building blocks. Alteryx lets users see variable relationships and distributions quickly, as well as select and compare algorithm performance with ease. No coding is required while the software can be deployed in the cloud, behind your own firewall, or in a hosted environment. 
Platform: Anaconda Enterprise
Related products: Anaconda Distribution, Anaconda Team Edition
Description: Anaconda offers its data science and machine learning capabilities via a number of different product editions. Its flagship product is Anaconda Enterprise, an open-source Python and R-focused platform. The tool enables you to perform data science and machine learning on Linux, Windows, and Mac OS. Anaconda allows users to download more than 1,500 Python and R data science packages, manage libraries, dependencies, and environments, and analyze data with Dask, NumPy, pandas, and Numba. You can then visualize results generated in Anaconda with Matplotlib, Bokeh, Datashader, and Holoviews. 
Platform: Databricks Unified Analytics Platform
Description: Databricks offers a cloud and Apache Spark-based unified analytics platform that combines data engineering and data science functionality. The product leverages an array of open-source languages and includes proprietary features for operationalization, performance, and real-time enablement on Amazon Web Services. A Data Science Workspace enables users to explore data and build models collaboratively. It also provides one-click access to preconfigured ML environments for augmented machine learning with popular frameworks. 
Platform: Dataiku Data Science Studio (DSS)
Description: Dataiku offers an advanced analytics solution that allows organizations to create their own data tools. The company's flagship product features a team-based user interface for both data analysts and data scientists. Dataiku's unified framework for development and deployment provides immediate access to all the features needed to design data tools from scratch. Users can then apply machine learning and data science techniques to build and deploy predictive data flows. 
Platform: DataRobot Enterprise AI Platform
Related products: Paxata Data Preparation, Automated Machine Learning, Automated Time Series, MLOps
Description: DataRobot offers an enterprise AI platform that automates the end-to-end process for building, deploying, and maintaining AI. The product is powered by open-source algorithms and can be leveraged on-prem, in the cloud or as a fully-managed AI service. DataRobot includes several independent but fully integrated tools (Paxata Data Preparation, Automated Machine Learning, Automated Time Series, MLOps, and AI applications), and each can be deployed in multiple ways to match business needs and IT requirements.
Platform: Domino Data Science Platform
Related products: Domino Model Monitor
Description: Domino Data Lab offers an enterprise data science platform that allows data scientists to build and run predictive models. The product helps organizations with the development and delivery of these models via infrastructure automation and collaboration. Domino provides users access to a data science Workbench that provides open source and commercial tools for batch experiments, as well as Model Delivery so they can publish APIs and web apps or schedule reports.
Platform: Google Cloud AI Platform
Related products: Google Cloud Data Fusion, Google Cloud AutoML, Google BigQuery ML, Google AI Platform Notebooks, Google TensorFlow
Description: Google Cloud AI offers one of the largest machine learning stacks in the space and offers an expanding list of products for a variety of use cases. The product is fully managed and offers excellent governance with interpretable models. Key features include a built-in Data Labeling Service, AutoML, model validation via AI Explanations, a What-If Tool which helps you understand model outputs, cloud model deployment with Prediction, and MLOps via the Pipeline tool. 
Platform: H2O Driverless AI
Related products: H2O 3, H2O AutoML for ML, H2O Sparkling Water for Spark Integration, H2O Wave
Description: H2O.ai offers a number of AI and data science products, headlined by its commercial platform H2O Driverless AI. Driverless AI is a fully open-source, distributed in-memory machine learning platform with linear scalability. H2O supports widely used statistical and machine learning algorithms including gradient boosted machines, generalized linear models, deep learning and more. H2O has also developed AutoML functionality that automatically runs through all the algorithms to produce a leaderboard of the best models. 
Platform: IBM Watson Studio
Related products: IBM Cloud Pak for Data, IBM SPSS Modeler, IBM Decision Optimization, IBM Watson Machine Learning
Description: IBM Watson Studio enables users to build, run, and manage AI models at scale across any cloud. The product is a part of IBM Cloud Pak for Data, the company's main data and AI platform. The solution lets you automate AI lifecycle management, govern and secure open-source notebooks, prepare and build models visually, deploy and run models through one-click integration, and manage and monitor models with explainable AI. IBM Watson Studio offers a flexible architecture that allows users to utilize open-source frameworks like PyTorch, TensorFlow, and scikit-learn. 
Platform: KNIME Analytics Platform
Related products: KNIME Server
Description: KNIME Analytics is an open-source platform for creating data science. It enables the creation of visual workflows via a drag-and-drop-style graphical interface that requires no coding. Users can choose from more than 2000 nodes to build workflows, model each step of analysis, control the flow of data, and ensure work is current. KNIME can blend data from any source and shape data to derive statistics, clean data, and extract and select features. The product leverages AI and machine learning and can visualize data with classic and advanced charts. 
Platform: MATLAB
Related products: Simulink
Description: MathWorks MATLAB combines a desktop environment tuned for iterative analysis and design processes with a programming language that expresses matrix and array mathematics directly. It includes the Live Editor for creating scripts that combine code, output, and formatted text in an executable notebook. MATLAB toolboxes are professionally developed, tested, and fully documented. MATLAB apps let you see how different algorithms work with your data as well.
Platform: Azure Machine Learning
Related products: Azure Data Factory, Azure Data Catalog, Azure HDInsight, Azure Databricks, Azure DevOps, Power BI
Description: The Azure Machine Learning service lets developers and data scientists build, train, and deploy machine learning models. The product features productivity for all skill levels via a code-first and drag-and-drop designer, and automated machine learning. It also features expansive MLops capabilities that integrate with existing DevOps processes. The service touts responsible machine learning so users can understand models with interpretability and fairness, as well as protect data with differential privacy and confidential computing. Azure Machine Learning supports open-source frameworks and languages like MLflow, Kubeflow, ONNX, PyTorch, TensorFlow, Python, and R. 
Platform: RapidMiner Studio
Related products: RapidMiner AI Hub, RapidMiner Go, RapidMiner Notebooks, RapidMiner AI Cloud
Description: RapidMiner offers a data science platform that enables people of all skill levels across the enterprise to build and operate AI solutions. The product covers the full lifecycle of the AI production process, from data exploration and data preparation to model building, model deployment, and model operations. RapidMiner provides the depth that data scientists needbut simplifies AI for everyone else via a visual user interface that streamlines the process of building and understanding complex models.
Platform: SAS Visual Data Mining and Machine Learning
Related products: SAS Viya, SAS Visual Machine Learning, SAS Visual Data Science, SAS Data Science Programming, SAS Visual Data Decisioning
Description: SAS offers a suite of advanced analytics and data science products which is headlined by SASVisual Data Mining and Machine Learning. The product provides access to data in any format and from any source, as well as automated data preparation and data lineage and model management. SAS Visual Data Mining and Machine Learning automatically generates insights for common variables across models. It also features natural language generation for creating project summaries. The companion SAS Model Manager enables users to register SAS and open-source models within projects or as standalone models.
Platform: TIBCO Data Science
Related products: TIBCO Spotfire, TIBCO Streaming
Description: TIBCO offers an expansive product portfolio for modern BI, descriptive and predictive analytics, and streaming analytics and data science. TIBCO Data Science lets users do data preparation, model building, deployment and monitoring. It also features AutoML, drag-and-drop workflows, and embedded Jupyter Notebooks for sharing reusable modules. Users can run workflows on TIBCO's Spotfire Analytics and leverage TensorFlow, SageMaker, Rekognition and Cognitive Services to orchestrate open source.