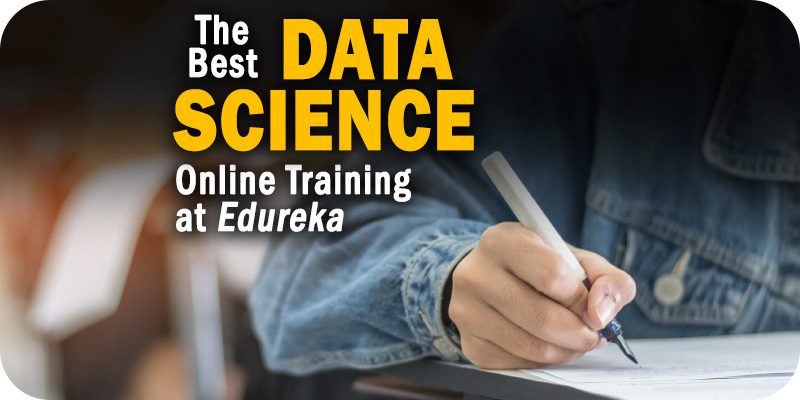 The editors at Solutions Review have compiled this list of the best Edureka data science courses and machine learning training.
Organizations are employing data scientists at a rapid rate to help them analyze increasingly large and complex data volumes. The proliferation of big data and the need to make sense of it all has created a vortex where all of these things exist together. Machine learning is now a mainstream technology with a wide variety of uses and applications. It is especially prevalent in the fields of business intelligence and data management.
With this in mind, we've compiled this list of the best Edureka data science and machine learning courses if you're looking to grow your skills for work or play. Edureka is a leader in the professional e-learning community and touts the highest course completion rate in the industry. Edureka offers 24 x 7 support for students and offers partnerships with large corporations and those in academia. This list of the best Edureka data science and machine learning below includes links to the modules and our take on each.
The Best Edureka Data Science and Machine Learning Courses
OUR TAKE: Designed to meet industry benchmarks, Edureka's Apache Spark and Scala professional certificated was created by experts in the field. It is fully immersive, offering the ability to learn and interact with the instructor when needed.
Description: Apache Spark and Scala Certification Training is designed to prepare you for the Cloudera Hadoop and Spark Developer Certification Exam (CCA175). You will gain in-depth knowledge on Apache Spark and the Spark Ecosystem, which includes Spark RDD, Spark SQL, Spark MLlib, and Spark Streaming. You will get comprehensive knowledge on Scala Programming language, HDFS, Sqoop, Flume, Spark GraphX, and messaging systems like Kafka.
More "Top-Rated" Edureka paths: Python Spark Certification Training using PySpark
GO TO TRAINING
OUR TAKE: This module offers an introduction to data science. It offers comparisons of business intelligence and data science, outlines the top tools to consider, and introduces topics like big data, Hadoop, Spark, and R.
Description: Edureka's Data Science Training lets you gain expertise in machine learning algorithms like K-Means Clustering, Decision Trees, Random Forest, and Naive Bayes using R. Data science training encompasses a conceptual understanding of Statistics, Time Series, Text Mining, and an introduction to Deep Learning. Throughout this Data Science Course, you will implement real-life use-cases on Media, Healthcare, Social Media, Aviation, and HR.
More "Top-Rated" Edureka paths: Data Analytics with R Certification Training, Advanced Predictive Modelling in R Certification Training
GO TO TRAINING
OUR TAKE: Get an introduction to data science in this machine learning with Python Edureka's training module and see how data science helps to analyze large and unstructured data with different tools.
Description: Edureka's Machine Learning Certification Training using Python helps you gain expertise in various machine learning algorithms such as regression, clustering, decision trees, random forest, Naïve Bayes, and Q-Learning. This training exposes you to concepts of statistics, time series, and different classes of machine learning algorithms like supervised, unsupervised, and reinforcement algorithms. Throughout the course, you'll be solving real-life case studies on media, healthcare, social media, aviation, and HR.
More "Top-Rated" Edureka paths: Graphical Models Certification Training, Reinforcement Learning, Natural Language Processing with Python
GO TO TRAINING
OUR TAKE: At the end of this deep learning training, you will understand core concepts while learning deep learning differs from machine learning. This deep learning certification module will also brief you on implementing the concept of single-layer perceptron.
Description: Deep Learning Training with TensorFlow Certification by Edureka is curated with the help of experienced industry professionals as per the latest requirements and demands. This deep learning certification course will help you master popular algorithms like CNN, RCNN, RNN, LSTM, and RBM using the latest TensorFlow 2.0 package in Python. In this deep learning training, you will be working on various real-time projects like Emotion and Gender Detection, Auto Image Captioning using CNN and LSTM, and many more.
More "Top-Rated" Edureka paths: Reinforcement Learning
GO TO TRAINING
OUR TAKE: In this module, students will learn to use the SAS environment and program flow in SAS with specifications of data and proc steps. It will also show how to install SAS University Edition on your system.
Description: The SAS Training and Certification course is designed to provide concepts and skills of the SAS programming language, tools, and several leading statistical techniques to become a successful analytics professional. These techniques can be enforced to carry out advanced SAS programming. The module is fed with a series of interactive exercises, which makes the learning more effective. This training also allows you to prepare for key SAS certifications.
GO TO TRAINING
Solutions Review participates in affiliate programs. We may make a small commission from products purchased through this resource.

Latest posts by Timothy King
(see all)