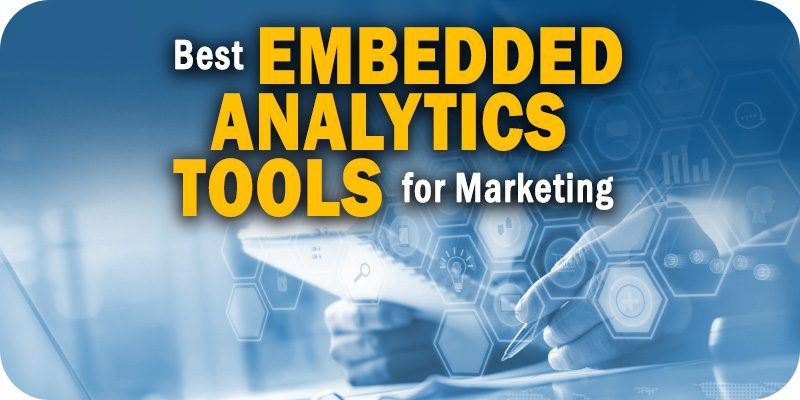 Solutions Review's listing of the best embedded analytics tools for marketing is an annual mashup of products that best represent current market conditions, according to the crowd. Vendors are assessed if they have a dedicated offering designed for professionals in this industry.
The editors at Solutions Review have developed this resource to assist buyers in search of the best embedded analytics tools for marketing to fit the needs of their organization. Choosing the right vendor and solution can be a complicated process — one that requires in-depth research and often comes down to more than just the solution and its technical capabilities. To make your search a little easier, we've profiled the best c providers all in one place. We've also included links to each company's industry-specific product pages so you can learn more.
Note: The best embedded analytics tools for marketing are listed in alphabetical order.
The Best Embedded Analytics Tools for Marketing
Syncfusion offers business intelligence dashboard functionality through Bold BI. The solution integrates with the most common SQL and web-based data sources, as well as custom data sources through the provider. Bold BI can be deployed on-prem, in the cloud or as an embedded analytics product. Users can share dashboards with others across locations and collaborate via built-in support for comments. Bold BI also includes an integration with Microsoft Active Directory for custom security authentication. 
Domo is a cloud-based, mobile-first BI platform that helps companies drive more value from their data by helping organizations better integrate, interpret and use data to drive timely decision-making and action across the business. The Domo platform enhances existing data warehouse and BI tools and allows users to build custom apps, automate data pipelines, and make data science accessible for anyone across the organization through automated insights that can be easily shared with internal or external stakeholders.
Looker offers a BI and data analytics platform that is built on LookML, the company's proprietary modeling language. The product's application for web analytics touts filtering and drilling capabilities, enabling users to dig into row-level details at will. Embedded analytics in Powered by Looker utilizes modern databases and an agile modeling layer that allows users to define data and control access. Organizations can use Looker's full RESTful API or the schedule feature to deliver reports by email or webhook.
Mode Analytics lets you run advanced analysis by switching between a cloud-based SQL Editor, Python and R notebooks, and interactive visualizations. The SQL Editor enables users to share and search analysis and set definitions while reports update automatically. Dashboard key features include calculated fields, drag-and-drop analysis, and custom visualizations. Notebooks let you expand your analysis, collaborate across team,s and tell stories with the data.
Qlik offers a broad spectrum of BI and analytics tools, which is headlined by the company's flagship offering, Qlik Sense. The solution enables organizations to combine all their data sources into a single view. The Qlik Analytics Platform allows users to develop, extend and embed visual analytics in existing applications and portals. Embedded functionality is done within a common governance and security framework. Users can build and embed Qlik as simple mashups or integrate within applications, information services or IoT platforms.
Sisense makes it easy for organizations to reveal business insight from complex data in any size or format. The product allows users to combine data and uncover insights in a single interface without scripting, coding or assistance from IT. Sisense is sold as a single-stack solution with a back end for preparing and modeling data. It also features expansive analytical capabilities, and a front-end for dashboarding and visualization. Sisense is most appropriate for organizations that want to analyze large amounts of data from multiple sources.
Tableau offers an expansive visual BI and analytics platform, and is widely regarded as the major player in the marketplace. The company's analytic software portfolio is available through three main channels: Tableau Desktop, Tableau Server, and Tableau Online. Tableau connects to hundreds of data sources and is available on-prem or in the cloud. The vendor also offers embedded analytics capabilities, and users can visualize and share data with Tableau Public. Tableau was acquired by Salesforce for nearly $16 billion in June 2019.
ThoughtSpot is heavily influenced by artificial intelligence and automation. While it may seem complex, ease of use is a strength of the product. It features a full-stack architecture and intuitive insight generation capabilities via the in-memory calculation engine. A distributed cluster manager provides customizable scaling options, and support for existing ETL solutions ensures proper connectivity to desired data sources. ThoughtSpot Embrace allows you to run search and AI analytics directly in existing databases and supports Google Cloud Storage.
Zoho Analytics is a self-service BI and data analytics tool that lets you incorporate data from a wide range of sources, blend it together, and create cross-functional reports and dashboards. The product features a drag-and-drop designer, as well as different visualization tools to drill down to specifics. A "smart" assistant called Zia can answer questions in the form of reports and KPI widgets via AI, machine learning and natural language processing. Users can share and publish reports and smart data alerts ping you when outliers or anomalies happen.