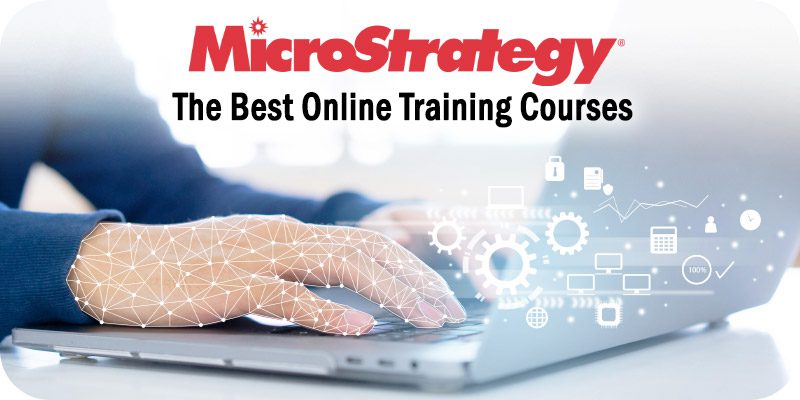 The editors at Solutions Review have compiled this list of the best MicroStrategy online training courses to consider.
MicroStrategy is one of the most widely used business intelligence and data analytics platforms in the world. MicroStrategy provides an extensive library of native analytical functions and scoring algorithms, along with an SDK to integrate with 3rd-party and open-source statistical and data mining products. Users can also utilize historical data, create real-time forecasts, and take advantage of more than 300 OLAP, mathematical, financial, and data mining functions. The platform can connect to any enterprise resource, including more than 100 enterprise databases and other information assets. MicroStrategy enables users to analyze every kind of data.
With this in mind, we've compiled this list of the best MicroStrategy online training courses to consider if you're looking to grow your data analytics skills for work or career advancement. This is not an exhaustive list, but one that features the best MicroStrategy online training from trusted online platforms. We made sure to mention and link to related courses on each platform that may be worth exploring as well. Click Go to training to learn more and register.
The Best MicroStrategy Online Training
MicroStrategy Education
Platform: MicroStrategy
Description: MicroStrategy Education is a continuous training and certification program for MicroStrategy users. Subscription-based Education Passes are offered based on user persona (Architect, Analyst) and provide access to live and on-demand courseware and analyst certifications. MicroStrategy also offers a new on-demand, face-to-face expert advice and support module through Expert. Now (available through the Architect Pass). View MicroStrategy's entire course catalog.
Platform: Udemy
Description: Learn the essentials of MicroStrategy 10 through this step-by-step tutorial. This course takes you through the basics of MicroStrategy, how to integrate your application with different data sources, manage data, build visualizations and sheets and share your insights with visual Data Stories. The course contains training materials, where you can practice, apply your knowledge and build an app from scratch. The training materials are provided in an Excel file that you can download to your computer. Each module also ends with a short quiz and there is a final quiz at the end of the course.
Related path/track: Introduction to MicroStrategy Report Development I
Platform: Edureka
Description: After completing the training, you will be able to create the solution for data visualization issues of any size on any platform and create, execute, monitor and schedule BI reports and dashboard processes. The course also lets you analyze MicroStrategy data flow architecture, the various types of setup like on-prem, cloud and mobile, and understanding the need for data containers and customization using SDK.
Platform: Intellipaat
Description: This Intellipaat MicroStrategy certification training course is meant for an in-depth understanding of the MicroStrategy platform, its architecture, the significance of business intelligence, etc. You will gain expertise to do multidimensional data modeling involving hierarchies, levels, measures and schemas. This MicroStrategy training course also includes the Desktop tutorials, Server applications and derived metrics. You will learn MicroStrategy as per the needs of the industry.
Related path/track: MicroStrategy Administration Online Certification Training Course
Platform: Pluralsight
Description: In this course, you will gain the ability to acquire data for use within MicroStrategy for analysis. First, you will learn how to work with the MicroStrategy object model. Next, you will discover the process for bringing in external unmodeled data. Finally, you will explore how to get that data in a format that supports your ability to analyze it. When you are finished with this course, you will have the skills and knowledge of MicroStrategy data acquisition needed to begin building your own reporting.
Related paths/tracks: Sharing and Securing Content in MicroStrategy, Building Your First Dossier in MicroStrategy
Platform: MindMajix
Description: Use this Microstrategy Training course to master building reports and dashboards using MicroStrategy from scratch with hands-on training from real-time experts. This course will walk you through the essentials of MicroStrategy and its architecture, creating schema objects, project design, and more. Moreover, this MicroStrategy training provides you with an efficient way to clear the Microstrategy certification exam. This training can be done via self-paced learning, a live, online class, or as a corporate package.
Solutions Review participates in affiliate programs. We may make a small commission from products purchased through this resource.

Latest posts by Timothy King
(see all)