The 13 Best Power BI Books Based on Real User Reviews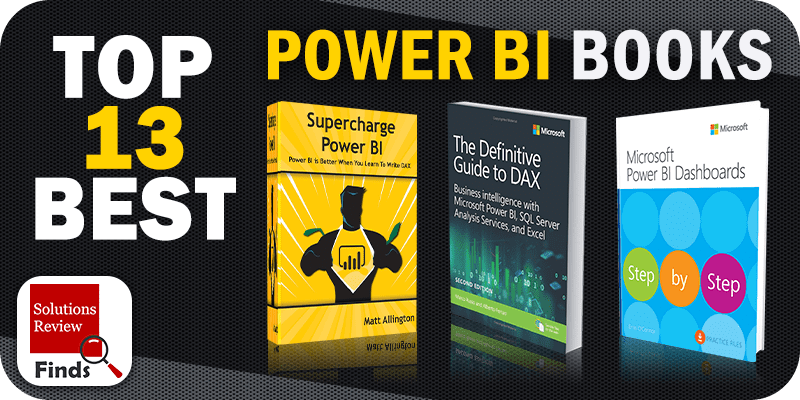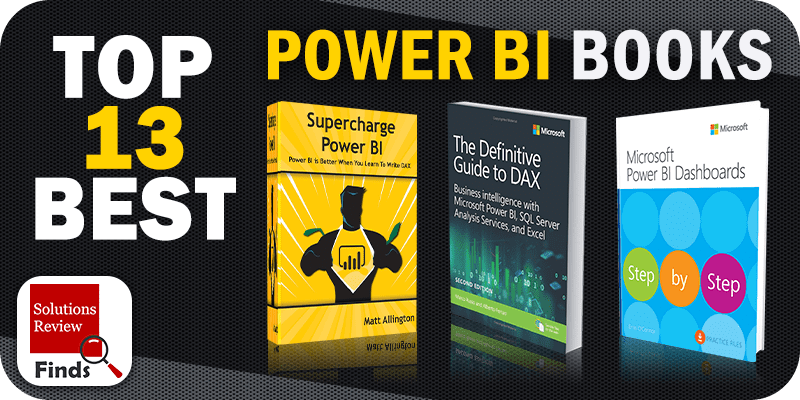 [col type="two-third"]Our editors have compiled this directory of the best Power BI books based on Amazon user reviews, rating, and ability to add business value.
There are loads of free resources available online (such as Solutions Review's Data Analytics and Business Intelligence Software Buyer's Guide, Visual Comparison Matrix, and best practices section) and those are great, but sometimes it's best to do things the old fashioned way. There are few resources that can match the in-depth, comprehensive detail of one of the best Power BI books.
The editors at Solutions Review have done much of the work for you, curating this comprehensive directory of the best Power BI books on Amazon. Titles have been selected based on the total number and quality of reader user reviews and ability to add business value. Each of the books listed in the first section of this compilation have met a minimum criteria of 10 reviews and a 4-star-or-better ranking.
Below you will find a library of titles from recognized industry analysts, experienced practitioners, and subject matter experts spanning the depths of data visualization for beginners all the way to advanced data storytelling best practices for Power BI users. This compilation includes publications for practitioners of all skill levels.
[/col]
[col type="one-third last"]
[box style="0″]
Your May Also Like
[insert_posts query_type="posts" posts="5486″ num="1″ excerpt_length=""]
[/box]
[/col]
The Best Power BI Books
[hr style="single"]
OUR TAKE: Authored by two business intelligence experts with decades of combined experience, Marco Russo and Alberto Ferrari are also the co-creators of their own DAX Mastering Data Modeling course.
"Now expanded and updated with modern best practices, this is the most complete guide to Microsoft's DAX language for business intelligence, data modeling, and analytics. Expert Microsoft BI consultants Marco Russo and Alberto Ferrari help you master everything from table functions through advanced code and model optimization. You'll learn exactly what happens under the hood when you run a DAX expression, and use this knowledge to write fast, robust code. This edition focuses on examples you can build and run with the free Power BI Desktop."
[btn link="https://amzn.to/2EgyKet" target="_blank" color="orange"]GO TO BOOK[/btn]
[hr style="single"]
OUR TAKE: Administering your organization's Power BI environment is a key theme of the book. Reviewers describe the title as easy to read and simple to follow.
"This book will help you get started with business intelligence using the Power BI toolset, covering essential concepts such as installation, designing effective data models, as well as building basic dashboards and visualizations to help you make better business decisions. You'll learn how to obtain data from a variety of sources and clean it using Power BI Query Editor. You'll then understand how you can design your data model to navigate and explore relationships within it, and build DAX formulas to make your data easier to work with."
[btn link="https://amzn.to/3hgD9g9″ target="_blank" color="orange"]GO TO BOOK[/btn]
[hr style="single"]
OUR TAKE: The owner and operator of data analytics consulting firm Frontline Analytics, author Brett Powell describes the book as an "end-to-end overview of Power BI."
"This book is intended for business intelligence professionals responsible for the design and development of Power BI content as well as managers, architects and administrators who oversee Power BI projects and deployments. The chapters flow from the planning of a Power BI project through the development and distribution of content to the administration of Power BI for an organization. By the end of this book, you will be confident in creating effective charts, tables, reports or dashboards for any kind of data using the tools and techniques in Microsoft Power BI."
[btn link="https://amzn.to/325f9Go" target="_blank" color="orange"]GO TO BOOK[/btn]
[hr style="single"]
OUR TAKE: Author Teo Lachev has more than a decade in the field and is the co-author of several popular books in self-service analytics. He is also the founder of the Atlanta Microsoft BI and Power BI Group.
"Information workers will learn how to connect to popular cloud services to derive instant insights, create interactive reports and dashboards, and view them in the browser and on the go. Data analysts will discover how to integrate and transform data from virtually everywhere and then implement sophisticated self-service models for descriptive and predictive analytics. The book teaches BI and IT pros how to establish a trustworthy environment that promotes collaboration and how to implement Power BI-centric solutions for organizational BI."
[btn link="https://amzn.to/3aFRHDB" target="_blank" color="orange"]GO TO BOOK[/btn]
[hr style="single"]
OUR TAKE: Author Errin O'Connor is the founder and Chief Architect for EPC Group. He is also the author of four Microsoft Press books covering Power BI. One reviewer called this title a great introduction" to Power BI.
"Expand your expertise–and teach yourself how to create world-class Power BI business analysis dashboards that bring data to life for better decision-making. Successfully design, architect, and implement Power BI in your organization, and take full advantage of any Microsoft Power BI platform, including Power BI Premium. If you're an experienced business intelligence professional or manager, you'll get all the guidance, examples, and code you need to succeed–even if you've never used Power BI before."
[btn link="https://amzn.to/3aH1ARe" target="_blank" color="orange"]GO TO BOOK[/btn]
[hr style="single"]
OUR TAKE: With nearly 700 ratings and 4.6 stars, this is one of the top-rated Power BI books on Amazon. The title was authored by one of the founding engineers of Power BI Rob Collie and PowerPivotPro's Principal Consultant Avi Singh.
"This book, printed in color, gives you an overview of Power BI, Power Pivot and Power Query, and then dive into DAX formulas, the core capability of Power Pivot. Always from the perspective of an Excel audience and written by the world's foremost Power BI bloggers and practitioners, the book's concepts and approach are introduced in a simple manner. The techniques presented allow users to produce, in hours or even minutes, results that formerly would have taken entire teams weeks or months to produce."
[btn link="https://amzn.to/2FFk9tH" target="_blank" color="orange"]GO TO BOOK[/btn]
[hr style="single"]
OUR TAKE: Author Matt Allington has deep experience as a business user of data and IT leader. One reviewer said "If you are just getting started with Power BI this book is what you need."
"Power BI is a self-service (and enterprise) Business Intelligence (BI) tool that facilitates data acquisition, modeling, and visualization—and the skills needed to succeed with Power BI are fully transferable to Microsoft Excel. There are three learning areas required to master everything Power BI Desktop has to offer: TheM Language, The DAX Language, and analysis. Super Charge Power BI clearly explains the necessary concepts while at the same time giving hands-on practice to engage the reader and help new knowledge stick."
[btn link="https://amzn.to/2Q7OfrM" target="_blank" color="orange"]GO TO BOOK[/btn]
[hr style="single"]
OUR TAKE: Readers tout this book as a step-by-step, logical and reader-centered title. Author Roger F. Silva is a specialist in helping multinational companies develop business intelligence and process improvement solutions.
"In this Create and Learn book, Power BI – Business Intelligence Clinic you will you go through important topics of Microsoft Power BI Desktop. You will learn how to install Power BI Desktop, get data, model your data, work with visuals and reports, create a sales dashboard, and share your work with others. The title does not go into deep theories as the purpose of this book and all Create and Learn material is to make the most of your time and to learn by doing."
[btn link="https://amzn.to/3hfqQAN" target="_blank" color="orange"]GO TO BOOK[/btn]
[hr style="single"]
OUR TAKE: Reviewers tout this book as an excellent resource for data modeling, and a "must have" for Excel users. Authors Alberto Ferrari and Marco Russo are the co-founders of sqlbi.com, a resource for Power BI users.
"This book introduces the basic techniques for shaping data models in Excel and Power BI. It's meant for readers who are new to data modeling as well as for experienced data modelers looking for tips from the experts. If you want to use Power BI or Excel to analyze data, the many real-world examples in this book will help you look at your reports in a different way—like experienced data modelers do. As you'll soon see, with the right data model, the correct answer is always a simple one!"
[btn link="https://amzn.to/2QbHjtM" target="_blank" color="orange"]GO TO BOOK[/btn]
[hr style="single"]
OUR TAKE: Author Gil Raviv is one of the foremost experts on Power BI in the world. He is a Microsoft MVP and Senior Program Manager on the Microsoft Excel Product team. 89 percent of reviewers gave this title 4 or 5 stars.
"Power Query is embedded in Excel, Power BI, and other Microsoft products, and leading Power Query expert Gil Raviv will help you make the most of it. Discover how to eliminate time-consuming manual data preparation, solve common problems, avoid pitfalls, and more. Then, walk through several complete analytics challenges, and integrate all your skills in a realistic chapter-length final project. By the time you're finished, you'll be ready to wrangle any data–and transform it into actionable knowledge."
[btn link="https://amzn.to/3l2tUSR" target="_blank" color="orange"]GO TO BOOK[/btn]
[hr style="single"]
OUR TAKE: Learn Power BI author Greg Deckler has more than two decades of experience using Power BI. He is also the Microsoft Cloud Practice Manager and Microsoft MVP for Data Platform.
"This Power BI book is an entry-level guide that will get you up and running with data modeling, visualization, and analytical techniques from scratch. You'll find this book handy if you want to get well-versed with the extensive Power BI ecosystem. You'll start by covering the basics of business intelligence and installing Power BI. You'll then learn the wide range of Power BI features to unlock business insights. As you progress, the book will take you through how to use Power Query to ingest, cleanse, and shape your data, and use Power BI DAX,"
[btn link="https://amzn.to/3hh8T4M" target="_blank" color="orange"]GO TO BOOK[/btn]
[hr style="single"]
OUR TAKE: This book will help you learn the navigation pane, dashboard titles, designer tiles, designer files, and sorting data. Author Daniel Jones is a prolific author having written more than a half-dozen titles on Power BI and data analytics.
"This book offers a comprehensive analysis of the powerful tools and features contained in Power BI's arsenal. It includes the stepwise directions on how to start a Power BI project and how to share the project with a large number of users. As a reader, the book will get you familiarized with the basic concepts of Power BI and how its datasets, dashboards, and reports can be used to give insights and interactive experiences. With the knowledge acquired in the book, you will be able to utilize Power BI's powerful features and carry out successful Power BI projects."
[btn link="https://amzn.to/3j0Ek3H" target="_blank" color="orange"]GO TO BOOK[/btn]
[hr style="single"]
OUR TAKE: This book is for business intelligence developers, analysts and other SQL users who use Power BI for reporting. Reviewers describe Beginning DAX as comprehensive and practical for any Power BI user.
"Get hands-on learning and expert advice on how to use the vast capabilities of the DAX language to solve common data modeling challenges. Beginning DAX with Power BI teaches key concepts such as mapping techniques from SQL to DAX, filtering, grouping, joining, pivoting, and using temporary tables, all aimed at the SQL professional. Join author Philip Seamark as he guides you on a journey through typical business data transformation scenarios and challenges, and teaches you, step-by-step, how to resolve challenges using DAX."
[btn link="https://amzn.to/2E4YA5A" target="_blank" color="orange"]GO TO BOOK[/btn]
[hr style="single"]
[hr style="single"]