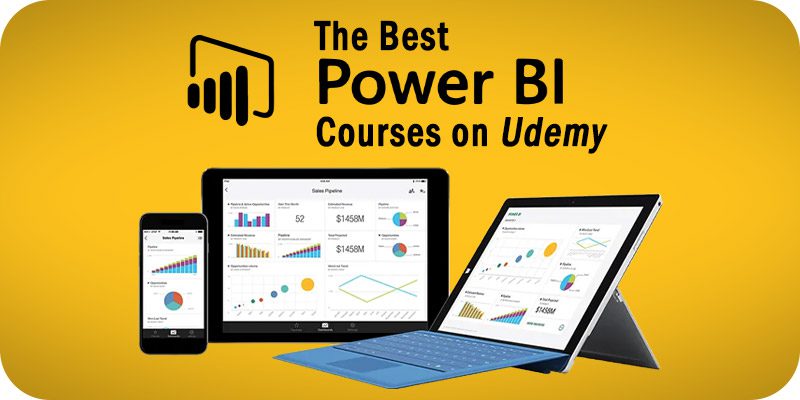 The editors at Solutions Review have compiled this list of the best Power BI courses on Udemy to consider if you're looking to grow your skills.
Microsoft Power BI is one of the most widely used business intelligence and data analytics platforms in the world. Power BI is cloud-based and delivered on the Azure Cloud. On-prem capabilities also exist for individual users or when power users are authoring complex data mashups using in-house data sources. Power BI is unique because it enables users to do data preparation, data discovery, and dashboards with the same design tool. The platform integrates with Excel and Office 365 and has a very active user community that extends the tool's capabilities.
With this in mind, we've compiled this list of the best Power BI courses on Udemy if you're looking to grow your data analytics and visualization skills for work or play. Udemy is one of the top online education platforms in the world with more than 130,000 courses, expert instruction, and lifetime access that allows you to learn on your own schedule. As you can see below, we broke the best Power BI courses on Udemy down into categories based on the recommended proficiency level. Each section also features our inclusion criteria. Click GO TO TRAINING to learn more and register.
The Best Power BI Courses on Udemy for Beginners
Note: We included courses with more than 1,000 reviews and a rating of 4.2 stars or better.
Description: This course was completely updated to reflect all the latest Power BI Desktop, Power BI Pro (Service), and Power BI Mobile updates that took place recently. In this course, you will learn why Power BI offers you a comprehensive set of business intelligence tools for your data analysis goals and how to use these tools to fulfill a variety of tasks. Students will learn to quickly structure data, easily add calculations to it, and create and publish nice-looking charts in just a few minutes.
Description: Starting from scratch, students will learn all the relevant PBI basics and also master more advanced concepts step by step. Power BI has a very strong active community and with Microsoft pushing this solution to its enterprise customers, Power BI has a bright future ahead. There is no coding required! Power BI allows you to do that but it's not necessary. You can follow along with the provided learning material in Power BI on your own computer at your own pace.
Description: ​This Power BI course is designed to arm participants with knowledge on using the most highly-rated data analytics tool. Participants will quickly learn from a Microsoft Certified Trainer and MVP,  the bolts of the key concepts required to be a Power BI expert. Complex concepts are described in a simplified manner to make the learners' journey easier. And not just that, the facilitator will be on the ground, supporting any participant with challenges working with Power BI afterward.
Description: ​This course covers the content required for the Power BI 70-778 and the new DA-100 certification exams, current as per the DA-100 exam update of 24 September 2020. In this course, learn the skills that Microsoft want you to know, and add another tool to your CV, and even go for the Microsoft Power BI certification. The module will take around 24 hours to complete, but completing this will enable you to create vizzes, dashboards and stories of your own, and know-how to overcome common problems. The course increases in difficulty slowly, so you'll create for instance a table or basic bar chart, then turn it into a stacked bar chart, and investigate more of their properties, step by step.
Description: ​The comprehensive introduction to Microsoft Power BI, fully updated for 2020 and covering many of the topics required for the exam DA-100. This user-friendly module is designed to familiarize you with Microsoft Power BI's business intelligence capabilities in the most logical order. The course consists of 30 sections, arranged into seven groups that reflect the way in which Microsoft Power BI works and the order in which operations are carried out. Each of the 30 sections starts with an overview and ends with a section summary which recaps the key topics covered and reminds you where these techniques fit into the overall Microsoft Power BI cycle.
Best Power BI Courses on Udemy for Intermediate
Note: We included courses with more than 1,000 reviews and a rating of 4.4 stars or better.
Description: ​The main objectives of this course are to help you learn Power BI faster using the Excel knowledge you already have, and to make you self-sufficient in applying this knowledge to your work. You must know how to use Excel and pivot tables. Interested students are encouraged to take the Pivot Tables: Second Honeymoon module. This course is not designed for developers or SQL.
Best Power BI Courses on Udemy for All Levels
Note: We included courses with more than 900 reviews and a rating of 4.3 stars or better.
Description: ​If you're looking for a comprehensive, hands-on guide to learning Microsoft Power BI Desktop, you've come to the right place. In this course, you'll be playing the role of Lead Business Intelligence Analyst for Adventure Works Cycles, a global manufacturing company. Your mission? To design and deliver a professional-quality, end-to-end business intelligence solution, armed only with Power BI and a handful of raw CSV files. You'll follow a steady, systematic progression through the Power BI workflow, and break down the project into key areas.
Description: ​Learn data visualization through Microsoft Power BI and create opportunities for you or key decision-makers to discover data patterns such as customer purchase behavior, sales trends, or production bottlenecks. You'll learn all of the features in Power BI that allow you to explore, experiment with, fix, prepare, and present data easily, quickly, and beautifully. Because every module of this course is independent, you can start in whatever section you wish, and you can do as much or as little as you like. Content is updated as new versions of Power BI are released.
Description: ​If you are new to Power BI or want to fill in some gaps in your knowledge, this is the course for you. You can expect to understand the flow of using Power BI, from connecting to various data sources, importing these into Power BI, transforming the data, and then presenting it effectively. This course has been updated for 2020 so you will learn about the latest Power BI interface.
Description: ​Great reports are built on great data models.  In this course, learn how to create relationships, create measures, use DAX, and all the other skills you need to build a data model that ensures your reports are top-notch!  This course has been updated (June 2020) to the latest Power BI interface so you will be using the latest version available. This module is designed for Excel users who want to learn how to create professional reports in Power BI and intermediate users who want to learn to build advanced data models.
Description: In this course, the students will learn the entire Power BI interface, from connecting to a data source all the way through sharing insights with their organization. The main sections break down into connecting to data, building a data model, building visualizations, uncovering insights, and sharing insights. These lectures will break down all the concepts covered in the Exam DA-100 in simple, easy to follow lectures. These concepts will then be applied to a case study where the students will get to reinforce their learning.
Description: This training is going to focus on making you highly proficient in the use of Excel and Power BI for business data analysis, dashboard creation, and reporting the professional way. And most of this would be achieved through lots of samples that will be similar to what you'll need at work. This course is designed mainly for business professionals who use Excel a lot at work. Students must have Excel 2010 and above. The module is constantly updated with new content to reflect the most recent version.
Description: This is the most comprehensive Excel Pivot Table online course ever made which has over 250 short and precise tutorials. No matter if you are a beginner or an advanced user of Excel, you are sure to benefit from this course which goes through every single tool that is available in an Excel Pivot Table. The module is more than 10 hours long. There are 17 different chapters so you can work on your weaknesses and enhance your strengths.
Description: This module will help you in starting out with Power BI. Students will learn how to install Power BI, integrate data from various sources, modify and clean the data based on need, merge and join different data streams, visualizing data, and much more. If you want to learn how to visualize data and find insights from it in the shortest possible time, this is the training for you.
Description: In this course, you will learn to use Power BI to transform and prepare your data for analysis. Students will learn how to use the Query Editor to connect to data, perform advanced transformations, and also to clean data. The module is led by Ian Littlejohn – an international trainer, consultant, and data analyst with over 125,000 enrollments and 100,000 students on Udemy. Ian specializes in teaching data analysis techniques, Excel Pivot Tables, Power Pivot, Microsoft Power BI, Google Data Studio & Amazon Quicksight.
Description: This Microsoft Power BI course will help you to become a Power BI expert. It will enhance your skills by offering you comprehensive knowledge on Power BI Desktop, Power BI Online, and the required hands-on experience for solving real-time industry-based Power BI projects. As students progress through this course, they'll learn to unleash the capabilities of Power BI to perform a comprehensive analysis of data from multiple sources and present the data using the perfect visualization.
Description: In this hands-on, project-based course, you'll put your DAX skills to the test and apply what you learn to some of the toughest real-world business intelligence use cases. You'll be playing the role of Business Intelligence Analyst for Maven Roasters, a small-batch coffee chain based in New York City. Your goal? Use Power BI and DAX to answer key questions and deliver data-driven insights for the business, by analyzing product inventory, repeat customers, store-level performance, and everything in between.
Solutions Review participates in affiliate programs. We may make a small commission from products purchased through this resource.

Latest posts by Timothy King
(see all)