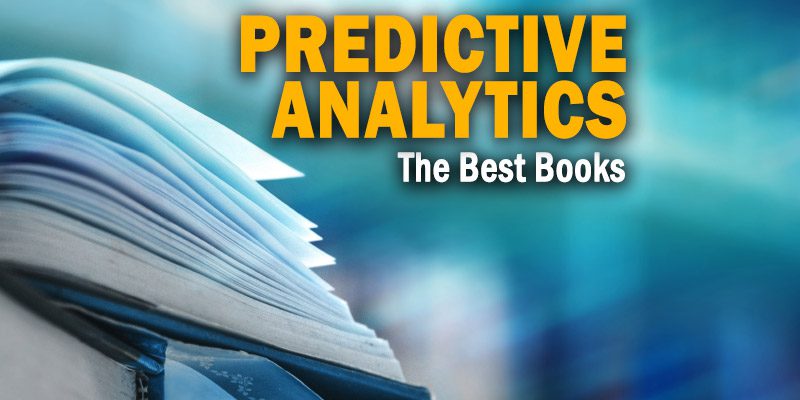 Our editors have compiled this directory of the best predictive analytics books based on Amazon user reviews, rating, and ability to add business value.
There are loads of free resources available online (such as Solutions Review's Data Analytics Software Buyer's Guide, visual comparison matrix, and best practices section) and those are great, but sometimes it's best to do things the old fashioned way. There are few resources that can match the in-depth, comprehensive detail of one of the best data predictive analytics books.
The editors at Solutions Review have done much of the work for you, curating this directory of the best predictive analytics books on Amazon. Titles have been selected based on the total number and quality of reader user reviews and ability to add business value. Each of the books listed in this compilation meets a minimum criteria of 10 reviews and a 4-star-or-better ranking.
Below you will find a library of titles from recognized industry analysts, experienced practitioners, and subject matter experts spanning the depths of advanced analytics all the way to machine learning. This compilation includes publications for practitioners of all skill levels.
Note: Titles with recently published new editions will be included if the previous edition met our review and ranking criteria.
The Best Predictive Analytics Books
---

"In this lucid, captivating introduction — now in its Revised and Updated edition — former Columbia University professor and Predictive Analytics World founder Eric Siegel reveals the power and perils of prediction. How does predictive analytics work? This jam-packed book satisfies by demystifying the intriguing science under the hood. For future hands-on practitioners pursuing a career in the field, it sets a strong foundation, delivers the prerequisite knowledge, and whets your appetite for more."

"The second edition of a comprehensive introduction to machine learning approaches used in predictive data analytics, covering both theory and practice. The book is accessible, offering nontechnical explanations of the ideas underpinning each approach before introducing mathematical models and algorithms. It is focused and deep, providing students with detailed knowledge on core concepts, giving them a solid basis for exploring the field on their own. The book can be used as a textbook at the introductory level or as a reference for professionals."

"You don't need a time machine to predict the future. All it takes is a little knowledge and know-how, and Predictive Analytics For Dummies gets you there fast. With the help of this friendly guide, you'll discover the core of predictive analytics and get started putting it to use with readily available tools to collect and analyze data. In no time, you'll learn how to incorporate algorithms through data models, identify similarities and relationships in your data, and predict the future through data classification. Along the way, you'll develop a roadmap by preparing your data, creating goals, processing your data, and building a predictive model that will get you stakeholder buy-in."

"Predictive HR Analytics provides a clear, accessible framework for understanding and working with people analytics and advanced statistical techniques. Using the statistical package SPSS (with R syntax included), it takes readers step by step through worked examples, showing them how to carry out and interpret analyses of HR data in areas such as employee engagement, performance and turnover. Readers are shown how to use the results to enable them to develop effective evidence-based HR strategies."

"Applied Predictive Modeling covers the overall predictive modeling process, beginning with the crucial steps of data preprocessing, data splitting and foundations of model tuning. The text then provides intuitive explanations of numerous common and modern regression and classification techniques, always with an emphasis on illustrating and solving real data problems.  Addressing practical concerns extends beyond model fitting to topics such as handling class imbalance, selecting predictors, and pinpointing causes of poor model performance―all of which are problems that occur frequently in practice."

"With the help of practical, step-by-step examples, you'll be able to build predictive analytics solutions while using cutting-edge Python tools and packages. You'll learn effectively by defining the problem and then moving on to identifying relevant data. As you advance, you'll get to grips with tasks such as data preparation, exploring and visualizing relationships, building models, and more. You will also work with models such as K-Nearest Neighbors (KNN), random forests, and neural networks using key libraries in Python's data science stack including NumPy, pandas, Matplotlib, and Seaborn."

"Modeling Techniques in Predictive Analytics brings together all the concepts, techniques, and R code you need to excel in any role involving analytics. Thomas W. Miller's unique balanced approach combines business context and quantitative tools, appealing to managers, analysts, programmers, and students alike. Miller addresses multiple business challenges and business cases, including segmentation, brand positioning, product choice modeling, pricing research, finance, sports, text analytics, sentiment analysis, and social network analysis."

"Microsoft Excel MVP Conrad Carlberg shows you how to use Excel predictive analytics to solve real-world problems in areas ranging from sales and marketing to operations. Carlberg offers unprecedented insight into building powerful, credible, and reliable forecasts, showing how to gain deep insights from Excel that would be difficult to uncover with costly tools such as SAS or SPSS. You'll get an extensive collection of downloadable Excel workbooks you can easily adapt to your own unique requirements, plus VBA code―much of it open-source―to streamline several of this book's most complex techniques."
"Predictive Marketing is a predictive analytics primer for organizations large and small, offering practical tips and actionable strategies for implementing more personalized marketing immediately. The marketing paradigm is changing, and this book provides a blueprint for navigating the transition from creative- to data-driven marketing, from one-size-fits-all to one-on-one, and from marketing campaigns to real-time customer experiences. This book provides the information and insight you need to lift your organization out of the campaign rut and into the rarefied atmosphere of a truly personalized customer experience."
"This updated second edition serves as an introduction to data mining methods and models, including association rules, clustering, neural networks, logistic regression, and multivariate analysis. The authors apply a unified "white box" approach to data mining methods and models. This approach is designed to walk readers through the operations and nuances of the various methods, using small data sets, so readers can gain an insight into the inner workings of the method under review. Chapters provide readers with hands-on analysis problems, representing an opportunity for readers to apply their newly-acquired data mining expertise to solving real problems using large, real-world data sets."

"Learn the basics of Predictive Analysis and Data Mining through an easy to understand conceptual framework and immediately practice the concepts learned using the open-source RapidMiner tool. Whether you are brand new to Data Mining or working on your tenth project, this book will show you how to analyze data, uncover hidden patterns and relationships to aid important decisions and predictions. This book is ideal for business users, data analysts, business analysts, business intelligence and data warehousing professionals and for anyone who wants to learn Data Mining."

"Machine Learning with R, Third Edition provides a hands-on, readable guide to applying machine learning to real-world problems. Whether you are an experienced R user or new to the language, Brett Lantz teaches you everything you need to uncover key insights, make new predictions, and visualize your findings. This new 3rd edition updates the classic R data science book to R 3.6 with newer and better libraries, advice on ethical and bias issues in machine learning, and an introduction to deep learning. Find powerful new insights in your data; discover machine learning with R."

"The process of developing predictive models includes many stages. Most resources focus on the modeling algorithms but neglect other critical aspects of the modeling process. This book describes techniques for finding the best representations of predictors for modeling and for nding the best subset of predictors for improving model performance. A variety of example data sets are used to illustrate the techniques along with R programs for reproducing the results."

"Explore fundamental to advanced Python 3 topics in six steps, all designed to make you a worthy practitioner. This updated version's approach is based on the "six degrees of separation" theory, which states that everyone and everything is a maximum of six steps away and presents each topic in two parts: theoretical concepts and practical implementation using suitable Python 3 packages. All the code presented in the book will be available in the form of iPython notebooks to enable you to try out these examples and extend them to your advantage."

"Kattamuri Sarma's Predictive Modeling with SAS Enterprise Miner: Practical Solutions for Business Applications, Third Edition, will show you how to develop and test predictive models quickly using SAS Enterprise Miner. Using realistic data, the book explains complex methods in a simple and practical way to readers from different backgrounds and industries. Incorporating the latest version of Enterprise Miner, this third edition also expands the section on time series. Develop predictive models quickly, learn how to test numerous models and compare the results, gain an in-depth understanding of predictive models and multivariate methods, and discover how to do in-depth analysis."

"Examine business problems and use a practical analytical approach to solve them by implementing predictive models and machine learning techniques using SAS and the R analytical language. This book is ideal for those who are well-versed in writing code and have a basic understanding of statistics, but have limited experience in implementing predictive models and machine learning techniques for analyzing real world data.  The most challenging part of solving industrial business problems is the practical and hands-on knowledge of building and deploying advanced predictive models and machine learning algorithms. "

"Predictive analytics is what translates big data into meaningful, usable business information. Written by a leading expert in the field, this guide examines the science of the underlying algorithms as well as the principles and best practices that govern the art of predictive analytics. It clearly explains the theory behind predictive analytics, teaches the methods, principles, and techniques for conducting predictive analytics projects, and offers tips and tricks that are essential for successful predictive modeling. Hands-on examples and case studies are included."
Solutions Review participates in affiliate programs. We may make a small commission from products purchased through this resource.