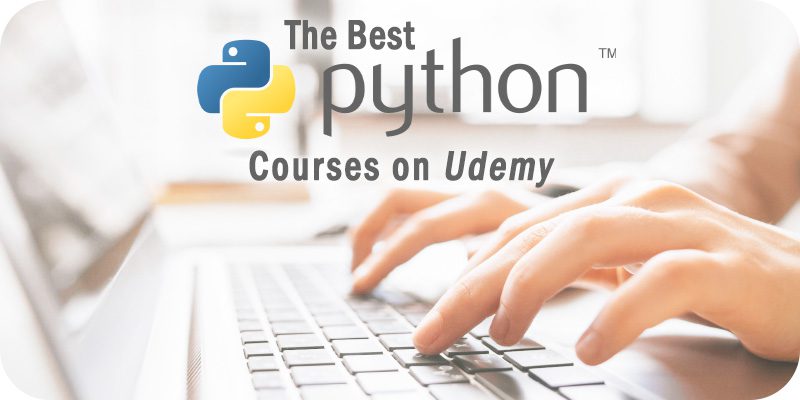 The editors at Solutions Review have compiled this list of the best Python courses on Udemy to consider for growing your skills.
Python is an object-oriented programming language comparable to Perl, Ruby, Scheme, and Java. It utilizes an elegant syntax that makes the programs you write easier to read, and it is ideal for prototype development and other ad-hoc tasks. Python comes with a large standard library that supports many common programming tasks as well, including connecting to web servers, searching text with expressions, and reading and modifying files. The language can be extended by adding new modules as well.
With this in mind, we've compiled this list of the best Python courses on Udemy and online training to consider if you're looking to grow your data analytics skills for work or play. This is not an exhaustive list, but one that features the best Python courses on Udemy and training from trusted online platforms. This list of the best Python courses on Udemy below includes links to the modules and our take on each.
The Best Python Courses on Udemy
OUR TAKE: This course is aimed at complete beginners who have never programmed before, as well as existing programmers who want to increase their career options by learning Python 3.
Description: By the end of the course you'll be able to apply in confidence for Python programming jobs. And yes, this applies even if you have never programmed before. With the right skills which you will learn in this course, you can become employable and valuable in the eyes of future employers. It includes 64 hours of video, 15 articles, and 34 coding exercises.
GO TO TRAINING
OUR TAKE: You will learn the entire process of program development in Python, from writing a program to producing the final .exe or .app executable which you can share with friends and colleagues.
Description: In this course, rather than practicing rote memorization, students are actively problem-solving towards tangible goals. The purpose of this course is to get you from zero and help you become a Python programmer. Students will achieve that by building actual desktop programs, developing interactive web applications, automating tasks, and even creating mobile apps entirely in Python 3.
GO TO TRAINING
OUR TAKE: Whether you want to get into data science, web development, AI, or make cool robots with the Raspberry Pi, The Python Bible will teach you the core fundamentals of Python programming so you can get started quickly.
Description: This course covers each topic step by step, building your skills at just the right pace, and by the end of the course you will have a strong understanding of Python programming and you'll be ready to create Python scripts on your own. The course content is roughly 9 hours long.
As you go through the course, you will gain practical, hands-on experience with each of the concepts by working through 11 fun Python projects. In other words, You will learn everything by actually doing it!
GO TO TRAINING
OUR TAKE: This course will teach you how to code in Python and apply these skills in the world of Finance. It is both a Programming and a Finance course. It also offers high quality video animations as opposed to boring lectures.
Description: If you are a complete beginner and you know nothing about coding, don't worry! Instructors start from the very basics. The first part of the course is ideal for beginners and people who want to brush up on their Python skills. And then, once the basics have been covered, students will be ready to tackle financial calculations and portfolio optimization tasks.
GO TO TRAINING
OUR TAKE: This 4.6-star rated training offers 11 hours of video, 6 articles, and will show teach you statistical analysis, data mining, and data visualization. It is made up of 8 sections and 75 different lectures.
Description: This course is truly step-by-step. In every new tutorial, instructors build on what has already been learned and move one extra step forward. After every video, you learn a new valuable concept that you can apply right away. And the best part is that you learn through live examples. This training is packed with real-life analytical challenges which you will learn to solve as well.
GO TO TRAINING
Solutions Review participates in affiliate programs. We may make a small commission from products purchased through this resource.

Latest posts by Timothy King
(see all)