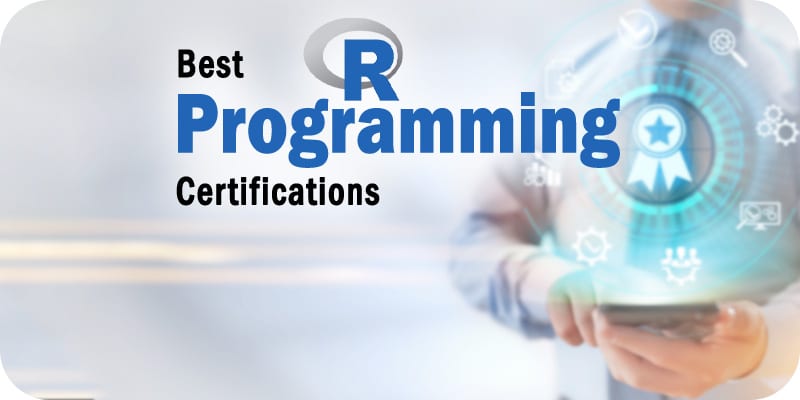 The editors at Solutions Review have compiled this list of the best R certifications online so you can grow your skills for work.
R is a language and environment for statistical computing and graphics. R can be considered as a different implementation of S, and while there are some important differences, much of the code written for S runs unaltered on R. The language provides a variety of statistical and graphical techniques including linear and nonlinear modeling, classical statistical tests, time-series analysis, and classification and clustering. R capabilities are enhanced via user-created packages that allow for special statistical techniques, graphical devices and reporting.

With this in mind, we've compiled this list of the best R certifications from leading online professional education platforms and notable universities. The certifications listed offer students the training they need to develop new skills and advance their careers. This is not an exhaustive list, but one that features the best R certifications online from trusted institutions. We made sure to include certificate descriptions and Solutions Review's personal take on each.
The Best R Certifications Online
OUR TAKE: This self-paced certification course features expert instruction and 2 skill-building courses. It is self-paced and takes 3 months to complete if students follow the recommended 5-to-10 hours per week of training.
Platform: edX
Description: You will learn the basics of statistical inference, confidence intervals, hypothesis testing, commonly used tests, Pvalues, statistical and practical significance. Students will also learn Linear Regression, Analysis of Variance with Covariates (ANCOVA), Generalised Linear Models (GLMs) and Mixed Effects Linear models using R.
GO TO TRAINING
OUR TAKE: This Experfy data science certification touts five self-paced courses and instruction from academics at Harvard and Columbia University, as well as industry practitioners from Cisco, Nokia Labs and Pitney Bowes.
Platform: Experfy
Description: This Data Science Certification program covers the concepts and tools you will need throughout the entire data science pipeline, from asking the right kinds of questions to making inferences and publishing results. As you work your way through different courses in the data science training track, you will develop a portfolio of projects that you can showcase during interviews.
GO TO TRAINING
OUR TAKE: Offered by IBM, this beginner-level certification module teaches students to utilize Excel spreadsheets for data analysis, create relational databases and tables, and complete the analytic process.
Platform: Coursera
Description: This Professional Certificate is intended for anyone who is seeking to develop the job-ready skills, tools, and portfolio for an entry-level data analyst or data scientist position. Through these eight online courses, you will dive into the role of a data analyst or data scientist and develop the essential skills you need to work with a range of data sources and apply powerful tools, including Excel, Cognos Analytics, and the R programming language.
GO TO TRAINING
OUR TAKE: This certification will teach you fundamental data programming tools and takes 3 months to complete. It is offered in collaboration with Mode Analytics.
Platform: Simplilearn
Description: Learn the programming fundamentals required for a career in data science. By the end of the program, you will be able to use R, SQL, Command Line, and Git. There are no prerequisites for this program, aside from basic computer skills.
GO TO TRAINING
Solutions Review participates in affiliate programs. We may make a small commission from products purchased through this resource.