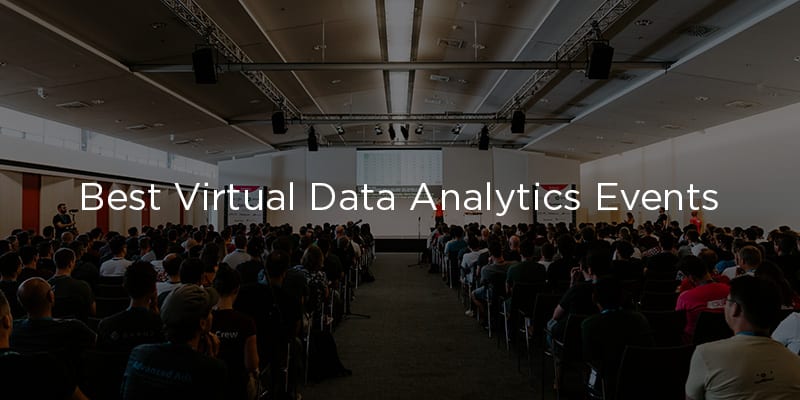 This is a directory of the best virtual data analytics events and user conferences for 2020. With travel restrictions growing and events being canceled all-over, we expect this list to grow in the days ahead. We will update it accordingly. Have an event to share? Let us know!
The editors at Solutions Review have created this list of the best virtual data analytics events and user conferences. We've scoured the web, consulted with conference representatives, and identified where the industry's top brass will be spending their time. If you are looking for top-notch keynotes, interesting sessions, best practices demos, and legitimate networking opportunities, mark your calendar.
Events are listed in chronological order and may include additional dates. Clicking More Information directs you to the event homepage. Clicking Location: Virtual directs you to registration for the event. If event organizers are solution providers, we've included the vendor name in parenthesis.
Domopalooza (Domo)
Date: March 18
Location: Virtual
Description: Domopalooza is coming to you as an interactive online experience. You'll go behind the scenes in product development with Domo engineers and see how the product is being used on the ground in business. Domo will even have its famous Sneaks session with direct Q&A with product leadership. Join to see Domo's latest product breakthroughs and announcements as well.
SAS Global Forum (SAS)
Date: March 30-31
Location: Virtual
Description: SAS Global Forum is the world's largest annual SAS event and brings together a diverse audience – executives and users – to create a single, cohesive event made up of two dynamic programs: one for SAS users and one for executives. The users program offers educational and networking opportunities while the executive program brings together senior executives from the private and public sectors.
Data Science in Action (KNIME)
Date: March 30-April 7
Location: Virtual
Description: The Virtual KNIME Summit will be run as a free webinar for everyone to attend. The event will feature a keynote presentation by Dean Abbott and a talk on the Future of Dat Science: Integrated Deployment by Michael Berthold. There will also be Q&A sessions, KNIME courses in the online classroom, and user presentations, workshops and more.
Vertica Big Data Conference 2020 (Micro Focus)
Date: March 31-April 1
Location: Virtual
Description: Join leading industry experts and Vertica engineers for two virtual days of applied use cases and real-world insights into the transformative power of data. Learn how to unlock the true potential of your analytics initiatives and explore the latest Vertica innovations and solutions ecosystem at the Virtual Vertica Big Data Conference. More than 20 sessions will be delivered live with those and even more available after the event for on-demand viewing.
Think 2020 (IBM)
Date: May 5-7
Location: Virtual
Description: Learn about the latest advancements in open technologies from hybrid multicloud to data and AI. Interact with the luminaries who are using this tech to transform our lives. Root your reinvention in this year's reimagined event experience.
Cloud Data Summit
Date: May 26-27
Location: Virtual
Description: Cloud Data Summit is unlike any conference or summit you have ever attended. It cuts through the hype of big data, AI, machine learning, IaaS, and PasS technologies. Cloud Data Summit features one-on-one meetings and group workshops, unbiased advice from vendor-neutral experts, and ways to connect with past attendees who implemented new technologies.
QlikWorld Online (Qlik)
Date: June  24-25
Location: Virtual
Description: QlikWorld Online offers two full days of learning on how to transform your business with data and analytics. The event kicks off in your local time zone featuring the main keynotes, followed by over 100 breakout sessions from dedicated tracks on data integration, data analytics, data literacy and more.