ThoughtSpot Unveils Analytical Content Exploration via ThoughtSpot One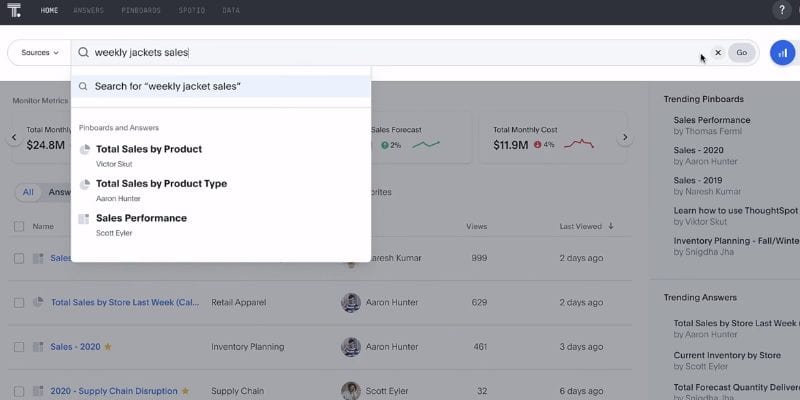 ThoughtSpot today announced ThoughtSpot One, a new cloud-based product that provides analytical content exploration and sharing. ThoughtSpot One is built and delivered via the ThoughtSpot Cloud and expands the platform's search functionality. Search results are tailored to individual users through social graphs. ThoughtSpot unveiled ThoughtSpot Cloud back in September. ThoughtSpot broke the news at Beyond.2020 Digital, the company's annual user conference.
[box style="3″]Our Buyer's Guide for Analytics and Business Intelligence Platforms helps you evaluate the best solution for your use case and features profiles of the leading providers, as well as a category overview of the marketplace.[/box]
ThoughtSpot's analytics platform is heavily influenced by artificial intelligence and automation. While it may seem complex, ease of use is actually a strength of the product. It features a full-stack architecture and intuitive insight generation capabilities via the in-memory calculation engine. A distributed cluster manager provides customizable scaling options, and support for existing ETL solutions ensures proper connectivity to desired data sources.
ThoughtSpot One lets users explore all existing answers in their organization, including answers created by others. The tool is powered by expanded natural language capabilities that empower non-technical users to ask questions without requiring precise keywords or terminology. It then leverages the new underlying social graph to customize and rank the results for particular users, engagement patterns, and keyword relevance. The vendor adds "In the same way users discover content on Google, Spotify, or Twitter, they can discover analytical content using ThoughtSpot One."
ThoughtSpot One provides personalized onboarding that trains a user directly in the platform. It also features a redesigned homepage which includes a trending feed that surfaces insights. The feed helps users discover insights based on answers, charts, and pinboards in the same way Twitter presents trending topics. The product offers SpotIQ and automated business modeling as well. There's even a new proprietary modeling language called TML (ThoughtSpot Modeling Language), which allows analysts to define and manage their business data model.
In a media statement about the news, ThoughtSpot co-founder and Executive Chairman Ajeet Singh said "ThoughtSpot One takes this a huge step forward, making it possible for users to not only create their own insights but surface the most relevant content others have already created as soon as they login. In doing so, we're helping our customers tap their collective intelligence to become truly data-driven. We're only 2%, however, and remain committed to relentless innovation to create a more fact-driven world."
Learn more about ThoughtSpot One.
[hr style="single"]