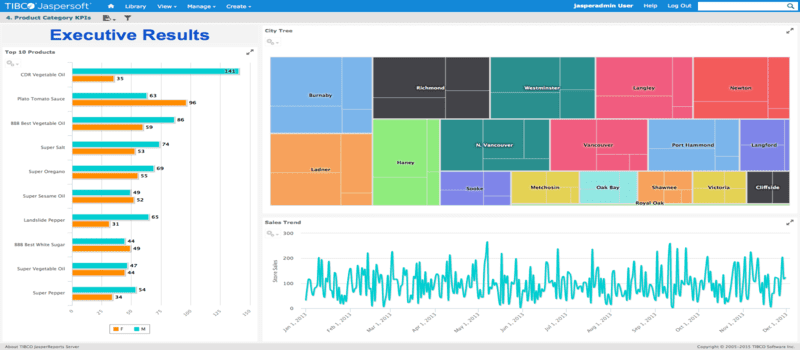 TIBCO Software today announced an array of enhancements to its TIBCO Jaspersoft 6.2 embedded analytics and reporting solution. Developers can now build customized reports faster and manage application scalability with greater ease with new options for graphical and tabular displays, as well as extensions to the platform's popular multi-tenancy support. The latest function-adds were inspired by input from the user community and designed to expand embedded analytics capabilities without taxing development or IT staff.
Jaspersoft 6.2 is an embedded analytics platform that delivers timely data and reports within existing applications and business processes, allowing for faster and more informed decision-making. New self-service features include a wealth of report customization options for casual data consumers, power users, and IT alike, which effectively extends analytics and reporting opportunities across the organization. New collaborative functionality allows casual users to easily build and customize their own reports. Reports can also be routed to IT for refinement, where greater complexity can be quickly edited at the API-level. In addition, version 6.2 also extends advanced multi-tenant support, which is increasingly critical in SaaS models for scaling and managing user bases, no matter their size or skill level.
Michael O'Connell, Chief Analytics Officer at TIBCO, adds: "Today, applications require graphical and tabular reports that empower end users to quickly find new information and opportunities. Developers want the ability to build information-rich report configurations as quickly and easily as possible, while providing a modern look and feel for their end users. We also listened to our customers building SaaS apps; they are looking for more sophisticated multi-tenant scalability to efficiently manage elastic application workloads without incurring added resource expenses. We built that into Jaspersoft 6.2, making this one of the most advanced embeddable multi-tenant reporting and analytics solutions on the market."
Other features included in Jaspersoft 6.2 include:
Enhanced self-service, new charts, and advanced editing: 36 total charts with hundreds of editable properties. In addition, new data summary helps identify the best and worst performers inside large datasets.
Tenant replication: Allows for users to take one instance of Jaspersoft and replicate it for different customers, allowing each their own unique BI system. Customers can be designated to their own infrastructures and users can propagate updated to specific groups all at once, with each securely collecting only their own data.
Tenant master scheduler: Gives users the ability to schedule their own reports while also allowing administrators to manage those reports for distributions across multiple tenants.
Latest platform support: Version 6.2 includes support for Big Data and NoSQL databases like MongoDB, Cloudera, and Apache Spark, among others.
O'Connell concludes: "TIBCO's software solutions provide customers, both novice and advanced, with a comprehensive business intelligence experience. Jaspersoft 6.2 is perfectly complemented by TIBCO Spotfire, an agile BI/analytics platform including exploratory, geospatial, predictive, and prescriptive analytics. "Many companies are looking for a robust solution for both their analytics and reporting needs. We are delighted to be able to offer them the tools and guidance to not only accomplish their data discovery goals, but their reporting objectives as well."
TIBCO Jaspersoft version 6.2 is now available.