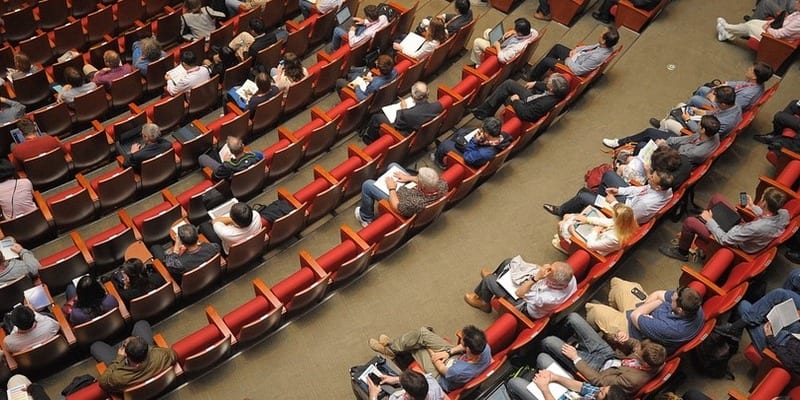 Data and analytics is one of the and fastest-growing domains in enterprise technology. The marketplace continues to be buoyed by new and emerging technologies that are making it easier and more cost-effective for organizations to generate insight from disparate data sources. Revenue growth in the overall BI and data analytics environment continues to soar, so much so that analyst house Gartner, Inc. projects a nearly 8 percent increase through 2020.
Rapid adoption of modern tools with advanced predictive and AI-driven capabilities have taken this software sector by storm. If you fail to keep up with the latest trends and  techniques you risk having your organization left in the dust.
Here at Solutions Review, we do our best to provide IT professionals with the top resources, including our buyer's guides and best practices, but sometimes you need a little extra push, the kind you can only get in person.
We understand, and that's why we've created this list of 2018's top data and analytics conferences and events for big data professionals. If you're looking for top-notch speakers, vendor demos, and networking opportunities, then these should be your go-to, must-attend events, so check them out.
Events are listed in chronological order. Be sure to also click through to Solutions Review's full conference directory.
1. Chief Data & Analytics Officer Exchange
Date: January 21-23
Location: Private
Description: The 2018 Chief Data & Analytics Officer Exchange will provide Chief Data Officers, Chief Analytics Officers, and Chief Data Scientists with a three-day event that delivers leading practices and dialogue-driven debates on key challenge areas, thought leadership discussions, and numerous networking activities with your. This exclusive, invitation-only event will be a capped audience of 45 Data and Analytics executives from some of most recognizable companies in the world. Request an invite.
2. Predictive Analytics Innovation Summit
Date: February 6-7, October 24-25
Location: San Diego, Chicago
Description: The Predictive Analytics Innovation Summit provides a platform for industry leaders to deliver case studies, expertise and share unique insight into the rapidly emerging movement: the power to forecast the future with today's data. The Innovation Enterprise will be hosting two Predictive Analytics Innovation Summits this year. The first is in San Diego beginning on February 6th, while the other starts on October 24th in Chicago.
3. TDWI Conference and Leadership Summit
Date: February 11-16 (12-13), May 6-11 (7-8), August 5-10 (6-7), November 11-16 (12-13)
Location: Las Vegas, Chicago, Anaheim, Orlando
Description: TDWI offers the most comprehensive coverage of data-related topics, including business intelligence, data warehousing, big data, advanced analytics, and more. TDWI will be running conferences in Las Vegas, Chicago, Anaheim, and Orlando this year. Leadership Summits, which are focused, interactive events to help data leaders deliver on the potential of data technologies, are co-located with each TDWI conference. Leadership Summit attendance requires separate sign-up.
4. Gartner Data & Analytics Summit
Date: March 5-8
Location: Grapevine, Texas
Description: The 2018 Gartner Data & Analytics conference will give you the tools to build on the fundamentals of data management, business intelligence, and analytics; harness innovative technologies such as AI, blockchain and IoT; and accelerate the shift toward a data-driven culture to lead the way to better business outcomes. Gartner will be holding additional Data & Analytics conferences in Sydney, London, São Paulo, Mumbai, and Tokyo, as well as a CIO Leadership Forum, this year.
5. Strata Data Conference
Date: March 6-8, September 12-14
Location: San Jose, New York City
Description: Every year thousands of top data scientists, analysts, engineers, and executives converge at Strata Data Conference—the largest gathering of its kind. It's where technologists and decision makers turn data and algorithms into business advantage. Strata has long been established as the only place that cuts across vendors, technologies, and frameworks. Packed with executive briefings, industry case studies, and the latest in data engineering, architecture, and machine learning—it gives you the tools and skills to drive business results with your data.
6. Data Visualization Summit
Date: April 19-20, September 11-12
Location: San Francisco, Boston
Description: This summit brings together leading gurus within the visualization field to demonstrate how data visualization has developed as a skill and tool. Using live demonstrations and interactive presentations to help further your skills and understanding of creating digestible graphics to convert your data into actionable visuals. The Innovation Enterprise is offering the Data Visualization Summit in two separate events this year, first in San Francisco on April, 19 and again in Boston starting September 11.
7. Forrester Digital Transformation Forum 2018
Date: May 8-9
Location: Chicago
Description: Digital transformation now dominates many C-suite and boardroom agendas. But it remains unclear what "digital transformation" means. Join Forrester as business leaders and technology innovators come together to escape this trap by focusing less on the capabilities of specific technologies, and learning how to embrace the strategic business transformations that new digital technologies make possible.
8. Data Summit 2018
Date: May 22-23
Location: Boston
Description: The Data Summit conference is a unique event that brings together IT practitioners and business stakeholders from all types of organizations. Top corporations, government agencies, and public institutions gather together to learn about the leading technologies and strategies for succeeding in this increasingly data-driven world. Attendees get a comprehensive educational experience designed to guide them through all of today's key issues in data management and analysis. This event is organized by Database Trends and Applications.
9. Real Business Intelligence Conference
Date: June 27-28
Location: Boston
Description: Dresner Advisory Services' second-annual Real Business Intelligence Conference is a unique event for business and IT leaders and will focus upon the strategies for success with business intelligence, analytics, and information management. The event is designed as an interactive executive forum, and will focus on those topics which enable attendees to help their respective organizations become performance-directed and information-driven.
10. Business Intelligence Innovation Summit
Date: June 27-28
Location: Chicago
Description: Do you have a passion for translating raw data to actionable insights? Are you looking for ways to advance the power of these insights to help make good business decisions great? Is your company looking for ways to bridge the gap between analytics and outcomes? Then the Business Intelligence Innovation Summit is a must-attend! An industry-led speaker line-up consisting of 20+ leading data scientists, enterprise architects, and Business Intelligence leaders.