Top 10 Books for Business Intelligence and Data Analytics – Part 1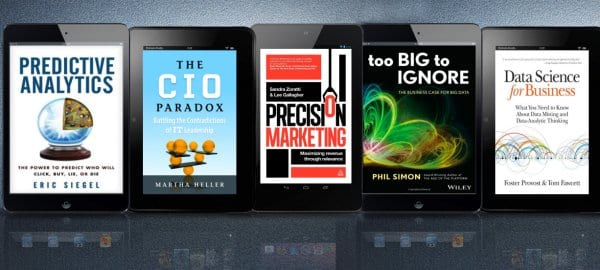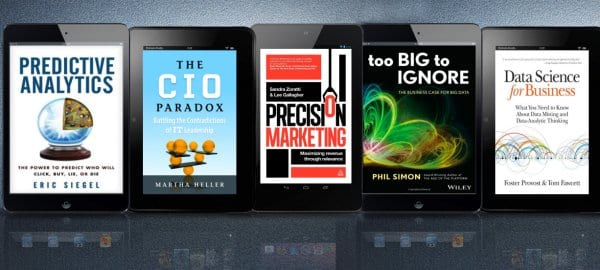 There are a wide variety of books available on business intelligence and data analytics around the web. Selecting the one that is right for you or your data-driven organization can be a tough, even overwhelming task. Solutions Review has done the research for you. After reviewing a multitude of books on the subject matter, we've carefully selected the following 10 books, based on relevance, popularity, online ratings, and their ability to add value to your business.
Business Intelligence is a term used as a catch-all goal for the organization interested in measuring and improving their performance. Coupled with data analytics, which can help your company extract information from existing data models in order to recognize patterns and predict future trends, the two can create business insights. Those discoveries can lead to better profits, happier customers, faster reaction times, and more.
Note: these titles are not industry specific; they should have applications in a variety of fields.
1. Predictive Analytics: The Power to Predict Who Will Click, Buy, Lie, or Die by Eric Siegel and Thomas H. Davenport (2013)
"With predictive analytics, millions of decisions a day determine whom to call, mail, approve, test, diagnose, warn, investigate, incarcerate, set up on a date and medicate. By answering this mountain of smaller questions, predictive analytics combats financial risk, fortifies healthcare, conquers spam, toughens crime-fighting, boosts sales and may in fact answer the biggest question of all: How can we improve the effectiveness of all these massive functions across business, government, healthcare, non-profit and law enforcement work?"
2. The CIO Paradox: Battling the Contradictions of IT Leadership by Martha Heller and Maryfran Johnson (2012)
"As a CIO today, you need to be out in front of the business, envisioning the way your customers will use mobile technology and other emerging technologies to interact with your business three years from now. You are certainly not alone out there in front. You have sales, marketing, and other departmental executives, you drag with you, like cement shoes, the technology decisions your company made fifteen years ago, before you even came on board. The head of sales couldn't care less how your products were sold fifteen years ago, but you cannot be so cavalier about the past. The paradox? As CIO, you are your company's futurist and its archivist."
3. Precision Marketing: Maximizing Revenue Through Relevance by Sandra Zoratti and Lee Gallagher (2012)
"We are coming full circle. One hundred years ago, the owner of the corner store knew your name, knew your preferences and made personal recommendations. He or she might even have given you store credit or filled you bag for you. Then we entered the era of mass communication and mass production. Madison Avenue advertisers relied on mass media to reach us with messages that had mass appeal. Now we seem to be returning to an economic environment in which buyers expect to receive personal treatment for their product and service providers. Relationships matter again and can become even more successful when they are relationships built on rich databases and mediated with advanced communications technology."
4. Too Big to Ignore: The Business Case for Big Data by Phil Simon (2013)
"Today, organizations no longer operate in a world in which only traditional data types and sources matter. The fact that many organizations choose to ignore other forms of sources of data doesn't make them any less important. The timing of Big Data could not be more propitious. Big Data and its attendant tools allow organizations to interpret previously unimaginable amounts and types of data, and the most progressive organizations are harnessing significant value in the process. Yes, there is a signal to go along with that noise. Big Data allows organizations to find potential gold in the petabytes of tweets, texts, Facebook likes, blog posts and related comments, podcasts, photos, videos and the like."
5. Data Science for Business: What you need to know about data mining and data-analytic thinking by Foster Provost and Tom Fawcett (2013)
"There is a fundamental structure to data-analytic thinking, and basic principles that should be understood. There are also particular areas where intuition, creativity, common sense, and domain knowledge must be brought to bear. A data perspective will provide you with structure and principles, and this will give you a framework to systematically analyze such problems. As you get better at data-analytic thinking you will develop intuition as to how and where to apply creativity and domain knowledge."
For a look at the next 5 Top Books for Business Intelligence and Data Analytics, click here.
[hr style="single"]

Solutions Review participates in affiliate programs. We may make a small commission from products purchased through this resource.

Latest posts by Doug Atkinson
(see all)