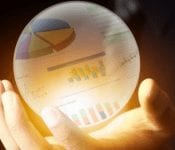 Recently, IDC presented its top 10 technology predictions for 2015. The predictions encompass IT categories such as wireless, mobile, cloud computing, data-as-a-service, and more. In a Forbes article called "IDC: Top 10 Technology Predictions For 2015," author Gil Press gives us his take on IDC's predictions. Below I've listed the 10 technology predictions and supported it with a piece of data from Gil Press' article that I thought was most compelling.
+ Check Out a Free 2015 Business Intelligence Tools Buyers Guide
Here's my edited version of IDC's 2015 predictions:
1) New technologies will account for 100% of growth
Worldwide IT and telecommunications spending will grow 3.8% in 2015 to more than $3.8 trillion.
2) Wireless data, the largest segment of the telecommunications sector, will also be the fastest growing
Wireless data will be the largest ($536 billion) and fastest growing (13%) segment of telecom spending.
3) Phablets will be the mobile growth engine
Phablet sales will grow 60%, cannibalizing the tablet market.
4) New partnerships to redraw cloud computing's landscape
Spending on the greater cloud ecosystem (public, private, enabling IT and services) will reach $118 billion (almost $200 billion in 2018), $70 billion ($126 billion in 2018) of which will be spent on public clouds.
5) Data-as-a-Service will drive new big data supply chains
Worldwide spending on big data-related software, hardware, and services will reach $125 billion.
6) The IoT will continue to rapidly expand the traditional IT industry
Internet of Things (IoT) spending will exceed $1.7 trillion, up 14% from 2014 (and will reach $3 trillion by 2020).
7) Cloud service providers will become the new data center, redrawing the IT landscape
By 2016, over 50% of compute and 70% of storage capacity will be installed in hyperscale data centers.
8) Rapid expansion of industry-specific digital platforms
The new technologies combine to create a business innovation platform, not just a technology platform, helping transform "every industry on the planet." One-third of market share leaders in every industry will be disrupted by vendors selling new IT products and services.
9) Adoption of new security and printing innovations
Securing the edge: 15% of mobile devices will be accessed biometrically (over 50% by 2020). Securing the core: 20% of regulated data will be encrypted by year-end 2015 (80% by 2018).
10) More China, everywhere
China will have a "skyrocketing influence" on the IT and telecomm market in 2015 with spending that will account for 43% of all industry growth, one third of all smartphone purchases, and about one third of all online shoppers.
Click here to read the full Forbes article and get more information on each technology prediction for 2015.
Check out these additional resources:

Latest posts by Doug Atkinson
(see all)