Trifacta Enhances Self-Service Scheduling in Data Wrangler Spring '17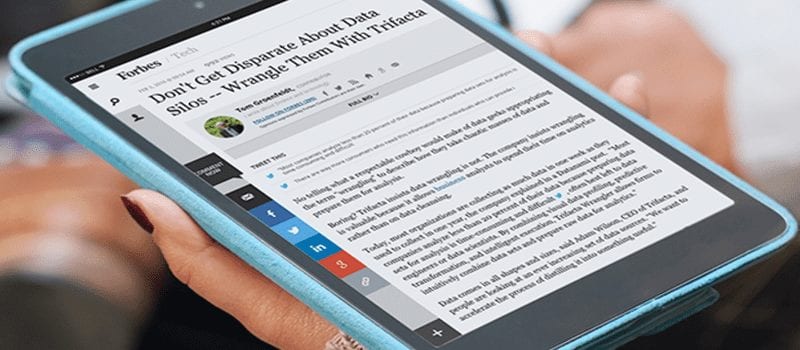 Trifacta has announced the Spring '17 Wrangler Enterprise release, with a focus on speeding up data wrangling projects in enterprise settings via self-service scheduling, sharing and sampling functionality. The platform update allows users to more effectively manage complex workflows, share wrangling recipes and datasets, and have more flexibility in defining samples.
In a statement, Trifacta's VP of Product Wei Zheng speaks to the new release: "The Spring '17 release of  Wrangler Enterprise focuses on accelerating the expansion of data wrangling projects to encompass more users and use cases, and quickly transition initial exploratory projects into production workflows. We will continue to accelerate our momentum by expanding upon Trifacta's enterprise features, user experience and machine learning capabilities to provide industry-leading organizations with a data wrangling solution that scales to meet growing enterprise requirements."
Additional enhancements in the new version of Wrangler Enterprise include:
Enhanced self-service scheduling and Flow View: Users with permissions now have expanded capabilities to set up wrangling workflows for repeated runs according to a predefined schedule when source data is updated. Flow View allows users to manage workflows with high-level visualization of datasets and recipes that make up the wrangling flow.
Enhanced collaboration: Expands sharing to further the ability of users to work together on entire workflows, recipes and datasets within the platform.
Increased sampling flexibility: Improved sampling capabilities allow users to customize a broader range of sampling techniques including filter-based, stratified, anomaly-based and cohort.
Context-aware wrangling: Allows users to define high-level tasks in natural language that are made up of multiple wrangling steps in an effort to hasten commonly repeated data preparation processes.
The update to Wrangler Enterprise focuses on enabling users to more efficiently schedule data wrangling workflows that incorporate multiple datasets while also improving the manageability of complex workflows through Flow View. This release also extends the ability of Trifacta users to share and collaborate on entire workflows, and define higher-order wrangling tasks using natural language, in addition to other new functionality
Trifacta's Data Wrangler solution is used by thousands of customers across more than 7,000 companies in 143 countries. The company's customers are made up of some of the most influential companies in the world, including the likes of Google, PepsiCo, eBay, and LinkedIn.
[hr style="single"]