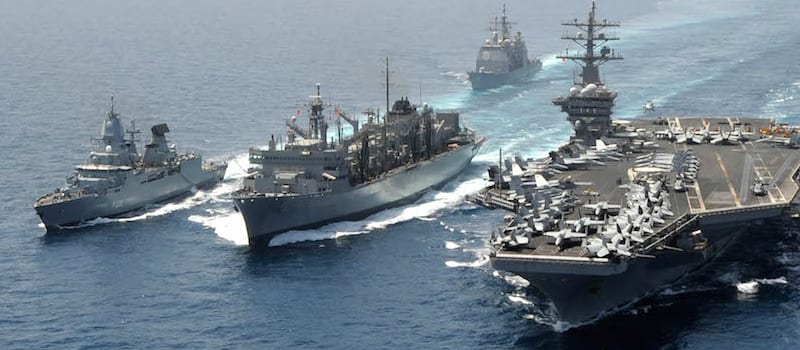 The Navy has announced a new data analytics strategy document designed to accelerate IT modernization, consolidation of information, innovation, and efforts to keep pace with commercial technological process. This new "Navy Strategy and Analytics Optimization" calls for rapid transformation of training, concepts, and policies in order to make data analytics faster and more efficient.
Understanding that the pace of technological change is often faster within industry and commercial enterprises, the Navy's new strategy is built around the idea that new solutions, software updates or improvements in operating systems and data analysis frequently emerge quickly. Furthermore, the strategy also explores a growing need to look for open source solutions to accelerate IT acquisition.
Although embracing commercial innovation may not make a whole lot of sense for a government developmental IT effort, the strategy calls for increased collaboration with academia and industry. "It is paramount that we become able to adapt faster to data-driven innovations, create new innovations and deploy those innovations," the strategy states.
The text of the strategy outlines a few goals, including an ability to "predict and inventory the right data analytics to meet the demands of DON (Department of the Navy) data consumers and decision makers – and — deploy and operate innovative solutions with minimal time to market."
As a way to accelerate the key aims of the new strategic effort, the Navy's Acting Chief Information Officer is establishing a new Data and Analytics Consortium to define emerging policies, share lessons learned and help establish best practices.
The DAC is also designed to promote the governance, standards, training, and policies necessary to achieve data and analytics optimization, according to Fletcher's memo.
The new strategy also specifies close coordination with DOD's evolving Joint Information Environment (JIE) – an ongoing effort to engender greater interservice data synthesis, integration, collaboration, interoperability and security.
"All data collected within the DOD will be visible, accessible, understandable, trusted and interoperable for authorized users," the strategy explains.
"There is a synchronization that happens to occur. Our desire to move to the cloud includes the big data analytics component. The number of applications and users associated with where we would like to go with Navy integration is bigger than what is in NMCI today," Harder said.
Read more at Defense Systems.
Nathaniel Lewis is an editor at Solutions Review covering Mobile and Wireless enterprise technology.He has a degree in English from Saint Michael's College in Vermont and believes that the better we understand the technology of today, the more prepared we will be for the world of tomorrow.
Latest posts by Nathaniel Lewis (see all)