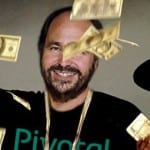 Nothing like having a couple hundred million in cash to get people's attention. Pivotal the remarkably well funded EMC/VMware spin-outjust tossed $65 million at Xtreme Labs in order to add a key mobile application development component to the Pivotal product portfolio. The acquisition is one more piece in the Pivotal Enterprise Platform-as-a_Service (PaaS) that is being assembled to capture the emerging market for solutions responding to the convergence of cloud, mobility, social, and information that Gartner estimates could be worth as much as $8 billion by 2017.
Founded in 2007, Xtreme Labs is a full-service mobile strategy and product development firm that leverages modern engineering practices to build rich and engaging mobile experiences across all platforms.
According to Paul Maritz, CEO, Pivotal, "Every enterprise today has to exploit the opportunities offered by mobile. This requires new ways of thinking and working, and the need to get it right the first time and every time. We're thrilled to bring next-generation mobile capabilities to our customers and welcome Xtreme Labs to the Pivotal family."
Pivotal's Next-Gen PaaS Platform "delivers a turnkey experience on the private cloud complete with leading application and data services. Pivotal CF speeds up application delivery from months to days and can dynamically scale an application to hundreds of instances in seconds, allowing businesses to innovate with disruptive speed."
A link to the full press release can be found here.

Latest posts by Doug Atkinson
(see all)