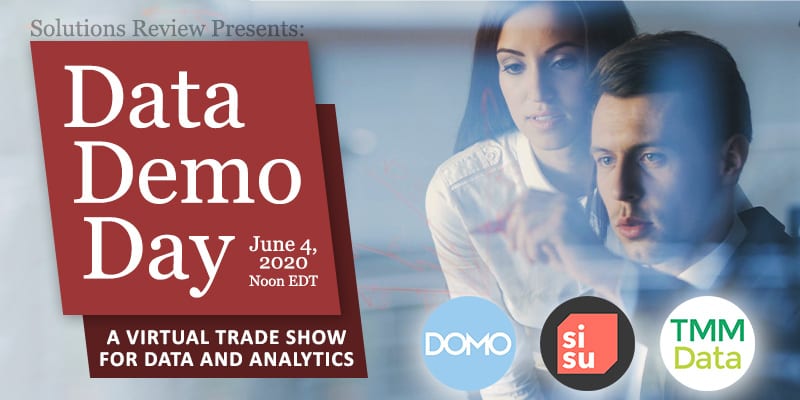 What is Data Demo Day?
Data Demo Day is an exclusive virtual trade show featuring an inside look at the technologies of three prominent data and analytics solution providers. Solutions Review is hosting this online event as a way to present the latest data and analytics tools from the comfort and safety of your own desk, and the best part? It's free to attend!
Join the largest BI and analytics practitioner community
Solutions Review Business Intelligence and Data Analytics is the largest BI software buyer and practitioner community on the web. Our Universe of Influence reach is more than 7 million business and IT decision-makers, as well as C-suite and other top management professionals. Our readers primarily use us as an enterprise technology news source and trusted resource for solving some of their most complex problems.
Our collection of vendor-agnostic buyer's resources help BI practitioners during the research and discovery phase of a buying cycle. This critical stage of information gathering is where buyers narrow down the field of solution providers to a short-list they plan to engage. The mission of Solutions Review is to make it easier for buyers of BI and data analytics software to connect with the best providers.
Featured Solution Providers
The Domo Business Cloud lets organizations integrate data from any source, create live data visualizations, and extend BI directly into workflows and applications. Dynamic data transformations are done on-the-fly and real-time metrics become available instantly on any device. Domo integrates and augments the systems organizations already use by connecting and automating the flow of data between data lakes, data warehouses, and ETL and data visualization tools. The product features built-in automatic scale and an infrastructure-less back-end as well.
The TMMData Foundation Platform includes data integration, data preparation and data management functionality. The product can be deployed on-prem, in the cloud or via a hybrid method so organizations can work with their data regardless of where it resides. TMMData provides pre-built connectors and integrations and a graphical workflow built for users without advanced technical skills. The solution also allows users to maintain data quality and accuracy with user-friendly forms and access controls.
Sisu Data offers a diagnostic analytics platform for structured data. The product automates manual data exploration so users can find hidden facts in complex data. Sisu automatically prioritizes facts based on their impact and provides detailed, interpretable context to refine and support conclusions. The tool features fact boards, annotations, and the ability to share facts and analysis across teams as well. As new information arrives in your cloud data warehouse, Sisu will continually re-evaluate metrics and surface new facts.
Event Details
Data Demo Day is a three-hour webinar hosted by Solutions Review in-studio experts and will include comprehensive product demonstrations from leading data and analytics solution providers. Each 30-minute presentation will be followed by a Q&A session that we are inviting you to participate in. Registration is fast and free, click here to get your unique event credentials.
FAQ
What: The Solutions Review Data Demo Day
When: Thursday June 4, 2020 from 12:00 PM to 3:00 PM Eastern
Where: Zoom meeting (see registration page for more detail)